France is one of the largest countries on the continent and there's A LOT to see! Seriously, there are so many gems in France besides Paris that travelers need to cover some ground to really see what this country has to offer.
The cheese, wine, duck confit, steak tartare, escargot, macarons, wait…we're just mentioning food here. Sorry, we fell in love with French food and it's difficult to contain.
But this post is about how to get around France so let's get back on topic.
Wondering how to get to Mont St. Michel? How to see some chateaus in the Loire Valley? D-Day sites? Don't just hop on a train without doing your research first.
You have plenty of options at hand and we'd like to share some tips and our own experiences, hopefully saving you money and ultimately making your time in France more enjoyable.

Best Ways to Get Around France
Train
Let's begin with the most obvious way to get around France: train. French trains are a fantastic way to travel the country but is that always the case? No…
If you book your French train ticket in advance, good for you! The earlier you book, the more you save! For instance, we tried to book a ticket to Orleans just a few days before departing Nice. Apparently, unbeknownst to us, this was a terrible idea.
Why?
It was going to cost us over 300 euros. What?! That's insane. So yes, we threw the option of train travel out of the window. Turns out, it would have cost us only 100 euros a couple months earlier.
That said, buy your tickets in advance.
However! Yes, there's a caveat to buying your train tickets in advance. Did you plan on the workers going on strike the day of your travels? No? Pfft, why not?
We're just joking, of course, because no one can plan on that. But it's not a bad idea to look for a planned strike. Might want to give that a Google search before cementing your plans.
Turns out, during some of our time in France, workers had a "surprise" strike and train travel just got really really hard; in fact, it was non-existent for a day and another morning. So, even if we had bought a ticket in advance, it would have been for naught.
So, what are we trying to say with all this strike stuff? Don't always rely on train travel to get around France!
This isn't the worst thing in the world, as this country is absolutely beautiful and you can see it from a different point of view by using other means.
Driving Around France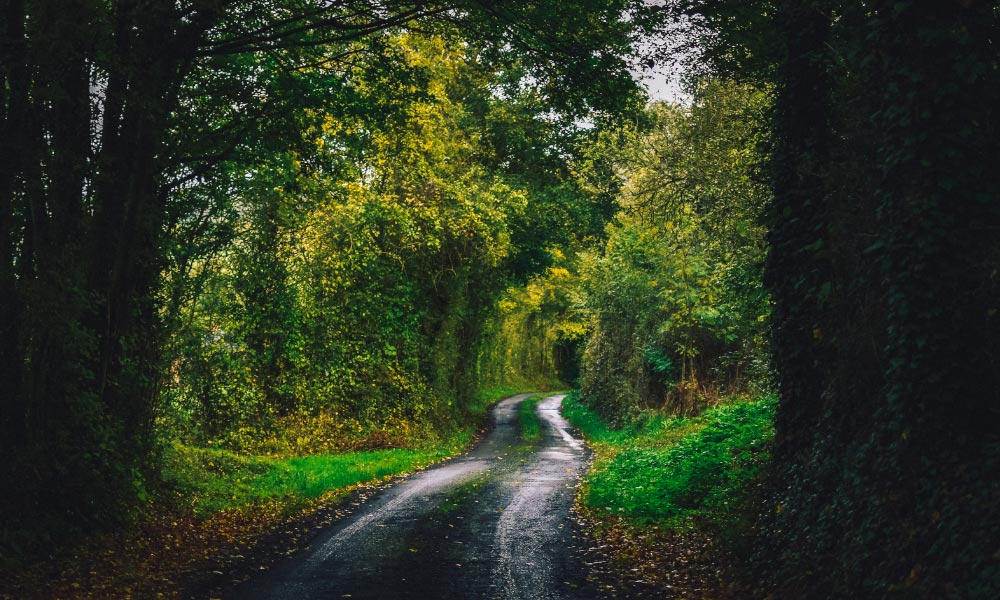 Oh, the joys of driving a foreign country and discovering it at our own pace. We love it. So yes, we highly recommend driving in France when you can.
That said, avoid driving in Paris if at all possible. Unless, of course, you love being on super high stress mode, then circle around the Arc de Triomphe at your leisure.
We're talking about the French countryside when referring to driving around France. It's lovely and we hope you get the opportunity to try it for yourself.
But there are some things to note about driving in France.
First off, what's this business about "A" roads and "D" roads and "N" roads?
A Roads
If you're wanting to get somewhere really fast, drive on the smoothest, cleanest roads with bathrooms and rest stops galore, then hop on the "A" roads. Sounds great, right? They really are amazing roads. They're also really expensive.
Of course, the "A" roads are toll roads and for travelers like us with a couple backpacks in tow, they're way too pricey.
For a short distance, they're probably fine. But from Nice to Lyon, for example, you're looking at roughly 50 euros worth of tolls.
If you want to know how much tolls will cost you on trip down the A roads then use Mappy, it's a great way to see all the different routes and it'll give you an estimate of the total costs of your trip (tolls and gas included!).
N and D Roads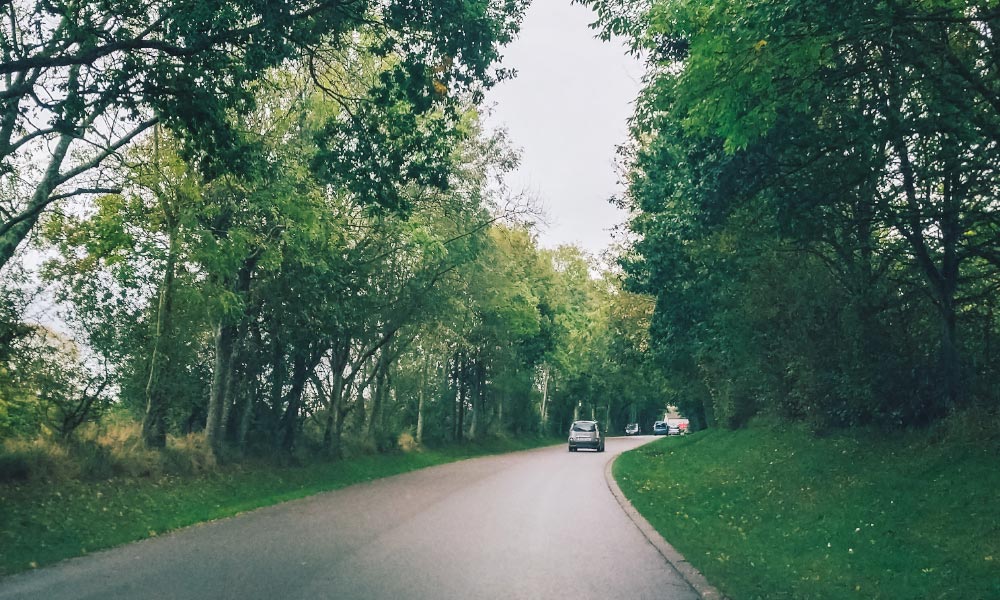 These roads are the winner in France! If you want to get around the country with the pretty scenery and at no extra cost while still driving on some nice roads, then the N and D roads are your best friend.
Pro Tip: In Google Maps or Waze (or whatever maps app you use) be sure to enable the "Avoid Tolls" option. There were times when we had to get on the A roads for a short period but it was the "no toll" section. Our app never led us astray with "avoid tolls" activated.

There were many times when the "N" or "D" roads would lead us over a hill and we'd spot a town with a beautiful cathedral and exit to do a little side exploring. It's not as easy to do on the "A" roads!
The best part about getting around by car in France? You can go wherever you please, when you please, and you can stop at however many boulangeries (bakeries) and patisseries (baked sweets) you want! The more the better!
And when you see Mont St. Michel towering in the distance, it's a really cool sight to see!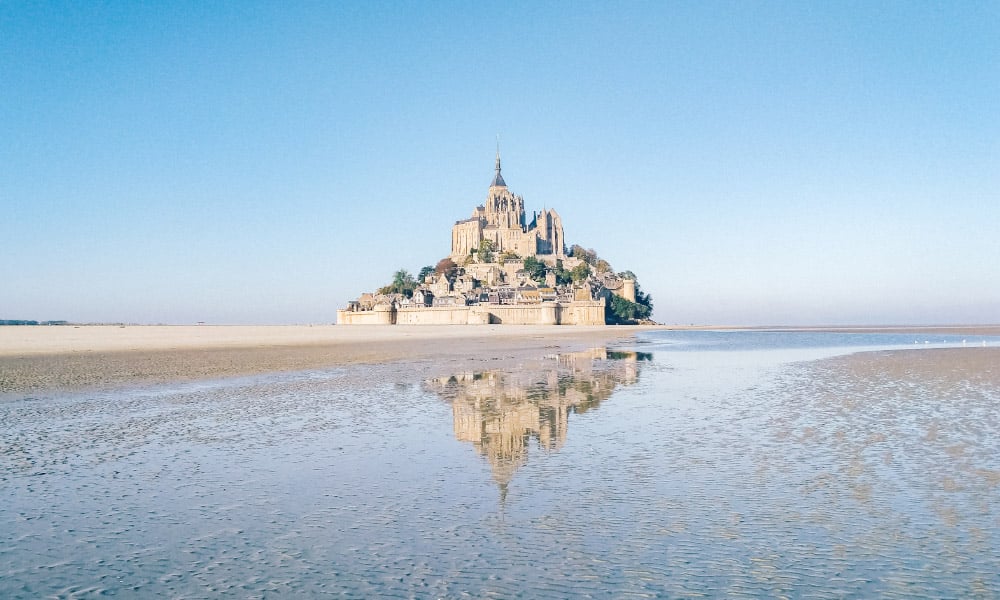 BlaBlaCar
We had never heard of BlaBlaCar before traveling around France.
But remember those train strikes we mentioned earlier in this post? BlaBlaCar is one of those "oh crap" services. But it's more than just a last minute travel service!
BlaBlaCar is a really special way of getting around France; you meet locals and ride for cheap. Think of Uber or Lyft except the driver is already making the drive and just selling the empty seats in their car.
Having used it several times ourselves in and around Orleans and Paris, we're huge fans.
We could write an entire post on BlaBlaCar…oh wait, we did! Check out our BlaBlaCar in France Review for some tips on how to use it and the awesome benefits that travelers can gain, like meeting friendly folks and getting some local tips!
Bus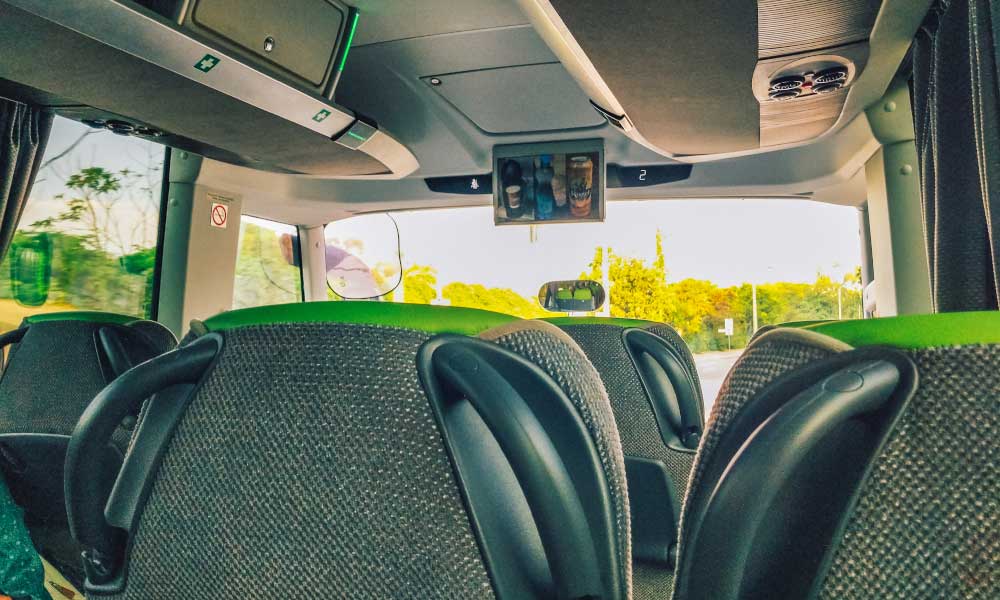 Of course, buses are another obvious and widely-used form of transportation in France. It's not always our favorite but sometimes it's the best option!
Buses are dependable in France. FlixBus is a great company to use but fun fact: BlaBlaCar actually has "BlaBlaBus".
If going long distances, like Nice to Paris, buses may not be a good option. For example, after we realized the trains were just too expensive, we looked into buses. The ride was much more affordable but it had to go to Spain first.
Uh, what?
So no, being on a bus for over 24 hours, going to another country then re-entering, didn't seem worth the lower price.
It all comes down to your personal preference and weighing the time vs. cost.
Bike
Bike around France? But it's so big. Yes, it is! It's very big and very beautiful which is why we think biking your way around is such a wonderful idea.
We understand, if you've got too much luggage on you then maybe a biking adventure isn't in the works. But if you've just got some backpacks (easily doable), France is the perfect country to bike.
Maybe avoid the Alps though; biking up those sounds more difficult than fun.
But when we're talking about regions of France like the Loire Valley, Normandy or Brittany, biking is perfect!
For example, starting in Orleans, one could rent a bike and see the entirety (mostly) of the Loire River and follow it to the Atlantic. That means stopping at beautiful towns and villages along the way, like Amboise (where Da Vinci is buried) or Blois or Meung-sur-Loire, the list goes on! This area is also jam-packed with chateaus so don't forget to bring some snacks and wine for a scenic picnic.

And if you ever don't feel like biking a certain stretch, buy a train ticket (hopefully they're not on strike!) and bring your bike with you for free! Tandem bikes will cost extra.
There is an entire website dedicated to bike tourism and France and they list many more biking paths in different regions. If we didn't teach English online and have obligations, we would have spent a lot of our time in France on two wheels.
However, even though we're hindered from a multi-day biking excursion, we still found time to bike up and down the Loire River and see some chateaus. We experienced nothing else like it and hope you get the chance to bike some of France's countryside.
It's breathtaking!
Hitchhike
Did we hitchhike to get around France? No, we did not. But have we heard good things? Yes, we have!
For the true adventurers out there who really want to stick to a budget, give hitchhiking a chance!
You can check out the HitchWiki website for some really helpful info on hitchhiking in France. You might want to practice up on your French in advance!
Summary of the Best Ways to Get Around France
From public transport to taking travel into your own hands, we hope we've covered some good bases for you to learn about how to get around France. As you can infer, getting from place to place isn't always so simple so it's good to be flexible. Maybe your French adventure will be smoother or maybe you'll enjoy mixing and matching all the different ways there are to get around. Regardless, we hope you have a fantastic time in France.
Happy travels!
Like it? Pin it!