While looking at accommodations for our 9-day journey in Spain, we wanted to spend some time in vibrant Barcelona, but we also wanted to venture out into Catalonia and see more of the region. With its medieval walls and architecture spread throughout the city center, delicious cuisine, and its central location in Catalonia, we were glad we chose Girona as our base! We planted ourselves in Girona for a few nights, having plenty of time to explore the city itself, but we also took that opportunity to rent a car and drive Catalonia, finding some wonderful surprises along the way!
Below we mention our 10 favorite things to do in Girona plus a few day-trips and, of course, some things to eat!
1. Cathedral of Girona
Girona's cathedral is the most iconic sight in the city. It was built between the 11th and 18th centuries but its Baroque exterior was finished as recently as 1961. Game of Thrones fans will have something to appreciate here. For those that appreciate art, there's the Tapestry of Creation, which dates back to the 11th century. With the tapestry is a short video explaining the meaning behind the art.
To get there, walk up! The cathedral is located at the highest point in Girona so if you're heading uphill, you're likely going in the right direction. It costs 7€ per adult but your ticket will also give you entry to the Basilica of Sant Feliu. For an additional 3€ (10€ total) you can add a visit to the Girona Art Museum.
2. Basilica of Sant Feliu
As mentioned above, the Basilica of Sant Feliu is also included in the price of your ticket for the cathedral. This basilica was once the cathedral of Girona until the 10th century when the current Cathedral was started. While due to timing we missed out on the interior that boasts some awesome artwork and artifacts, we think this Basilica is still worth a visit. We enjoyed relaxing in a shady park just outside the walls of the Basilica where we could admire the facade, watch some birds and amphibians in the pond and find shelter from the sun.
3. Walk along Girona's Medieval Walls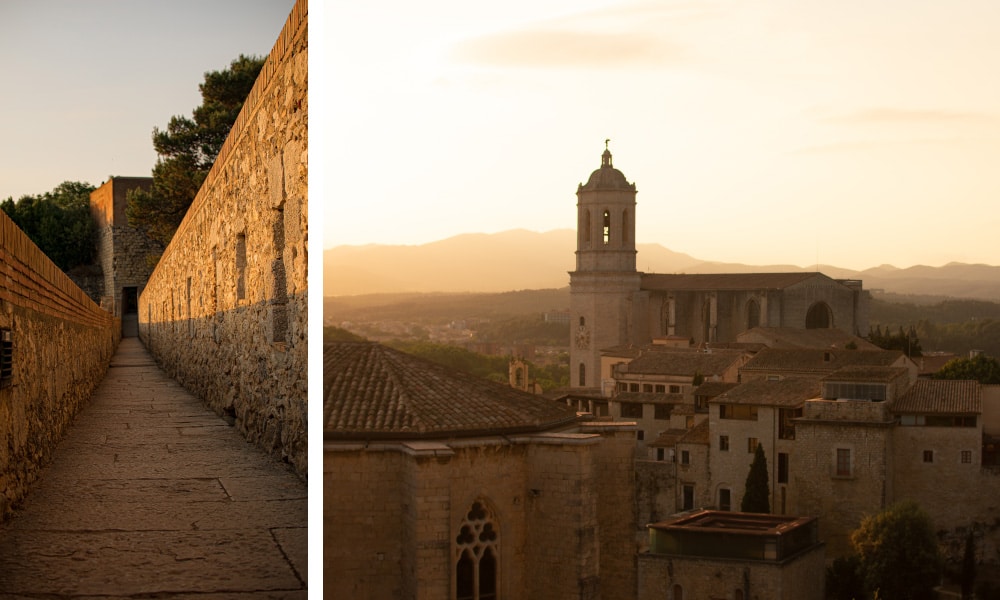 Dating back to the 9th century, Girona's city walls offer you a glimpse of the past with breathtaking views of the city today. This is a great spot to get a view of Girona at sunrise or sunset, although any time of day will suffice! However, if visiting in summer months like we did, we'd advise avoiding the afternoon heat! We walked along the walls in the late afternoon/evening, stopping where we pleased to soak in the scene. At the time of our visit there were very few people on the walls. We enjoyed watching a breathtaking sunset before heading to our dinner reservation. If you're just visiting Girona for the day, definitely make the city walls a stop. They're free!
4. Arab Baths
The Arab Baths were an enjoyable respite from the summer heat. It costs a few euros to get inside and learn about their lengthy history. They date all the way back to the 12th century and they claim to be the best preserved Romanesque public baths. However, since it was such a short visit, be sure to have other sights and activities planned around it. It would make a great stop before or after brunch!
You can find pricing and other information on Girona's Arab Baths website.
5. Jewish Quarter
The Jewish Quarter is one of Girona's best old town sights and is free to explore! These narrow streets go all the way back to the 12th century and were where the Jewish community in Girona was concentrated. The old synagogue within the Jewish Quarter houses the city's Jewish History Museum. This museum is a must-visit for those interested in learning more about the history of the Jewish community in Catalonia dating all they way back to medieval times.
6. Placa Independencia
Girona's Independence Square is a scenic stop on your way through the city. Placa Independencia is on the architectural heritage list in Catalonia and commemorates the soldiers who defended Girona from the French when they invaded in 1808-1809. Surrounding this square you'll find many cafes to pop into and grab a bite or shops to browse in.
7. Parc de la Devesa and Many of the Other Jadins in Girona
If you're looking for a relaxing break during your sightseeing then stop at Parc de la Devesa. Europe rarely disappoints when it comes to parks and we always love to relax for a while in a city's green spaces. Girona has a nice one!
We spent an afternoon or two relaxing in the shade of Girona's small parks and gardens where there are ample opportunities to see some wildlife and find shade from the hot Catalonia sun.
8. Eiffel Bridge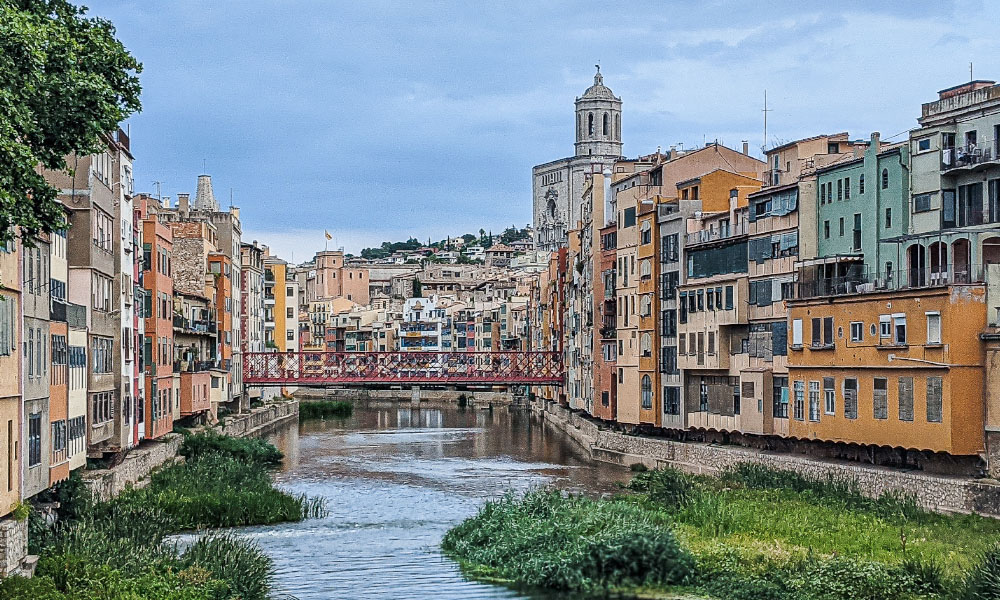 The Eiffel Bridge in Girona was made by Gustave Eiffel. While not as big of a deal as the Eiffel Tower in Paris, it's still fun to appreciate the engineer's construction. In addition, this is a great place to snap some photos of the scenic buildings of Girona along the Onyar river.
9. Taste Girona
We ate some memorable food in Girona, but we did a lot of research on where to eat beforehand. There were plenty of places we wanted to try but didn't have the time or the stomach room! You'll have plenty of dining options when in town. Below are a few of our fave restaurants. If you find a restaurant that makes good Catalonian cuisine, you can never go wrong with that!
Where to Eat
Restaurant Occi (picutured above)– The best duck you'll have in this life. We opted for the street seating; there are a few lined up against the restaurant wall and eating deliciousness on a medieval street is hard to beat. While located in old Girona, this one is off the main streets and offers a peaceful dining experience.
La Fabrica Girona – This is a fantastic breakfast/brunch spot. When in Europe, we don't eat out much for breakfast like we do for lunch and dinner. A lot of great breakfasts in Europe are found at local markets or a neighborhood bakery! However, it was a slow-going kind of morning and we wanted to enjoy some coffee while passing some time. La Fabrica is in a very cool part of town and serves up a more American-style breakfast and great coffee.
Vintages – This restaurant always has some sort of specialty on the menu as the food is seasonal. Enjoy dinner with a bottle of red to cap a wonderful day in Spain. The wine itself was an experience here! We started with a large plate of figs, mozzarella, herbs, and tomatoes, all fresh and drizzled in a flavorful oil. We recommend!
10. Use Girona as Your Catalonia Base
Barcelona is probably the best choice for a base since you can see a world-class city and hopefully escape to other parts of the region. However, if you're visiting Spain for a while, consider getting away from Barcelona and seeing the region more intimately by staying in Girona. Train is a great mode of transportation in Spain so make use of it! While we used the train for some of our travels, we rented a car for everything else and it was a great decision! We drove down Costa Brava (be ready for narrow roads!), saw a handful of medieval towns, one of which was by happy accident, and enjoyed Cadaqués, a must-see in Catalonia. Girona made it possible to see all of these things while still allowing time for some relaxing evenings in the city itself.
What to do near Girona?
Cadaqués
On the northeast coast of the Costa Brava is the whitewashed town of Cadaqués.This town is perfect for swimming in warmer months, or taking a stroll and enjoying the sights and art. Cadaqués is famous for being a favorite summer destination for the artist Salvador Dalí. While in Cadaqués you can visit Dalí's former home, a short walk north of the town in a place called Port Lligat. His home has been transformed into a museum dedicated to Dalí and his life.
Figueres
Figueres is most famous for the Dalí Theatre-Museum. Fans of the artist must pay a visit to get a glimpse of Dali and view up close the art he created throughout his life. Dali was born in Figueres and you can visit the church he was baptized in across from the museum entrance. For those wanting to do more in town, the Castell de Sant Ferran is a historic gem!
La Bisbal d'Empordà
This little town was one of our favorites. It wasn't busy and had a few minor sights to see to get a decent idea of the area's history. Famous for its ceramic industry, La Bisbal d'Empordà has an entire museum dedicated to the history of ceramics and the process behind making ceramics from bowls to art to roof shingles. The story behind ceramics its impact on the town's success is worth learning about! There's a lovely view of the town and the surrounding countryside from the town's castle, Castell Palau de la Bisbal d'Empordà. The castle is very affordable to enter but check their hours ahead of time and be cognizant of siestas in the afternoon!
Peratallada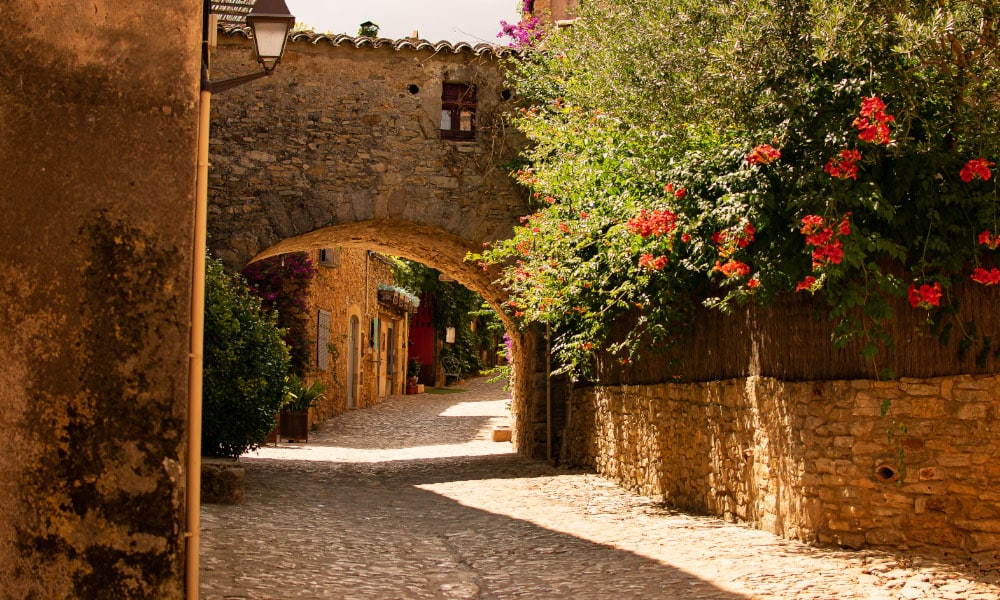 If you're renting a car then be sure to put Peratallada on your itinerary! This town was gorgeous to wander around in the summer. The walls were covered with plants blooming all kinds of vibrant colors. There are several art shops, particularly ceramic ones. A few even offer lessons. We took our time but eventually had to drive on. We took specific note of Peratallada because we want to relax here for days!
Beaches
Girona is a prime base for those who want to spend a day or two at the beach. The city is less than an hour by car to the coast or a little more than an hour by public transportation to the nearest beach. We recommend driving along the coast by car until you find a beach to lay up at. You'll be stopping for many photos along the way! Just drive with extra caution when the roads narrow and enjoy the views.
Put Girona on your Catalonia itinerary!
We hope we've provided enough reasons as to why you should visit Girona and even make it your Catalonian base. Its medieval charm, restaurant-scene, and perfect location make Girona a must-visit city in the heart of the Costa Brava region. Have you visited Girona? Tell us about your favorite sights and restaurants in the comments below!
Like it? Pin it!