What kinds of transportation can you find in France? Well, just about everything really. But what if the train workers are on strike or tickets are just super expensive? Seriously, the train employees went on a "surprise" strike during our visit to central France. Luckily for us, BlaBlaCar was there to save the day and we'd like to share our experience through this review.
What the heck is BlaBlaCar?
The silly sounding name aside, BlaBlaCar is a ride sharing service (think Uber). However, it differs from Uber in that the driver is already heading to a specific destination. You, the user, can book a seat (very affordable) in this person's car and get where you're going. So really, it's just a convenient carpooling service. But it's more than just that! There are some pretty awesome benefits that us travelers can gain from using BlaBlaCar in France so let's review some of those below! And yes, there is a downside or two.
A quick word about the trains in France. Don't book train tickets at the last minute! They're much more costly. That said, they may decide to go on strike the day of your travels and you won't be taking the train anyway.
C'est la vie!

How Does BlaBlaCar Work?
What's that saying? "There's an app for that." Just like any other form of ride sharing service, BlaBlaCar works via an app. But you can also book online.
Let's say you're in Nice wanting to travel to Marseille or in Orleans trying to get to Paris. All you have to do is enter your destination and voila! Hopefully there's a ride on the date and time you're looking for. That brings us to the downside of BlaBlaCar: what if you can't find a ride to your destination? More on that below!

But I Don't Speak French…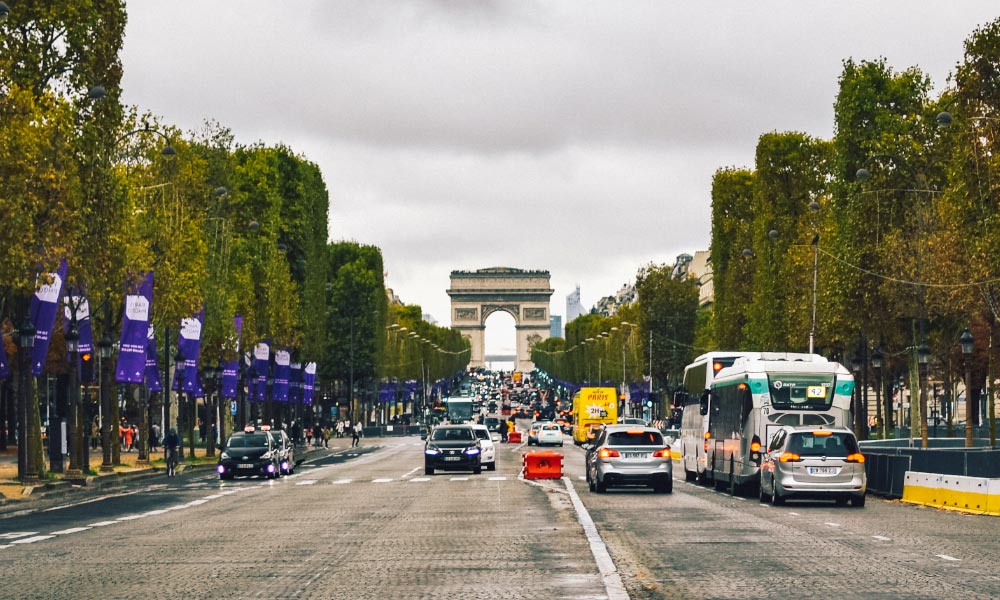 Wait a minute? I'm a traveler in France. I don't speak French and riding in a car with a bunch of local French people sounds terrifying. Maybe so but you should do it anyway!
Trust us, we took BlaBlaCar multiple times in France and met some really friendly people while barely speaking any French! There was always someone in the car, whether it was the driver or another passenger, who knew English. It's a pretty safe bet.
However, it's always a lot of fun to try and communicate with lots of hand gestures, head nods and nervous laughing so riding with people who don't know English will surely be an adventure.
Every car we shared was full (a couple of those times due to the train workers being on strike) and we met some really kind people who gladly welcomed us to France. It seemed like they didn't get tourists very often for their BlaBlaCar service so maybe it was a nice surprise.
Regardless, we got some great advice as to what to do in the regions of France we were exploring. On top of the practical benefits of riding with these locals, we felt very fortunate to have met these people on our travels and open our eyes to some of the more local parts of France.

Is BlaBlaCar in France Safe?
A good question and a simple answer: yes! Is this guaranteed 100% of the time? No.
Like Uber, drivers have reviews (you can translate them via Google if need be) and have a personal profile. They have a picture, their car info, even their personal preferences. Obviously, if the reviews mention road rage or "swerves like a maniac" then try and find another driver.
The safest thing to do when taking any form of ride sharing service is to send the info of your driver to a friend or family member. That way someone else knows who's driving you around. It may seem scarier if you're a foreigner traveling in France but, as foreigners ourselves, our BlaBlaCar rides went smoothly, which is why we're recommending it in this review!
What about accidents?
BlaBlaCar insures your travel! If there is an accident or a mechanical malfunction, BlaBlaCar will see that roadside assistance arrives. If the delay is too long (not sure how that's decided) then other transportation will be arranged for the driver and passengers.

The Cost vs. Other Transportation in France
For our budget traveling buddies out there, BlaBlaCar is a fantastic option in France! As we've mentioned, train prices can be a killer in France, especially booking at the last minute.
Buses aren't a bad option but their time of travel doesn't always sit well with the price (think 20 euros for multiple hours of bus).
You could rent a car! While we loved renting a car in France to explore our regions, getting from place to place was much more expensive because of gas, one-way fees, or tolls (avoid tolls if possible!). That said, you should always look for a deal because you never know.
So what about BlaBlaCar? Is it worth the cost?
Absolutely!
You don't have to pay for gas, there is no one-way fee, there aren't multiple stops like a bus, and the driver doesn't surprisingly go on strike.
The cost of going from Orleans to Paris by train would have been over 40 euros for both us. BlaBlaCar was only $28 USD and we got the experience of traveling with locals in France. Seems like a winner to us!
During our long stay in the country of France, we never found public transportation to be cheaper than BlaBlaCar. We're sure there are times when that's not true but we have yet to experience it. All we're saying is to give BlaBlaCar a chance!

The Biggest Problem with BlaBlaCar for Travelers
So, by this point our review of BlaBlaCar should be sounding pretty awesome. We think, at least. But there is one major downfall to BlaBlaCar for travelers, in France or any other country, and it's the first question you should ask yourself.
Is a BlaBlaCar actually going to my destination?
Frankly, it would be pretty hard to take BlaBlaCar to your end destination if there isn't a BlaBlaCar going that route in the first place. So, travelers looking for this budget-friendly adventure need to approach it with some alternatives in mind. Because if you're trying to get to Amboise (where Da Vinci is buried) from say, Le Mans, and there isn't a BlaBlaCar, well you're stuck with public transport or a rental car.
So, while BlaBlaCar is awesome and great for budgets and meeting locals, it's not always available for travelers who want to visit a less traveled destination. Granted, you can almost always find BlaBlaCars to the major cities, as many locals commute to and fro, but you'd have to work up some sort of mix with train or bus and a carpool to get to your destination if there's no direct car.
For instance, we used BlaBlaCar from Orleans to Tours (for less than a train) and then trained (very cheap and only 10 minutes) to Amboise. Yes, the trains were running that day! Even though there wasn't a direct ride to our destination, it was still cheaper than solely taking the train and we got to briefly see Tours and its magnificent cathedral (worth it!).
It's always worth checking into BlaBlaCar but just be aware that it's not always the most convenient for travelers in France.
Another issue worth mentioning is traffic. Be mindful that, just like if you're driving to work or on a bus, traffic can come to a complete stop and hinder your plans. You can't plan on these unfortunate surprises in advance but we'd just like to remind you to give yourself some extra travel time when using BlaBlaCar. We arrived almost two hours later than expected to our accommodation in Orleans because of a major accident.

Summary of BlaBlaCar Review
We had never heard of BlaBlaCar before arriving in France and we became immediate fans. It saved us a lot of money and we had a wonderful time driving around with some very friendly locals. We'd definitely use BlaBlaCar again the next time we're in France. Hopefully you can too!
Happy travels!

Like it? Pin it!