There are many ways of traveling across Europe. With all of these different choices in front of you comes different costs. If you're anything like us, you're a fan of cheaper (but tolerable) forms of travel. While you can find that sweet flight deal on Google Flights, which you should totally try to do (read our post on finding cheap deals on Google Flights for tips), one of our most budget friendly ways to travel across the Europe mainland has been on four wheels. Granted, if you're in regions of Europe that have great train infrastructure, we recommend taking a trip on the tracks! Training across Europe is always a good idea, cost pending.
However, if you're in parts of the Balkans (trains aren't as reliable here) or if there's just an amazing deal on travel, it's hard to ignore the bus. In this post, we review our experience with FlixBus, an economical way to travel across Europe for cheap. After all, who wants to spend more on travel costs when you could be spending that money on delicious bites and sites in your destination? 
And now FlixBus even has a train, FlixTrain, that connects you to popular cities within the beautiful country of Germany. It's in the growing stage so look out for more connections!
Why Would You Want to Take a Bus like FlixBus?
Price is one of the important factors in travel making decisions. But there are plenty of other aspects as well. Let's look at our personal experience below and why we think FlixBus is a great option for cheap travel in Europe.
Our Experience With FlixBus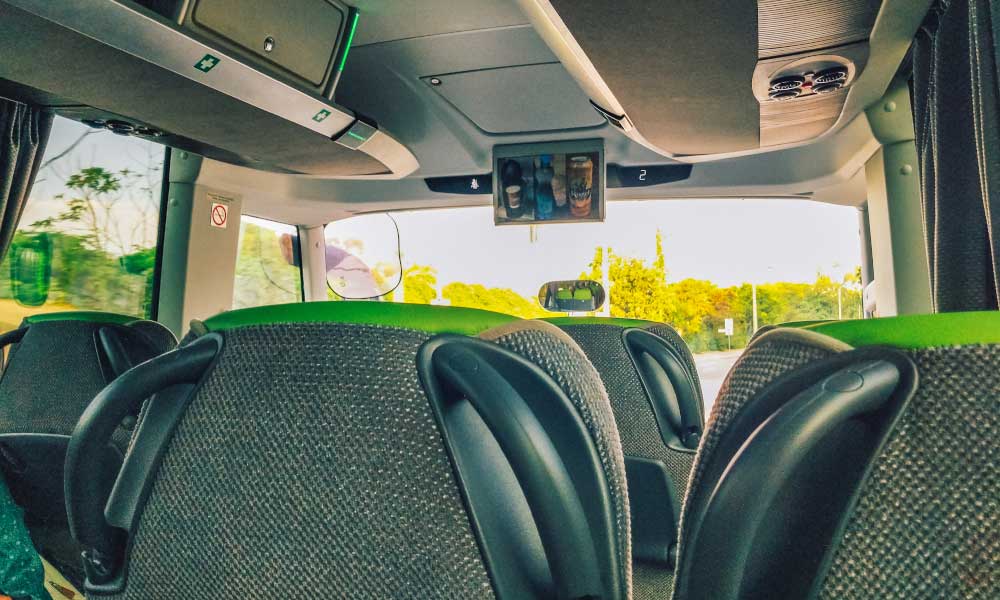 At the end of the day, a bus ride is a bus ride. But trust us, it's more than that. When they don't turn on the air conditioning or the driver stops frequently to smoke, your annoyed meter fills up pretty quickly. However, taking Flixbus in Croatia, Slovenia, and Italy we had a much more relaxed and timely journey than we did in Bulgaria, North Macedonia, and Albania (where we didn't use FlixBus).
It's worth noting that FlixBus doesn't hire the actual drivers or maintain the buses. They team up with regional buses. That said, you're not going to have the same experience on every FlixBus ride. There is a standard that each bus has to keep up. Every bus we've been on has been spacious, clean, and, for the most part, well ventilated.
We can say that our bus rides were comfortable every time so that's a major plus!
Another bonus is that, even in Croatia and Slovenia, the drivers relayed the announcements in English. We took another bus company from Split to Rijeka in Croatia and they didn't speak any English. Turns out they were telling us where to catch the next bus and we had no idea; we missed it because our bus was late. Writing this post after being back on the train a few times in Italy, we can't really say we miss buses. But there are the good and the bad! In our opinion, FlixBus is a great way to travel cheaply.

We've heard complaints; no company is perfect. There are plenty of negative reviews out there, but again, FlixBus works with the regional operators, so your satisfaction lies with your region. In matters of cleanliness, time, friendliness, and communication, FlixBus is our winner.
In Italy, TrenItalia is our go-to form of transportation. However, when we were trying to get to Naples from Siena, FlixBus was half the price of the train and just an hour longer. Being digital nomads on the go and always on a budget, we chose the cheaper of the two. FlixBus seems to be cheaper most of the time and it has a lot of positives to it that we think it deserves a review. Let's get started!
Perks of Traveling Europe With FlixBus: Our Review
Leg Room
Leg room can make or break a travel day. Cramped up with a stranger? It's going to be a long ride. We never felt cramped on FlixBus. Granted, we were sitting next to each other so that's a bonus but in terms of leg room, we had plenty! Even on trains, sometimes you're facing someone and have to keep your legs to one side to avoid bumping into them. Given that FlixBus' prices are typically cheaper than trains, it's a win-win for leg room and price.
On Board Wifi
Don't expect this to be amazing wifi but, yes, FlixBus offers free wifi up to a certain data usage. Our experience has been very positive with wifi during the journey, although you can find plenty of complaints out there stating otherwise. It was fairly slow but we were able to research our next destination, stream music and even download offline Google maps pretty quickly.
Bathroom On Board
Nothing's worse than having to use the restroom and being hours away from a stop. No worries! Every bus, according to the FlixBus website, has a bathroom. This was true in our case and we were glad for it! Granted, the light didn't work during our 2nd ride with FlixBus but when you have to go it doesn't really matter!
Pro Tip: Hand sanitizer is a great item to bring with you in case of a sink malfunction. Pick it up at any DM, convenience store, or pharmacy nearby; they're all over Europe! 
Charging Capability (Mostly)
While we never needed a charging station, FlixBus offers this on a lot of their carriers. However, be prepared for a let down, as charging access isn't always available. That said, it's advised to ask the driver where the plugs are if you're in need of one. Might want to have Google Translate handy just in case!
Cleanliness
We haven't used every bus company in Europe, but FlixBus has been the cleanest ride we've ever experienced. Bussing through the Balkans for a few months, we had some pretty "meh" experiences with cleanliness (and service) but FlixBus has never disappointed! To show appreciation for the cleanliness of the bus, be sure to clean up after yourself.

Lastly, Price!
It seems 9 times out of 10, FlixBus is dirt cheap compared to other modes of transportation. When comparing to other bus companies it can be mid-range or higher in price but our vote will go with FlixBus because of the good experiences we've had with it.
When comparing with trains and planes, it's important to weigh personal preference and travel time. If trains are similar in time and more expensive then why not give bus travel a go? If the hassle of security and arriving early to the airport are too much or you just hate flying then be sure to give FlixBus a look.
Summary of Our Review of FlixBus
While cheap options to get around Europe are never few, FlixBus is always a good option for budget travelers. With plenty of legroom and such a clean environment, it's hard to say no to a deal from FlixBus. We hope this review has given you some insight on FlixBus but, most importantly, we hope you enjoy your destination in Europe and get there safely!
Happy Travels!
Like it? Pin it!