What's the best time of the year to visit Scotland? Winter! Maybe we're a little biased since we've visited Scotland twice in the winter but looking back, we wouldn't have wanted it any other way.
There are some big questions about visiting Scotland during the colder months that travelers, including us, often have before the trip. Will the weather be bearable? Will it snow? Is there enough daylight? Is there much to do in the winter?

We're going to answer all of those questions in our guide below but if you want the short version…yes! There's a ton to see and do during winter in Scotland and we found the weather to be surprisingly enjoyable.

Nature lovers will especially fall in love with the Scottish Highlands. Valleys, lochs, reindeer, streams, hikes, sheep, snow, skiing, and the most savory, traditional cuisine to warm up with after a long, cold but beautiful day.
However, when speaking about the highlands, it's important to note that some things are closed. It's not enough to change your plans but there are some things here and there that are closed for the winter, like certain castles.
Even so, we saw seven castles during our trip, which was more than enough. A couple of them, ruins included, were the best we've witnessed in Europe (more on those below!). So don't think you're going to miss out on a good time by visiting in winter!
The best part about going in winter? The lack of fellow tourists. There were several times when we had the road, the castle and the coast all to ourselves. We couldn't have asked for anything better!
Alright, enough with the introductions, let's talk about some things to know and some things to do if you're going to Scotland in the winter.
Pro Tip: This goes for all seasons! If you plan on visiting many attractions like Edinburgh Castle, Urquhart Castle, Doune Castle, or Elgin Cathedral (plus many more), you should look into the Explorer's Pass.
From October 31 to March 31st a three-day pass costs £26.50 per adult, a seven-day pass is £32.00 and a 14-day pass is £36.00. Considering the cost of Edinburgh Castle alone (£19.50), we think it's worth it! Passes are more expensive from April 1st (another reason to visit Scotland in the winter).
What's the Weather Like?
Winter typically takes place from December to February but in Scotland, being located so far north, winter lasts a bit longer than your typical three months.
That said, don't expect frigid temperatures or snow to be constant! We visited Scotland in January and March and experienced all four seasons during our stays.
Whether you encounter a cold or mild winter in Scotland depends on a lot of factors; firstly, where are you wanting to visit? Will you be in the Highlands (Inverness) or the Lowlands (Edinburgh)?
If you want our advice, we think you should see a little bit of both! Get your fill of the city in Edinburgh or Glasgow and then head north. Some of the most breathtaking nature awaits, even more so in winter!
If you're worried about the winter weather ruining your Scotland adventure, you shouldn't be! We had the same doubts for our trip, especially in January, but the snow and rain and sleet and fog and sunny days each turn the landscape into something uniquely marvelous. And yes, we experienced all those types of weather on the same day!
While precipitation is hard to forecast, the temperature is another story. Take a quick look at some winter weather averages for Scotland to get a general idea of what to expect temperature-wise. Honestly, it's not too cold on average (high 30s to low 40s F), even in the highlands. But the wind, blustery at times, can change that in a hurry!
So, will there be snow in Scotland? You bet! Will the flakes fall where you are? Maybe? While we can't definitely say whether it will snow or not, we can definitively say there will be snow all across the mountain peaks. That goes for the Cairngorms National Park and everything west.
As a general rule, the further you go west toward the coast, the more likely you are to see snow!
What about daylight?
Even more worrisome than weather, we were really concerned about not having enough daylight to see all we wanted. However, we found eight hours of daylight to be plenty. You just have to start your day early. We usually got up around 6 or 7 am, ate breakfast and were on the road by 8-8:30. This allowed us to fit in a ton of sights.
What to Wear in Winter

Your clothes should be all-seasons ready when visiting Scotland in winter! Since a day can go from warm to cold and back to warm at the blink of an eye we recommend layering up. Be sure to pack:
A light-weight rain jacket. Darah loves this jacket made by Colombia and Garrett was gifted this J. Crew coat, which is great but a bit pricey. This men's Colombia jacket is a great budget-friendly alternative.

Under your rain jacket you'll want one or two warm layers like a fleece or down coat.

Jeans and other warm pants are great but if you plan on doing a lot of hiking you may want to invest in water-proof pants. There were days where we'd find mud on our pants but it was never a lot.

Water-resistant shoes. We're a big fan of Timberland's waterproof boots. We can walk in the rain, trek through mud, and keep our footing on ice, all without getting our socks wet!
How to Get Around Scotland in Winter
As is the case with the rest of the UK, the train and bus are always viable options! A good chunk of the Highlands is accessible by railway so training from place to place is feasible. However, if you choose public transportation in Scotland, we think you're doing yourself a great disservice! It's odd for us to say that because we're huge fans of public transportation: it's cheap and convenient. But not here!
Of course, there are tours available as well. You can find plenty of these in the bigger cities; however, we think it's best to avoid them. Putting a time limit on sightseeing in Scotland is a bad idea!
The best way to see Scotland in winter? By car!
There's nothing quite like gallivanting around Scotland on four wheels to the beat of your own drum. It's a small country and packed to the brim with alluring hillsides, mountains and lochs (lakes). Around every corner is a new treasure to be appreciated.
Thanks to all the picturesque scenes, we didn't make very good time during our road trip around the highlands; we stopped quite often, whether to take pictures or to get out and breathe in that fresh, cool highland air. We've driven in a handful of countries in Europe but nothing compares to driving in Scotland!
But Scotland is in the UK, right? That means you have to drive on the left side of the road. The steering wheel is on the opposite side of the car. There's a roundabout every mile (not really but it can seem that way).
Sound a little daunting? It might but if we can do it (we were pretty nervous!), so can you! To help ease the anxiety a little bit, we've put together some tips for driving in the UK that will put your worries to rest!
What about the road conditions? Are they dangerous?
Our road trip, which consisted of over 1,000 miles through the western Highlands, was hazard-free. That said, be prepared for anything! A good place to start is by checking road conditions in Scotland every day before you venture out.
We really want to emphasize the importance of driving through Scotland. Every traveler has their own preferences, but if you're a fan of taking the road less-traveled and stumbling upon some majestic views then you need to see Scotland by car.
Start checking car deals now and keep a close eye on the price for a sweet deal. We always use Kayak (it's been great for us in Europe) but there are plenty of other car rental options out there!
Pro Tip: Make sure you have offline maps downloaded on your maps app. Cell service can be spotty in the Highlands.
What to Do in Scotland in Winter
Whether you're on a city break or going away for some peace and quiet in the Highlands, there's plenty to do in Scotland during the winter.
Edinburgh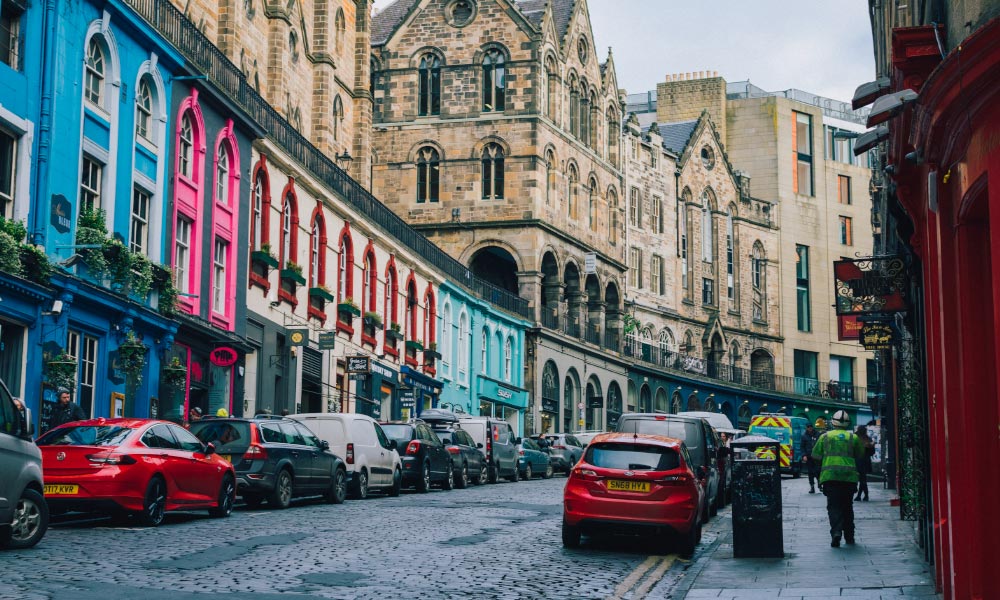 Edinburgh, the capital of Scotland, is a must-see on any itinerary. Even if it's just for one day, Edinburgh will delight travelers with its famous castle (book a tour for this one!) and the best pork sandwich (Oink) in the world awaits you on dreamy Victoria Street.
Don't forget about outdoor activities! Edinburgh has an extinct volcano for a neighbor: Arthur's Seat. The trek is pretty easy but slip-proof footwear is advised! Those wet rocks can get pretty slick.
If you're interested in royalty, stop by the Holyrood Palace on your way down! Or top off your day with an intimate whisky experience in the Waverly Pub.
Fans of JK Rowling's magical world will find several inspirations from Harry Potter in Edinburgh as well as some of Rowling's hangouts.
There's more than just one day of fun to be had in Edinburgh. We haven't even mentioned the Royal Mile or the Greyfriars Kirkyard. Check out our list of things to do in Edinburgh for more ideas.
And yes, these are all great ideas in the winter, too!
Cairngorms National Park
Around two hours north of Edinburgh by car, the Cairngorms National Park was our first real taste of the Scottish Highlands and we never looked back. This national park is a treat in winter, offering a plethora of skiing and other outdoor activities. Aviemore, although busier than other towns, is a haven for winter sports enthusiasts.
But there's more than winter sports here! Fancy a walk? A romantic and cozy night at an inn? A distillery tour? The Cairngorms serve as a great base for exploring the heart of Scotland and there's always something to do.
Sights to See:
Loch an Eilein Castle. Check out the picturesque ruined castle and stand in awe of the snowy peaks reflected in the water.
Cairngorm Reindeer Center (if you don't make this one, you'll probably spot some reindeer further north and west!)
Take one of the many walks. Walkhighlands has an amazing, user-reviewed website that details different walks in the Cairngorms. They have information on walks all over Scotland, too!
We chose an easy but scenic 1.5-2 hour walk: Torr Alvie and the Duke of Gordon Monument. There's a small rise in elevation but nothing strenuous. The views are just incredible. It's a great start to the day or the perfect way to finish an afternoon before hitting the pub for some haggis or fish and chips!
Speyside and Moray
Whisky, anyone? There are an estimated 50 distilleries just in this tiny region to the north of Cairngorms National Park.
In fact, there's an entire trail dedicated to single malt whisky. You'll find huge names like Glenfiddich, Glenlivet and Chivas in this region but you'll also find whiskies you've never heard of. We chose Glenfarclas for our distillery tour and tasting and now we have a new favorite whisky! Check out more in our review of the Glenfarclas tour and tasting!
Is whisky not your thing? That's okay! Speyside has a lot more going for it than just a drink. This is where one of the best Airbnb hosts in the world resides. We are obligated to give her place a special mention because it's just that awesome.
We've stayed at more than 30 Airbnbs in Europe and rarely recommend a specific place but we just had to on this one! For a real B&B experience on a huge acreage, a full breakfast, the best hospitality, stars that shine like diamonds and a beautiful sunrise/sunset, check out Bev's place on Airbnb.
Sights to See:
Elgin Cathedral
A large 13th century ruin that's conveniently located in Elgin, on the way to Inverness from Speyside.
Findlater Castle
Arguably our favorite castle ruins in all of Scotland. We saw one person when we arrived and we didn't see another soul until we left. We had the entire castle ruins and a view of the coast all to ourselves. Our Airbnb was only 30 minutes away so we got an early start and watched the sunrise. The perfect spot!
Duffus Castle
More castle ruins! This castle may not have as many scenic surroundings as Findlater but it's a very impressive ruin! It once sat high upon earthworks but the tower eventually slid down and fell into ruin over time. A great place to wander around!
Road Trip Through the Highlands
We could write a book about how amazing a drive through the Scottish Highlands in winter can be. Granted, we can only think of so many synonyms for "beautiful" or "perfect" so the book might be a little repetitive.
In that case, we'll sum it up as best we can in a few words; you need to start packing your winter coat!
The Highlands felt like a home away from home, a place we could instantly settle down and love every minute. It's just that gorgeous. Even when the weather would all of a sudden turn to a windy sleet before giving way to a setting sun, it was magical.
Ok, that's all the descriptions we'll throw at you for now. Let's talk about some places you need to see in winter; hopefully these sights help make a good case for visiting Scotland in winter. There are a lot!
Eilean Donan Castle
This one is famous! But going in winter means way less tourists, like the rest of Scotland! We shared the entire castle grounds with just four other people, having the freedom to wander wherever and take a lot of pictures. Be prepared for drastic weather changes in an instant! Unfortunately, the inside is closed during the winter but we were more than satisfied by just exploring outside.
Pro Tip: There's a small parking lot on the edge of the water, before you cross the long bridge. Park here! There should be open spaces in winter. Take the walk across the bridge for some amazing views of the castle with the mountains for a backdrop.
Glen Affric
This is a lesser-known gem. Our Airbnb host in the area recommended this to us and we're so happy he did! Otherwise, we would have never known about it.
Sunrise or sunset are the best times to go. Park the car at the trailhead (watch out for the sheep on the road!) and walk about 30 minutes to an hour up a dirt road. The lookout point will be on your right. It's one of our favorite views in Scotland!
Loch Ness
Loch Ness, famed for being the home of Nessie, the Loch Ness Monster, stretches over 20 miles! We drove by a few times, as we stayed in an Airbnb nearby and Loch Ness stays in view for what seems like forever!
Loch Ness is also home to Urquhart Castle. It's a well-preserved ruin, just off of A82 and on the edge of Loch Ness. However, it's quite expensive, costing £12 per adult. That's pretty pricey for ruins so we decided to head elsewhere. But the choice is yours!
Loch Oich Food Co.
This tiny little restaurant sits south of Loch Ness, almost halfway to Fort William. Please stop in and say hello to the kind folks who run the place and then order the best roll of your life. And we don't mean just a bread "roll". Oh no.
We mean a bacon, egg, and cheese-stuffed roll that's surely to top your list of all-time favorite breakfast foods. There are plenty of other options to choose from and you can go even heavier by adding black pudding into the mix!
Vegetarians don't fret! You can have a potato scone and cheese instead.

Culloden Battlefield
If you're interested in Scottish clan culture, the Jacobite Uprising of 1745 or if you're a fan of the book and TV series Outlander, then Culloden Battlefield would be a good and informational stop on your winter trip to Scotland.
You can walk around the memorial and learn more about the battle at the museum within the visitor's center. Be sure to take a look at the highland cows before you go!
Inverness
Inverness has been called the capital of the Highlands and sits at the mouth of River Ness. This scenic hub is the gateway to some spectacular sights to the north but don't just blow by. Inverness Castle, the cathedral, and most important, Harry Gow, are worthwhile attractions.
Actually, we'll just go ahead and say Harry Gow is mandatory. For any baked goods lover, do yourself a huge favor and stop in for a coffee and some baked heaven. Visit the shop along the A9 for an easy on-and-off road trip snack.
Fortrose Cathedral
Just a 30 minute drive north of Inverness, Fortrose Cathedral awaits in beautiful ruin. This cathedral is an ideal spot to stretch your legs and wander around for a short while. The information posted around the church really helps you understand what once stood on this spot many centuries ago.
Fairy Glen Falls
Just five minutes north of the cathedral is Fairy Glen Falls. There are two waterfalls in this densely wooded den; we'll let you decide which one is better. Bring a snack, perch yourself on a rock and watch the water flow.
Anywhere on A832 and A890
These two roads, stretching from west of Inverness all the way down to Eilean Donan Castle, are overflowing with stunning landscapes on both sides of the road. This is where we saw reindeer!
Again, traveling to Scotland in January has its perks: we had the highway to ourselves. It was easy to reverse, turn around and drive to a strategic point where we could sit and watch these magnificent animals.
What about other roads? There are so many scenic drives (like A82!) but we just wanted to highlight a couple of our favorites.
Beauly Priory
The small town of Beauly doesn't take long to drive through but there's a very important monument in the town's center: Beauly Priory. This old monastery dates back to the 13th century and its yard contains an award-winning tree. Check it out! Priory Inn, next door, serves a great afternoon tea or dinner! Or check out the award-winning fish and chips shop, The Friary (also next door).

Glencoe
There is a dark and bloody history to Glencoe (known as the Massacre of Glencoe) but you wouldn't think that by just looking around. It was one of our last stops in Scotland and winter was in full form around this area! Slowly, as we drove southward, everything turned to white. It was truly a winter wonderland and we were mesmerized, to say the least.
So yes, for those wanting snow, visit the west or southwest coast of Scotland and you've got a pretty good chance of seeing some!
Doune Castle
It's technically on the border of the Highlands and Lowlands but Doune Castle has some fame to its name. And it's not in ruins! Doune Castle may look familiar to fans of the movie Monty Python and the Holy Grail or Game of Thrones (some scenes from Winterfell) and Outlander (Castle Leoch). That's quite a group of popular culture for one castle!
Touring the castle allows you learn about its history and get a feel for what it was like in its heyday as well as some insight as to how it was used for movie and tv sets. Be sure to pick up an audio guide, which is narrated by Monty Python's Terry Jones and Outlander's Sam Heughan.
It's £9 per adult, which isn't budget-friendly, so you have to weigh the pros and cons of taking a gander inside.

Other Road Trip Ideas
If you're looking for a specific route to follow, the NC 500 (North Coast 500) is a fantastic option! We didn't follow the route exactly but would stumble upon its path occasionally. You'll be making a lot of stops along the way for those eye-popping views! There are also accommodations and eateries which advertise themselves as NC 500 stops.
Loch Lomond & The Trossachs National Park
The only other national park in Scotland besides the Cairngorms, winter here is all eye candy and fun. Settle down for a couple of days or at least give it a thorough drive-through. Loch Lomond is half in the Highlands and half in the Lowlands so you'll get a good feel for both sides!

The lochs are pretty, of course, but it's the sheep and green fields below the snowy mountains that makes Loch Lomond and Trossachs special.
There are plenty of treks to be made as well, with many mountains over 3,000 ft. and a peaceful castle ruin you need to see: Finlarig Castle. The sun had just poked its head out from the clouds and the castle was illuminated with yellow and green as we arrived. It's free to walk around but please pick up after yourself and respect the property!
Wait, What About the Isle of Skye?
We did a lot of research before booking and after much debate, we decided against the Isle of Skye for this trip. Why?
We think the Isle of Skye needs a good, solid couple of days, maybe even three, to really appreciate it. We didn't want to feel rushed or stressed during our trip and felt like Skye would put us over the top.
So, in the future, we will return to Scotland (maybe in winter!) and head to the Isle of Skye. If you think that it can fit in your travel plans, then we're super jealous!
Winter Events and Holidays
Christmas
Anywhere in Europe is a good place to be for Christmas and Scotland is no different! Edinburgh and Glasgow host a wonderful Christmas Market and some smaller cities hold festivals as well. Those cities include Aberdeen and Perth and more!
Hogmanay
The Scottish New Year's Eve, Hogmanay gets its roots from Vikings who celebrated the winter solstice in late December. From Edinburgh to Inverness, many towns in Scotland have their own version of Hogmanay celebrations and none of them will disappoint.
If you're in Scotland for Hogmanay then be sure to check what festivities and traditions will be in store.
Burns Night
Robert Burns is the national poet of Scotland and on his birthday, January 25th, people all over Scotland get together to read his poetry, drink whisky and eat haggis, neeps, and tatties. Sounds like a fun night out!
If you happen to be in Scotland on Burns Night then be sure to check with local pubs and eateries to see if they'll be putting on their own Robert Burns celebration. We saw many signs advertising Burns Night dinners while driving through Scotland.
Summary of Visiting Scotland in Winter
Scotland was one of the highlights of our European adventure and we wish the same for you! If you have any questions about visiting the country, no matter the time of year, please reach out in the comments below or contact us!
Happy travels!
Like it? Pin it!