Sofia is a special place. Not only is it packed with thousands of years of history and great food, it also has a really tall neighbor, Vitosha Mountain. There's never a point in Sofia that Vitosha isn't within view and if you're like us, then you've wondered how to get to the top! In this post, we talk about how to get to Vitosha Mountain from Sofia (it's easy!), how to hike some awesome trails, see a waterfall, and get some beautiful views. Oh, and how to get down!
If you're in Sofia and looking for other things to do then check out our post on a day trip from Sofia to Rila Monastery.
How to Get to Vitosha Mountain
Getting to Vitosha Mountain is pretty simple! Granted, it depends on what you're looking for. If you're just wanting to get to the top with little effort, then the lift is the way to go! There are several stops for the lift and buses/taxis can take you where you want to go. We've been told the lift only runs on weekends but since we hiked up we can't confirm anything about the lift.
If you're looking for some serious hiking, then we recommend starting your day at Boyana Church. Start early! There are multiple buses that run here (we took bus 64) or there's always a taxi.
Things to Note
We began our day at one end of Vitosha Mountain and finished at the other. We weren't sure of how long it would take or even if a trail connected it all but we found our way!
It's doable in a day. However, it takes several hours and covers several miles, most of those being upward. We brought plenty of food and water but don't weigh down your bag with water because there are some places to refill for free or huts offer water bottles for sale.
There is a sign at the beginning of the Boyana Waterfall trail with a map. Take a picture of this on your phone so you can reference it. Google maps did not show a trail connecting these places.
Boyana Church
Why not start your day with a UNESCO Heritage site? Boyana Church doesn't involve any hiking but it was a great place to start our day. You can enter the grounds for free but there is a fee to enter the church itself. We didn't venture in but we did take a good look around. From there, head up the road toward Boyana Waterfall. You'll begin to see signs for Boyana Lake, but don't follow those!
Boyana Waterfall Hike
The Boyana Waterfall is a popular hike from Sofia, especially on weekends. Be prepared to meet families on the trail and even their dogs. Everyone is very friendly so brush up on your Bulgarian greeting, "dobŭr den"! Don't fret if you're hiking in the heat, the trail for Boyana Waterfall is covered by a beautiful canopy.
This trail is pretty straightforward. Just follow the switchbacks and keep an eye on the yellow signs as well as the white and green trail markers on trees. It can be confusing at times but look for other hikers because they're most likely heading for the waterfall.
Around mid-trail, there's a break in the trees and just a little to the right are some rocks. Take a moment here and get a great view!
Boyana Waterfall is gorgeous, cool, and relaxing. Take in its beauty, have a rest, and regain your strength. If your day ends here then you've finished a tough 1 hour 45 minute hike. Just head back down the way you came.
If you're venturing on to the summit of Vitosha Mountain like we did, keep reading!
Hiking Vitosha Mountain
From Boyana Waterfall, you'll need to backtrack just a little. There is a divide in the trail where one path leads to the waterfall, one heads back where you came from (Boyana District) and the other continues on up the mountain. Take the latter and you'll follow it for what seems like forever! It's still shaded and beautiful but it's quite a climb. There are deviations from the trail and if you're feeling adventurous, go for it! However, we advise keeping to the trail because it is easy to get lost!
You'll begin seeing signs for "huts". These are restaurants or hotels or a place to hangout. Feel free to stop at any of them but keep an eye out for Tintiava Hut and then Aleko Hut. For some reason, the summit of Vitosha is not listed on any signs until later. So we had to do some serious map searching to find a hut near the summit. Aleko Hut.
You'll walk next to the water for a long way and even pass by some of these huts. We felt like we were going the wrong direction most of the time but somehow we managed to get it right!
A great hut to stop by is Tintiava (on the way to Aleko Hut). We went in looking for water and came out with water and a free glass of wine! They didn't speak English but insisted with gestures that we take it. Not really the best thing for us at the time but couldn't say no to that!
Past Tintiava you'll find a spring to refill your water for free!
The scenery of Vitosha is diverse! From babbling brooks to tall pines to open valleys and jagged rocks, we traipsed across all sorts of areas. Eventually, you'll come upon a large open area and Sofia will come into view. You'll now be able to see the summit in the distance. Keep going! You can head up to the top, following the signs.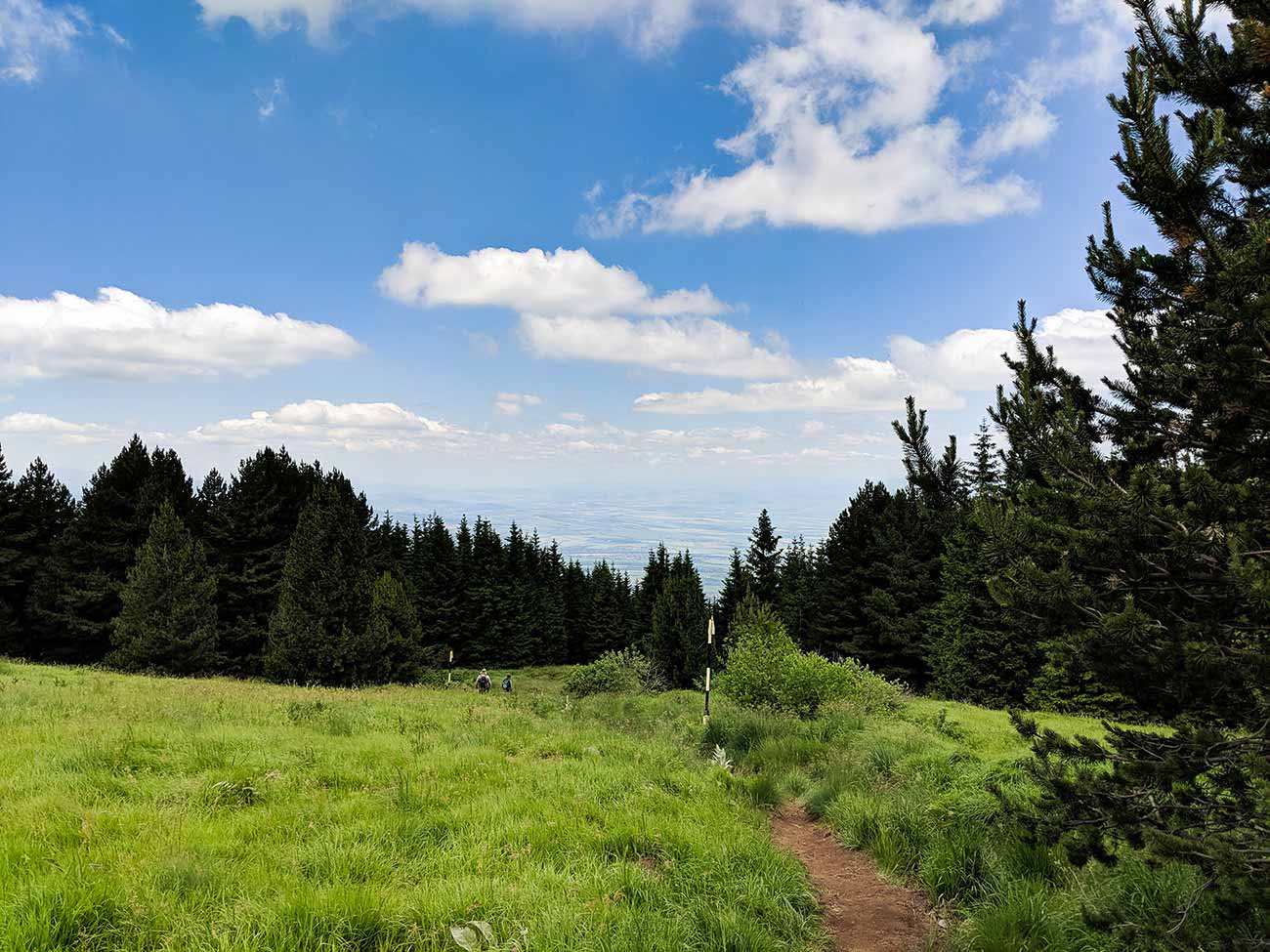 Getting Down Vitosha Mountain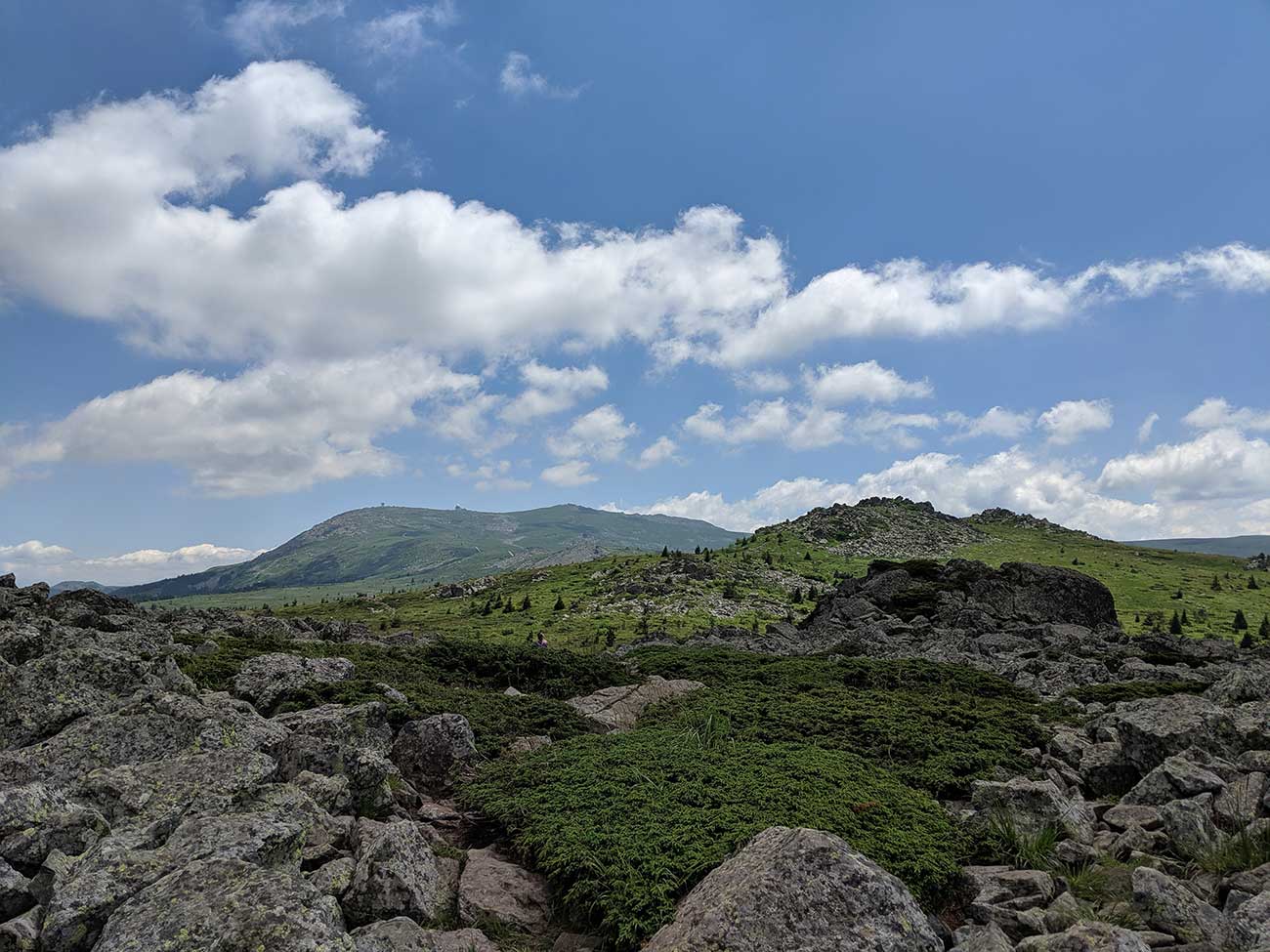 Depending on your day, you can go back the way you came, although that sounds very tiresome. There's the cable lift near the summit, or bus 66 will take you down the mountain and end at the zoo in Sofia. Take note of the time! The last bus to Sofia leaves at 4:50 and the lift stops running at 4:30 pm (according to Google) so plan accordingly.
Summary of Hiking Vitosha Mountain
Sofia is an amazing city because it's so easy to lose yourself in the nature next door. Take a break from city travels and seek out some mountain air atop Vitosha. The views of Bulgaria that you'll get from these hikes will be worth it!
For more ideas on Sofia, read our post on things to do in Sofia!
Like it? Pin it!