Housesitting is a very common way to make some nice income on the side. But what about using housesitting as a means to travel the world? It's a super budget-friendly way to explore foreign countries (or your own!), meet locals and make furry friends. Whether you're housesitting for a paycheck or watching someone's home and pets in exchange for free accommodation, the do's and don'ts are the same!
If you're interested in traveling and having free housing while you do it, then you have quite a few options as a sitter. However, we used TrustedHousesitters and highly recommend the service! It was the perfect way to travel in more expensive countries like the UK and the Netherlands. For more on how we traveled our way around as housesitters, check out our TrustedHousitters review and get some tips as well!
Ok, now let's talk about the do's and don'ts of housesitting so you can get those stellar reviews and begin your housesitting adventure!
The Do's and Don'ts of Housesitting
Do Keep the House Clean
Cleanliness is just as important as taking care of someone's pets. The whole point of housesitting is that someone is trusting you to watch over their house and pets while they're away. They are trusting you. The best way to lose that trust is to leave their house a pigsty when they return. Whether the pets are safe and sound or not, if the place is a mess, the owners will probably assume their pets didn't have a great sit.
What do you need to do?
While they're gone, you need to keep the house neat and tidy and give it a good, deep cleaning just before they return. Vacuum, sweep, clean all surfaces and make sure all dishes are washed and put away.
Leave the house the way you found it. Or if you want to be an awesome sitter, have it cleaner than it was before!
Do Love and Take Care of the Pets
Our favorite part about housesitting is taking care of the pets. Make sure you know everything you need to know about the pets before the owner leaves.
When do they eat and how much? How often do they need to be walked? Should you give them a bath? What's their personality like? What should you do in case of an emergency? Try to ask as many questions as you can! And write them down so you don't forget!
It's important to have all these questions answered so that you're not bothering the owners about every little thing while they're tanning on a beach somewhere.
The best part about housesitting?
Playing with the pets and getting to know them!
After 10 weeks in the United Kingdom and three weeks in Amsterdam, there were 9 dogs we wanted to take home with us. A bonus of watching other people's pets is learning how they've raised and trained their animals. You can take these tips back home with you to your own pet!
Do Update the Owners Often
Whether it's regarding the pets or the house, be sure to keep the owners in the loop about anything that they might think is important.
For example, we housesat in England for a couple who were away for three weeks. Within the first couple of days a huge leak sprung in the ceiling of the kitchen. For the next 17 days we met with plumbers on their behalf but kept the owners in the loop about every new development. Sometimes housesitting doesn't always go according to plan! Be sure and check out that review we mentioned earlier!
If you break something or an accident happens, be sure to let the owners know. If it's not a huge deal then it can wait until they return but it's important that they know what is going on in their home.
We like to ask the hosts how often they'd like to be updated before they leave. Most of them wanted frequent updates but there were a couple who didn't worry much.
In addition, the hosts may introduce you to the neighbors. They can be a big help in an emergency as they're nearby and know the area.
Do Lock Up Everytime You Leave
It's not your home. It's someone else's home.
You need to take extra caution before leaving. Every time!
Ensure the oven and stove are off, taps aren't running and you've locked all windows and doors before you left.
With that said, make sure you have the keys before you leave. While this has never happened to us, there's nothing worse than having a door that locks automatically and you don't check to see if you have the keys beforehand.
Do Leave the Owners a Welcome Home Gift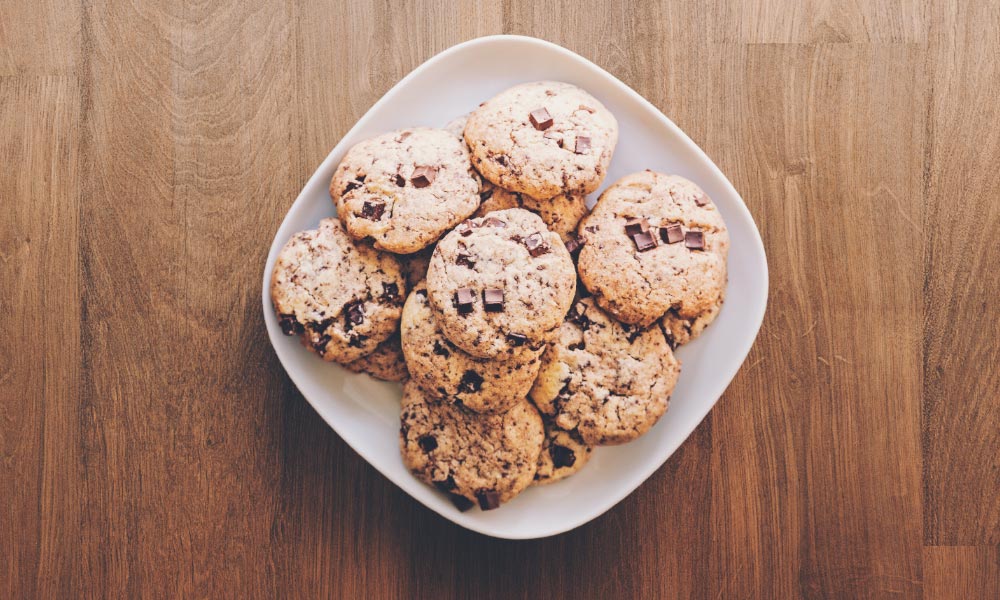 This isn't necessary but it's definitely a nice touch. With most of our housesits we baked a batch of chocolate chip cookies and left them on the counter for the owners to enjoy. It doesn't have to be cookies, though. You could leave a vase of flowers or just a nice card saying how you enjoyed your stay and the pets.
These little touches go over great with hosts and if you use a site where hosts are encouraged to review their housesitters, like TrustedHousesitters, then this will give you bonus points that will help you get that next housesit!
Pro Tip: If you make cookies, be sure they're out of reach of furry friends. We encountered quite a few animals that were counter grazers and, luckily, we had the foresight to have any cookies beyond their reach.
Do Make the Bed
We wanted to separate this from cleaning the house because we think it's super important, especially if you're sleeping in the owner's bed during your sit. They'll have been traveling and nothing is better than coming home to a clean and made bed.
When we were housesitting in the United Kingdom, there wasn't always a dryer so there were a few instances where we washed the sheets but they didn't air dry in time. In this situation, check to see if there are extra sheets you can use; if not, the host will surely appreciate the clean sheets even if the bed isn't made.
Do Enjoy Your Time
Many people treat housesitting like a vacation on their own and if you have wonderful animals to look after or beautiful countryside, then it's even better!
It's important to make sure you're having a good time on your housesit so you'll be excited for the next opportunity!
That said, if you are housesitting to travel, try your best to choose the one that's right for you!
Ok, time for some don'ts!
Don't Invite Guests Over
It's not your home so it's not your place to invite people over. There may be hosts that say it's okay but even so, make sure you're strictly following the rules and treating the house with respect. Again, it's someone else's property and YOU signed up to take care of it. The guests did not.
Don't Raid Their Liquor Cabinet
Like food, if they give you permission then feel free. But don't drink it all and don't drink the expensive stuff unless you're willing to replace it.
Don't Eat All Their Food
Many of our hosts have told us to eat whatever is in the fridge or some have even left us some groceries. How nice! In this case, go ahead and chow down.
However, if you can't resist a nibble but the host didn't expressly give you permission to eat their food, be prepared to replace it. Even if they did give you permission to eat their food, it's a nice thought to replace an item you used up. Again, leaving the house like you left it will leave you with some bonus housesitting points.
Don't Leave the Housesit Early
This one should be a no-brainer, right?
That said, one of our hosts had housesitters leave the sit just two weeks into a six month house sit. You read that right. They stayed just 14 days out of an agreed 180 days. Why? Because the house was too cold Granted, the house was really freaking cold for us in March so we can imagine the winter was pretty brutal. But the host was transparent about it all beforehand.
We spent more than two weeks with no hot water because of a plumbing catastrophe in the UK. While it was very inconvenient and we definitely wanted to leave, we stayed because we made a commitment.
Unless you have a true emergency, there's no excuse to leave a housesit early. If an emergency does come up and you have no other option but to leave, then you need to do everything you can to make sure the host has time to get home or find a replacement. Do not leave their pets.
Don't Go Snooping Around Their Stuff
If you need something, ask them first. Don't go looking around their house. If it's hidden away they probably don't want you using whatever it is. If you're told a room is off-limits, then leave it be!
Summary of the Do's and Don'ts for Pet and Housesitting
Housesitting allowed us to make some of the best memories of our travels in Europe. If you have the opportunity to housesit, especially for you travelers out there, we highly recommend you to try it!
Of course, if you have any questions about these do's and don'ts for housesitting or any other general things, please comment or contact us!
Happy travels and happy housesitting!
Like it? Pin it!