Naples is a must for any traveler looking for an authentic experience in Italy. This is where the pizza was invented, after all!
But it's not just the pizza that beckons visitors to this large Italian city. The castles, the Duomo (and many other churches), the Veiled Christ, and even more delicious bites like baba add a lot of flavor to this bustling Italian gem. Throw in the fact that you can easily get to Herculaneum, Pompeii or the Amalfi Coast, Naples serves as the perfect place to settle in for a lengthy holiday. In this guide, we share some awesome things to do in Naples on a budget plus share some helpful tips.
Why on a budget? Because who doesn't want more money for pizza and genovese?!
So we don't somehow turn this post into an obsessed foodie essay about how we dream of going back to Naples just to eat, we'll direct you to our post on food you must try in Naples for some more food related tips. And yes, it's budget friendly too (and absolutely delicious).
Some Quick Budget Tips for Naples
Before we dive into all the fun and delicious things in our guide to Naples, we want to touch on some good budget tips for you. Naples is most definitely doable on a budget. For instance, we (2 of us) spent 10 days in town and spent an average of $30/day. That's $15/person!
Granted, you may have some more spending room so these are just some guidelines to help you make your money go further. And again, that's more money for trying the Napoli cuisine.
Where to Stay
Staying in a 4-star hotel in the city center sounds great. It's also really expensive. The closer you are to Old Town then the more you will pay for accommodation.
Hostels are always on the radar for budget travelers (especially solo travelers and large groups) and you get to meet fellow travelers so do your research.

But our favorite accommodation in Naples? Airbnb.
We teach English online so we need a private working space and Airbnb is perfect for that but having our own kitchen makes it easy to cook some meals in, saving us a ton of money that we'd otherwise spend on eating out for every meal.
So, lower that nightly price filter on Airbnb and see what's available. You can also find some really good deals on private rooms that have access to the kitchen. And your host will be a local who might have some good tips on what to do!
As long as your accommodation has a close connection to the bus, train or Circumvesuviana (transport for locals to the suburbs) you can get into Naples with ease.
For instance, we stayed in Pomigliano d'Arco, a pretty distant town from Naples but with a connection on the Circumvesuviana to the central train station. Which leads us to our next item on the list: how to get around.
How to Get Around Naples
Naples' metro is awesome. While it's not the largest underground system ever, it's clean, easy to use, and has some really beautiful themes in some of the stations.
In fact, if you're looking for things to do in Naples on a budget then take time to admire some stations for just the price of a metro ticket. Some really cool metro stations are Dante, University, and Toledo.
You can buy tickets at any Tabaccheria or ticket machine for single use but if you're going to be doing a lot of back and forth, look into the day pass or weekly pass.
Single Ticket for bus and metro: Around $1.80 USD (good for 90 minutes)
Daily Ticket for bus and metro: Around $5 USD
Weekly Ticket for bus and metro: Around $17.40 USD
As we've mentioned, the Circumvesuviana is also a good public transportation option. However, it's mainly for going outside of the city to Pompeii or Herculaneum. More on Pompeii below!

Pro Tip: If you do stay outside of Naples proper and are going to use the Circumvesuviana to get into town then make sure you know when the last train to your accommodation is. Our train stopped running after 8:00 pm and we had the misfortune of spending 50 euros on a taxi home. That was a budget killer…
Dining and Drinking
Ah, this is the best part about Naples, especially when talking about a budget. Eating out in Naples is SO CHEAP. Of course, this does depend on your appetite (hopefully you like pizza!) but you'll find so many pizzerias and pasta shops that run from 4-10 euros per person.
For example, we got two whole pizzas and 2 liters of beer for under 20 euros. And this pizza is amazing! Rest assured, you're trying the real deal here.
As for drinking, you'll pay much more at a bar than you will at the grocery or pizzerias. While we splurged on the occasional Aperol "Spritz and Go" (yes, you can walk around with some aperol spritz) we mainly stuck to just beer in the cheap places or some wine at home. By all means, stick to your chosen budget but drinks will be much higher in restaurants than the supermarkets.
As for drinking water, Naples is awesome! Drink up because it's good, clean water and you'll find some fountains around Old Town. We highly recommend bringing your own water bottle to refill (that goes for anywhere) to save money and to save on waste.
Awesome Things to Do in Naples on a Budget

Free Walking Tour
You'll find several options for walking tours in Naples but we recommend Napoli That's Amore. Not only is their name awesome but these are some qualified, local guides who take you on tours through Old Town and show you the "Best of Naples".
What makes this company special is the fact that they "require" a booking. It's free, of course, but the reason they require a booking is to keep the group limited so you can enjoy your tour. No one wants to walk around for two hours and not be able to hear the guide because there are 40 people in the group!
So, please make a booking with them online. It just takes a name and an email. We witnessed plenty of people who walked up at the last minute and were turned away because they didn't book and our group was already at a maximum. Don't be that guy!
Duomo di Napoli
Besides the breathtaking architecture within Naples' Duomo, completed in the 14th century, visitors will find the patron saint of the city, Saint Gennaro.
A vial of his blood is stored here and it becomes liquefied three times a year, when tons of people gather for these celebrations dedicated to different events in Saint Gennaro's life. We were fortunate enough to be there for the celebration in September and it was quite an event!
Entrance is free!
Take a Day to See Pompeii
You can't go to Naples and not visit Pompeii. There are many ways to see this historic site but we've written up a guide to seeing Pompeii on a budget that has all you need to know! Check it out!
Chiesa del Gesù Nuovo
Chiesa del Gesù Nuovo bears the same name as the square in which it resides.  This church has a very unique history and unique facade. It wasn't always a church; in fact, it was a palace for the Prince of Salerno but certain political events ensued and the estate was sold.
The Jesuits purchased it and transformed it into what you see today. Needless to say, the interior is breathtaking. See for yourself!
Entrance is free!
Monastero di Santa Chiara
This church may not appear as inviting as the many others in Naples but that doesn't take away from its importance. Unfortunately, a bomb dropped directly on top of it during WWII, causing major damage to its structure.
However, behind the church, you'll find a gorgeous courtyard (cloister). Of course, there is a fee for this (6 euros) but if you're looking for some peace and quiet right in the middle of Naples' Old Town, you're going to find it here. And you'll have plenty of eye candy in this historic complex.
Rub Pulcinella's Nose
One of the more silly but fun things to do in Naples, give Pulcinella's nose a rub for good luck. You'll find him hanging out in Old Town. Pulcinella (the mask) has quite a lot of stories behind it and you'll hear some of them on your walking tour through Old Town!
Museo Cappella Sansevero
Being on a budget, this is one of the few attractions we deemed worth our money and man, were we right!
Even if the famous Veiled Christ wasn't inside, this would still be worth your time. Which means, since the Veiled Christ is in there, you definitely need to go inside!
Everything you see was completely thought out and planned and created with precision. It's truly amazing. Unfortunately, there are no pictures allowed inside and there are "guards" everywhere.
Venture down to the basement and discover some darker aspects of the genius who was behind all of what you see inside.
Tickets are 8 euros/person. If you book online in advance through Museo Cappella Sansevero you will pay a booking fee of 2 euros extra. But if you're in Naples in the peak summer season that may be a good idea so you can skip the ticket office on site.
It's closed on Tuesdays.
Take your time walking around inside and enjoy!
San Domenico Maggiore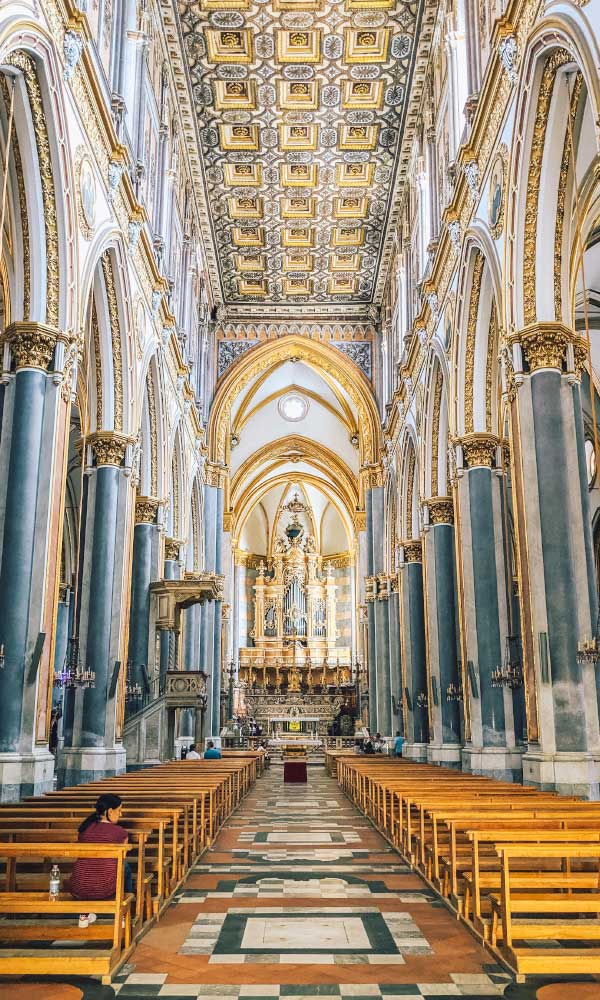 While this church is less talked about than others in Naples, it was arguably our favorite. It must have been the timing, as the sun illuminated the purple stain glass all over. It's located just around the corner from the Museo Cappella Sansevero and borders that long main street that cuts through the heart of Naples, Spaccanapoli.
Entrance is free!
Spaccanapoli
Spaccanapoli is the street in Naples. Literally this street means "Naples splitter" and literally, it splits Naples. If you find yourself uphill and look down, you can definitely see why it has this name. It's a very long and narrow street that stands out from the rest.
It goes through Old Town and you'll probably find yourself wandering along it many times during your visit to Naples. Keep an eye out for desserts like baba!
Basilica Reale Pontificia San Francesco da Paola
It's not the Pantheon, although it appears to be quite similar. It's one of the later constructions in Naples, finishing in the early 19th century. Be sure to head inside and also to admire the massive square in front, which looks at the Royal Palace of Naples. This is one of the prettiest spots in town!
Fontanelle Cemetery

Want to adopt a skull?
We didn't but maybe that's your cup of tea. When burial grounds began to overflow from plague victims, skulls and bones began to pile up.
Over time, as the church started to order these remains, the caretakers formed relationships, if you will. After WWII, many brought flowers, gave the remains names and made wishes or prayed to them. An interesting story for sure but there's a lot more to it.
You can visit the cemetery for free! It's not in the most central spot but is still reachable by metro.
Street Art
Keep an eye out for awesome street art in Naples. Even Banksy left some art for us to see in Old Town. Luckily, the shop owner has protected it from graffiti and preserved it from further decay.

Remember St. Gennaro? You can find a beautiful mural near the Duomo depicting Gennaro by Jorit Agoch.
Nativity Market
If you're coming to Naples around Christmas, the Nativity Market will be a sight to see. And it will be very crowded.
During the rest of year, it's still very crowded. That's because this isn't your typical line of shops. You'll find plenty of traditional Nativities here but you're going to see a mix of football/soccer players, political figures, celebrities, all hanging out in the nativity.
It's a lot of fun to take a walk up and down the market to see just what everyone is selling. Don't be surprised if some of these nativities are going for hundreds of euros!
Galleria Umberto I and Horoscope Mosaics
This galleria may remind you of Milan's, which was built first, but this one is apparently taller. Competition between Naples and Milan aside, the architecture is definitely worth checking out and you're going to want to make a stop in the very center of the building.
Look down and find your zodiac sign and snap a picture. You won't be the only one!
Statue of the Nile God
This ancient statue is thought to be from the 2nd or 3rd century AD. However, when it was recovered centuries later, it was headless. Even still, parts of this statue are being found. For example, in 2013, the head of the Sphinx was found in Austria. This statue is obviously well traveled!
Castel Sant' Elmo
This medieval fortress sits on top of a hill overlooking Naples. From here you can get a view of Vesuvius, Spaccanapoli (the "splitter" street) and that gorgeous blue sea. It was built in the 13th century during the reign of Charles d'Anjou.
Getting to Castel Sant' Elmo can be a real delight or a real challenge. If you're up for the climb, it's a beautiful trek that will have you snaking through some quiet side streets. But it is uphill the entire way! There are plenty of spots to stop and catch your breath with a nice view.
Seriously, this will be one of the best views of Naples and the surrounding area!
If walking up the whole way isn't your thing, there is a funicular that will take you kind of close. Once you reach the top, it's still a 10-15 minute walk to the castle. Either way, you have to do some walking so we recommend taking the free option!
Budget Tip: Tickets normally cost 5 euros but if you go after 4:15 or on a Tuesday you can purchase tickets at half price!
Summary of Guide to Visiting Naples on a Budget
As you can see, there are some really cool things to do on a budget in Naples. You're in for a memorable trip and a happy tummy. If you have anything to add or comment don't hesitate to let us know.
Happy travels!
Like it? Pin it!