Our trip to Barcelona and the Catalonia region was one of our most memorable European destinations yet. With Gaudi architecture catching your eye at seemingly every corner, Barcelona is a wonderful place to explore, as well as eat! In this post, you will find our 3 day guide to Barcelona as well as some helpful tips about getting around town and thoughts on when to visit! We'll also talk about where we stayed and throw in some unique day trip options.
This guide isn't meant to restrict your adventure, but rather to help you plan your trip to Barcelona. So if you feel like changing things around, more power to you! If you have any questions about Barcelona or Catalonia, feel free to contact us or drop a comment!
Day One: Tour Barcelona and Get Your Bearings
Free Walking Tour
Like in every major European city, we highly recommend taking a free walking tour on your first day. You'll learn some very interesting facts about the city, get a mental map, and if you're as fortunate as us, get a guide who will share a beer with you after the tour! We used Sandemans and loved our experience. We got great tips on eating as well. This free walking tour will take you through popular areas like the Gothic Quarter. There are plenty of things to see within this historic quarter, like the Barcelona cathedral (not La Sagrada Familia). Be sure and come back after the walking tour to do some of your own exploring!
Free walking tours are technically "free" but the guides work on tips so be sure to support your guide! Sandemans offers more than just your typical free walking tour; we tried out the Gaudi tour and recommend that one as well! There is an upfront cost for their specialty tours, including Gaudi.
Basilica of Santa Maria del Mar
If you appreciate gothic architecture then you'll want to take a step inside the Basilica of Santa Maria del Mar. Located within the Gothic Quarter, this Basilica has quite the history within but you'll have to hear about it from your guide; they'll tell it much better than we can!
It's free to enter but be sure to look up their hours before visiting. If visiting during the summer months, it makes for a nice spot to catch your breath and cool off.
Palau de la Musica
The Palau de la Musica is one of our favorite buildings in all of Barcelona, and we were only able to see it from the exterior. We're giving you a heads up now so you can plan ahead and get a tour of the inside! Palau de la Musica offers both self-guided and guided tours and if we go back then we'll definitely reserve a spot.
Tip: If you go on the Gaudi Tour for Sandemans (mentioned below), you'll stop by and learn some interesting facts while admiring the exterior.
Las Ramblas
While not our favorite stop in Barcelona, Las Ramblas is still a must-see sight. Especially in the evening, Las Ramblas is filled with people. We never walked the entire avenue at one time; we mainly hung around the northern side of Las Ramblas. And of course, visiting in July, we had to get some gelato along the way!
Plaça de Catalunya is a nearby square that's also very pleasant to just relax in and people watch for a bit.
Tip: We visited during the summer of 2021 when things were just opening up again, and we found Las Ramblas to be very crowded. That said, crowds were supposedly far under normal numbers so it might get insanely crowded during peak summer travel in normal times. A good rule when visiting a touristy city is to see the super famous sights as early (or sometimes late) as possible. Las Ramblas in the morning would be a great start to the day!
Another popular area is the Barceloneta Beach, which can be reached via Las Ramblas. We walked around the beach for a while but it was very crowded. Again, we visited in July so the crowd makes sense! It seemed like a nice swimming beach but we had too many other things to see so we didn't stay long.
Special Mention: Plaça de Sant Felip Neri
Whether you just walk right through or soak it in for a while, the Saint Philip Neri plaza is a peaceful place to catch your breath and get your bearings. It's also quite scenic. There's a small cafe there and a church, as well as a plaque that details the sad events that occurred here during the Spanish Civil War. Beautiful morning and evening!
Day Two: Gaudi
Visit Casa Batllo
Casa Batllo was, in our opinion, one of the best houses built by Gaudi. Tours with audio guides are available daily. It's best to book them in advance, especially in the peak travel season.
This really is a house you don't want to miss touring. The house is a work of art. Words and pictures can't do it justice.
Consider checking for special events on their website. When we were in Barcelona they offered a visit plus an evening that included drinks on the roof with live music. If you do book the special evening, make sure you still have a fair amount of daylight to tour the house so you can appreciate the way Gaudi used natural light in his designs.
Ciutadella Park and Arc di Triomf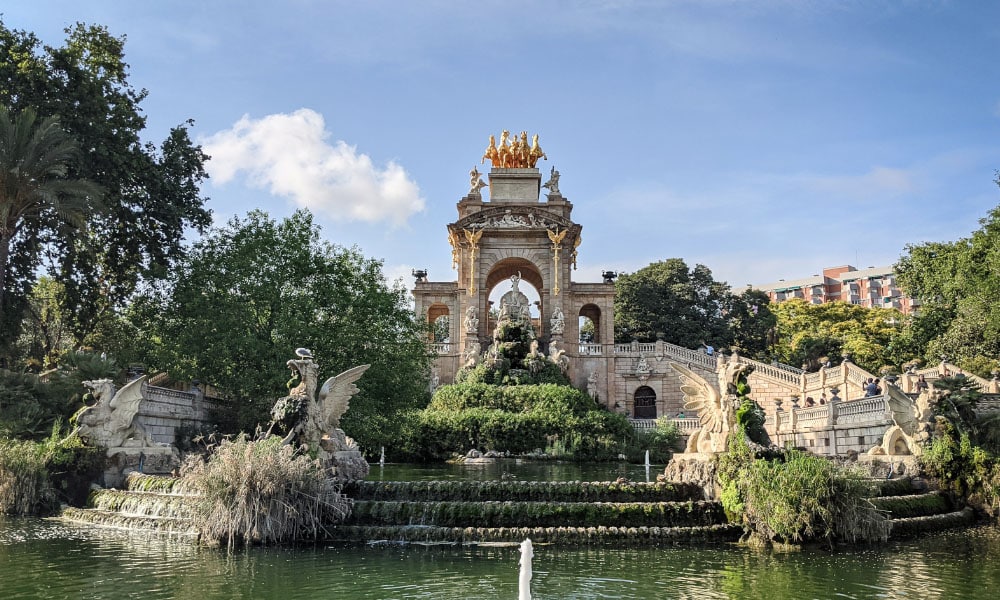 One of our favorite places to pass time in Barcelona during our 3 days, Ciutadella Park beckons all travelers. Firstly, you'll find one of Gaudi's fountains on display, which is the major attraction of the park. In addition, you'll find plenty of peaceful places to hang out and shoot the breeze. European parks are great for lounging. Bring a blanket or find a shady bench and chill out for a while!
Not quite as grand as Paris but still worthy of a stop, Barcelona's Arc de Triomf lies just to the northwest of Ciutadella Park. It was built in 1888 as the entrance to the Universal Exhibition (Spain's first international world's fair).
Take a Guided Gaudi & Modernism Walking Tour
As we mentioned above in day one, we took Sandemans Gaudi & Modernism Walking Tour, which cost us around 12 euros each. It was more than worth it and in addition to Gaudi, you learn so much about the architectural history of Barcelona, as well as some prominent families of the time.
This is another great opportunity to ask a local whatever questions you might have. Whether it's Gaudi, food, or day trips, your guide has tons of information!
Visit Sagrada Familia
Sagrada Familia is probably the iconic sight to see in Barcelona. It's incredible. We could get really wordy about how amazing it is but there are other things to do in Barcelona too. So take our word for it and see it for yourself!
If you go on a walking tour, you'll get a great background story about Gaudi and just how much thought he put into Sagrada Familia. More than likely your Gaudi walking tour will end at Sagrada Familia, if it does it's the perfect time to book your entry.
Purchase tickets in advance on the official website to reserve your spot. The audio guide comes with a standard ticket, and it was very enjoyable. We're not huge fans of audio guides. Sometimes they can have overwhelming amounts of information, but Sagrada Familia's guide was concise and very informative!
Visiting Sagrada is all about when you visit. Gaudi purposefully built it with natural light in mind. If you go in the morning or evening, you'll get a glimpse of how colorful he meant for it to be. We visited in the evening, around 5:30 p.m. and it couldn't have been more perfect to see the sun streaming in through the orange, yellow and warm-toned windows. Visiting in the morning will illuminate the blue, green and cool-toned windows.
Day Three: Art Appreciation
Picasso Museum
This was one of our favorite museums in Barcelona. Visit it if you want to learn about Picasso and his life. The Picasso Museum is set up in such a way that you can travel through the different periods in his art and witness how he evolved as an artist. It's recommended you buy your tickets in advance because they can sell out. Tickets are 12 euros for adults and are sold for certain windows of time. This is great for controlling crowds so the museum doesn't get overcrowded.
You can visit the museum for free on Thursday after 4 pm, the first Sunday of each month, and on certain holidays throughout the year. You will still need to book your tickets in advance to reserve a time slot. Free tickets become available four days in advance.
Base Elements Art Gallery
This is a small art gallery that our walking tour guide recommended to us. You can find it in the Gothic Quarter and it's a free break from the Barcelona sun.
This was a fun and unique experience because you have a chance to meet the artists. The owner is happy to walk you around the gallery and tell you about the artists and their work. Featured at Base Elements is a mix of street, graffiti and urban contemporary art. It's possible to purchase some of the art in the store or online.
Pintors del Pi Art Fair (weekends only)
If you're looking for a unique souvenir or if you just like viewing the work of local artists, then be sure to stop by the Pintors del Pi Art Fair on a weekend. They set up their booths in the Plaça Sant Josep Oriol y Plaça del Pi every Saturday from 11 am to 8 pm and Sunday from 11 am to 2 pm.
Park Guell
Another memorable Gaudi attraction, we visited Park Guell in the evening and spent the sunset admiring the view of Barcelona below. Even after an entire day of exploring on foot, we couldn't bear the thought of missing Park Guell and we're glad we didn't!
Park Guell is outside the main areas of Barcelona and uphill so we'd advise not walking from central areas. Good thing Barcelona has awesome public transport! We took the bus on the way to Park Guell, as there was a bus stop just downstairs from our Airbnb. On our return to the city center for a bite to eat, we chose to take the subway. A good 15 minutes of walking was required to get to the nearest subway station but it was a pleasant stroll and allowed us to see more of the local life in the neighborhood nearby.
Possible Day Trips from Barcelona
If you'll be in Barcelona for longer than 3 days or if you'd like to replace one of the days in the city with a day trip elsewhere then read below about some amazing day trips from Barcelona.
Girona
If you're staying in Barcelona and looking for day trips elsewhere in the region, Girona is a great choice! From its cathedral and old baths to walking the medieval walls of the city, Girona is a perfect getaway from busy Barcelona.
We actually spent a few nights in Girona as a base to see the Catalonia region. It was the perfect spot to come back to every day after some exploring nearby sights and the Costa Brava. Girona actually has quite a bit of history itself and offered up some of the most scenic sights of our trip to Spain. It was definitely more laid back and a great way to relax after non-stop sightseeing in Barcelona. Even though we stayed a few nights, Girona serves as a great day trip destination from Barcelona!
Figueres
Figueres' main attraction is the Teatro Museo Dalí. Formerly a theater and converted into a museum of Dali's own making, this is where you walk through his surrealist world. It's recommended that you purchase tickets online ahead of time. It'll cost you 14 euros per person if you purchase online or 15 euros if you get your tickets at the box office. Your ticket will also get you in to see Dali's jewels.
If you have time and want to see some more Dali, then you should make your way to the Gala Dalí Castle in Púbol. It's a medieval castle purchased by Dali for his muse, Gala, as a place for her to find quiet and seclusion. If you haven't rented a car, you will have to take a bus and then a train from Figueres or, if coming from Barcelona, two separate trains.
Cadaques
Cadaques was probably our favorite stop while exploring Catalonia. The city is most memorable for its white buildings that line the coast but further along the coast you'll find the house owned by Salvador Dali. It's a museum now and you can pay to visit. Tickets were 13 euros as of 2022. We can't speak for this museum because we decided to visit Teatro Museo Dalí instead but have heard good things about it.
Cadaques is one of those places that's so fun to explore on foot. Winding our way through the town's narrow streets, every turn was breathtaking. We chose a restaurant right on the shore and shared some sangria, the perfect way to soak in the view.
La Bisbal d'Empordà
La Bisbal d'Empordà turned out to be a wonderful surprise on our Catalonia road adventure. This town was unknown to us until after we arrived in Girona and glanced at a few guide books that our Airbnb hosts kindly provided.
After finding a parking spot, of which there were plenty during our early July visit, we meandered around for a bit before heading to the pottery museum. La Bisbal is famous for its ceramic pottery and the museum was very enjoyable and a must if you visit!
We then walked to the old town center to see the castle, which has amazing views of La Bisbal and the surrounding countryside. It's very cheap to enter and there are English descriptions in the rooms. We were the only visitors at the time so we had the place to ourselves. However, take note that the castle closes during the afternoon hours for a break. The view at the top is amazing, especially if you have it all to yourself!
Does it make sense to visit La Bisbal with Barcelona as your base? Perhaps not, especially if you just have a day or two in your itinerary for day trips. You'll probably want to see places like Cadaques or Montserrat instead. However, if you rent a car and have the time, enjoy a few hours or more in this less-visited gem of Catalonia.
Peratallada
Peratallada, just east of La Bisbal d'Empordà, was another wonderful surprise. It was so enchanting, it might be our favorite place in all of Catalonia. While there isn't a huge to-do list or amazing must-sees, this tiny, medieval town takes you back in time and every corner has a must-take photograph. Visiting in July, the flowers were in full bloom and we considered ourselves very lucky to stumble upon Peratallada.
If you wanted a break from it all, Peratallada would be the perfect place. We stayed about an hour, slowly wandering the old streets and taking tons of pictures, but this town has many great restaurants and artisanal shops for you to enjoy as well.
Montserrat
If you search for things to do in Catalonia or Barcelona, then you'll no doubt hear of Montserrat. On top of the mountain sits a picturesque Benedictine monastery called Santa Maria de Montserrat that can be reached from Barcelona in about one hour by train. Once you're in the area you can reach the monastery by hiking, funicular or cable car. There are many things to do at the monastery like listen in on the boys choir, visit the museum or tour the abbey and basilica.
Where We Stayed: Gracia
Gracia was a great location for a 3 day stay in Barcelona and very affordable. We were a 20 minute walk from the Gothic quarter or a quick metro ride to other popular parts of the city. If you do choose to walk through Gracia along Carrer Gran de Gracia then you'll get to see many of the Gaudi and other modernist houses on your way to the Gothic quarter. There are many trees so it was typically a shady walk and not too hot. Getting around Barcelona was very easy!
Extra Information for Your Stay in Barcelona
Can you drink the water?
Generally, yes, but if you're picky about the way your water tastes then you might want to stick to bottled water. Barcelona's drinking water is safe to drink but we've read where some people have complained about its taste. We thought it tasted just fine. Bring a refillable water bottle!
How to Get Around Barcelona?
Getting around Barcelona is very easy for visitors as it's a pedestrian-friendly city with good public transport. We mainly walked but we also took the subway, which was clean and a nice break from the heat. If it is hot and you have a busy day, think about taking the subway when you can to save energy. When we travel we have the urge to walk everywhere so we can see it all but this can be very tiresome, especially in hotter months.
The Barcelona Metro advertises the Hola Barcelona Public Transport Card which comes in 48 to 120 hours and allows unlimited travel for the bus, tram, and subway as well as a connection to the airport. For spending 3 sight-filled days in Barcelona, we highly recommend purchasing a travel card. While we didn't use the tram, we did use the bus to drop us off right near Parc Guell. The closest subway was a 15 minute walk away so it's nice to have options! Of course, there are also ride share services available.
Otherwise, Barcelona is so much fun to walk. Every corner is eye-catching and you'll probably stumble upon a great restaurant or cute shop in the process. Europe is lovely to walk and wander and Barcelona is no exception.
When to Visit Barcelona?
We visited Barcelona in July right after it had just opened back up to tourism. While the crowds were significantly smaller than pre-COVID times, there were still a lot of people. Let's talk about the ideal time to visit Barcelona.
Summer
There are many pros and cons to visiting in the summer. One big pro is the beaches. If you're looking for some time to relax and enjoy the beautiful blue waters of Costa Brava, then picking some time in the summer would be perfect for you.
Keep in mind, that as things get back to normal the crowds will be bigger and Catalonia will always be hot this time of year. If you want to take a small gamble of having more pleasant weather and smaller crowds, then we recommend trying to visit during shoulder-season (March-April and September-October). If you're lucky, you'll get perfect weather and fewer crowds. We always prefer shoulder season traveling but when a great flight deal comes up (thanks Scott's Cheap Flights!) we're less picky about the time of year.
The Rest of the Year
From what our tour guide said, the rest of the year in Barcelona is typically cooler and has less crowds. Winter months can get pretty cold but rarely close to freezing temperatures. We hope to visit Barcelona again in the shoulder or off-season to experience the city with cooler weather. If you plan on visiting Barcelona outside of peak tourism season, then we recommend you look up closures and hours for attractions as they might have different hours than they do in the Summer. If you plan on visiting any of Gaudi's masterpieces, plan to visit them earlier in the day so you can have plenty of light.
Must-Try Food in Barcelona
It wouldn't be a proper post without mentioning the food! Eating well is traveling well and you have ample opportunity to eat well in Barcelona! Below we mention some of our favorite items from Catalan and Spanish cuisine. For us, picking a restaurant online was very difficult due to the overwhelming amount of options. That's why it's always good to ask a local! With 3 days in Barcelona, you have plenty of time to try the best cuisine!
Jamon Iberico
A must-try specialty. Jamon Iberico is on the pricey side but well worth trying. However, we tried several different varieties of Spanish ham and were never disappointed.
Tapas
Tapas are everywhere and that's a really good thing! We tried some form of tapas whenever we could just to sample it all. Not all tapas are created equally! We definitely had "just okay" tapas and "out of this world" tapas. Below are some of our favorites. There are tapas tours, like the tours on Airbnb, where you'll sample the goods and learn all about it. We kind of wish we had done this!
Patatas Bravas
Padron peppers
Albondigas
Sangria
No words necessary.
Paella
Paella is probably what most people think of when they think about Spain and its food. The dish hails from the Valencia region but being our first time to Spain, we had to give it a shot!
Manchego
Cheese is all over the menu. Our favorite kind is Manchego and it goes great with jamon Iberico. We buy this a lot back in the States at our Mediterranean market.
Catalan Cream
Similar to creme brulee, Catalan Cream is the perfect way to finish off a meal.
Summary of 3 Days in Barcelona
We hope we've helped you plan your 3 days in Barcelona and we hope you have a great time! If you're doing more exploring in the region, like seeing Cadaques or Costa Brava, and are looking for tips let us know! We will be posting more on Catalonia soon.
Happy travels!
Like it? Pin It!