Bratislava, Slovakia, is full of things to do! This capital city, situated on the beautiful Danube, makes for a great day trip from Vienna or Budapest. However, we recommend making more than just a day trip for Bratislava to really see it and taste it! We had 48 hours to see the city and were exploring non-stop. In this post we talk about some awesome things to do in Bratislava!
Bratislava Free Walking Tour
We highly recommend free walking tours in any city they're offered, which are in practically every major city in Europe. There are different companies in different cities but nonetheless, just do a quick Google search of free walking tours and you'll find a group meeting in a popular area of town. These tours run on tips only so bring some cash with you to tip your friendly guide. We used Be Free Tours in Bratislava and loved it. They offer more free tours like life under communism and the castle so check them out!
In a new city without our bearings, the free walking tour helped us get a sense of direction. We also got some tips from our local guide like where to eat, what to see and how to see it! Free walking tours in Bratislava are a must in this cultural and historical gem on the Danube!
Bratislava Castle
You can't miss the massive white castle atop the hill overlooking Bratislava. A must-see while in town, Bratislava Castle offers a fantastic view of the Danube and Bratislava itself. We ventured up at night as well as during the day. Both times were enchanting.
The castle has a lot of history and dates back to the 10th century. Napoleon tried to take it in 1809 by bombardment but the castle survived. However, it burned down in 1811 so it had to be rebuilt.
There's a museum in the castle as well as some Baroque gardens at the rear of the castle for you to enjoy. The gardens were, of course, closed during our visit in cold February. Oh, the cons of traveling in the off-season. But even on a cold day, it's a beautiful walk around the castle grounds.
Town Hall Museum
An absolute fantastic museum located in the heart of old town! For a few Euros you learn everything there is to know about the town hall itself and the history of Bratislava. Trust us, this town hall has some beautiful rooms in which some really old history is displayed. They have a great interactive exhibit that goes through the history of the Old Town Hall and what it has looked like over the years.
Our free walking tour guide had warned us but it slipped our minds as we ventured down to the basement. The town hall was also used as a place of torture and there are exhibits on these awful interrogation methods. Not for the faint of heart! We did not spend long down there, but don't let that dark part of history deter you from visiting!
Blue Church of St. Elizabeth
This church has become an iconic tourist spot in Bratislava. Unfortunately, you are not allowed to enter unless it is during Mass. That said, it's still a gorgeous building in Art Nouveau architecture that you can appreciate from the outside. No one is stopping you from peeking inside through the windows!
Walk Around Old Town
Old Town is full of statues, beautiful architecture, and has an array of shops and restaurants to satisfy any traveler. You can catch the famous Man at Work statue as well as Napoleon (in front of the French Embassy) and many others!
Devín
Castle
By far one of the coolest castles we have seen in our travels to date (and we've seen many!), Devín Castle gives one a view into ancient and modern history. Devín Castle is located on grounds that were settled as far back as the Neolithic Age. That's thousands of years ago! This area was eventually settled by the Celts and Romans too.
Devín Castle itself dates back to the 9th century and has endured ever since. Napoleon placed explosives under the castle which is why we see it in ruins today. Austria is just across the river and you can see for miles. The views are stunning!
UFO Bridge or The Bridge of the Slovak National Uprising or The New Bridge
A bridge of many names, this is a very unique spot in Bratislava. You can get to the top of the flying saucer-like observation tower and get some great views of Bratislava or you can choose to dine with a view.
St. Martin's Cathedral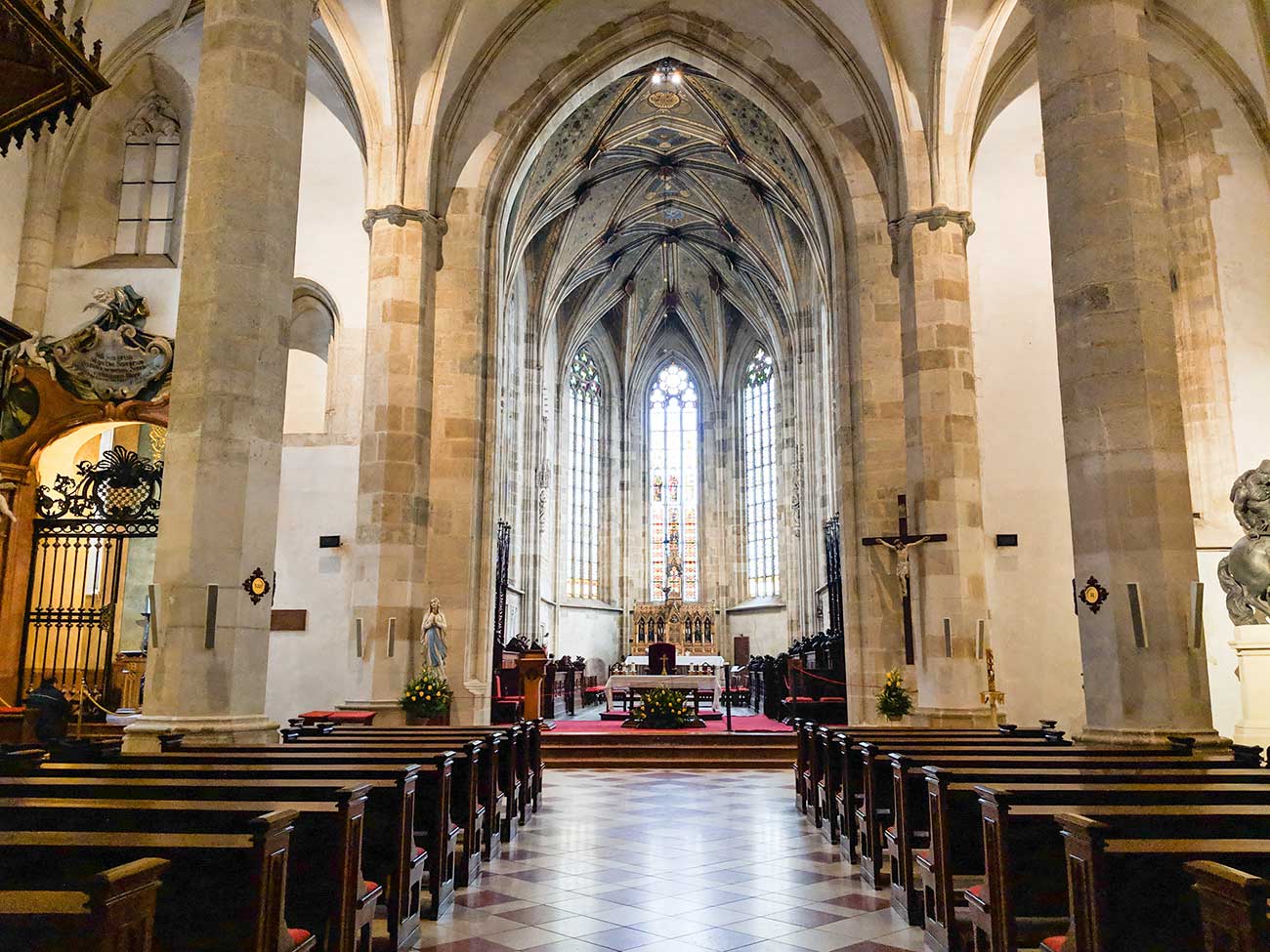 You'll find this ornate cathedral just down the hill from the castle in Old Town. St. Martin's Cathedral is free to enter and is an awesome sight to see with its intricate architecture and its religious art. See it on your way up to Bratislava Castle!
See a Show at the Historical Slovak National Theater
Hviezdoslav Square is wonderful to just walk through, but at the end of the square you'll find a magnificent building. It's the Historical Slovak National Theater. It's called the "Historical" because there's a new theater in Bratislava as well. Whether you're lucky enough to catch a show there or just enjoy the exterior, it's a must-see in Bratislava. You can see what's playing when you're in town on the Slovak National Theater website.
Eat Authentic Slovakian Cuisine
Check out our post on best restaurants in Bratislava! We mention some traditional Slovak foods like sheep cheese on small dumplings and garlic soup in a bread bowl. Add some sausage or bacon for an even heartier meal. They go great with a cold beer or honey wine!
Summary of Things to Do in Bratislava
We hope you find this list useful and have a great time in Bratislava! We absolutely loved our time in Bratislava and want to go back when it's warmer because there are some great things to do. From the hearty food to all the amazing sights, Bratislava deserves a visit when you come to Europe!
Happy Travels!
Like it? Pin it!