France may be most known for Paris, but our favorite part of this beautiful country is Normandy. There are so many wonders in this special region of France. From famous monuments like Mont St. Michel to historic events like D-Day to the simply gorgeous countryside, travelers have much to appreciate and see in Normandy.
Our several day stay in Normandy was not long enough and we're excited to return! But until then, we've compiled this guide of things to see in Normandy to help you plan your trip to this amazing French region!
We mention many different places in our guide but would like to point out beforehand that D-Day sites are listed near the end of the post, since there are so many of them.
Of course, we need to talk about some important details like how to get around and when to go and all that good stuff before we fully dive into the guide itself.
So, let's begin!
How to Get Around Normandy
Luckily for us travelers, France does a pretty good job of making things accessible by public transport. However, public transport isn't the only way of getting around Normandy.
While taking the train or bus can be convenient and even affordable, they really limit how much of Normandy you can see.
We truly fell in love with this region because we traversed it by car. We were able to take any road we wanted, find the small villages, the less-traveled D-Day sites, and beautiful apple orchards and gardens, all on our own schedule.
But depending on your travel plans, renting a car may or may not make sense. There are other ways to travel around Normandy and we've written an entire post on the best ways to get around France to help you make your travel plans!
Pro Tip: If you choose to rent a car, pay attention to the road signs! France has some of the best roads ever but the "A" roads are toll roads and they are not cheap! The "N" and "D" roads are your best friends. Be sure and tick the "avoid tolls" box on your maps app like Waze or Google Maps.
Where to Stay in Normandy
Normandy is quite a large region with treasures scattered all over. Since there are a number of things to see, where should you stay?
By no means is this list exclusive, but it's what we recommend so that you can see as much as possible during your time in Normandy.
That said, if you're looking for specifics like just apple orchards or beaches or you're only on the hunt for WWII history, then you may want to choose a different location tailored to your wants.
We think the cities listed below give travelers a great starting point to discover Normandy and all its wonders.
Caen
We think Caen is the perfect spot to stay in Normandy. We may be a little biased because this is where we stayed but with connections to the highways in all directions, a train station, and being a beautiful city in itself, Caen is a great spot to settle in. D-Day landing beaches are less than an hour away by car, Mont St. Michel only two hours away by car.
And for some of the best French pastries you'll ever try in your life, stop by Pâtisserie Alban Guilmet, near the cathedral.
Rouen
Rouen, besides having those enchanting half-timbered houses, is the place where Joan of Arc was executed and houses the cathedral that Monet used for some of his paintings.

Those who are wanting to visit Mont St. Michel or paratrooper D-Day sites may want to stay elsewhere, given the distance, but Rouen has great connections to transport as well!
Bayeux
Bayeux, a prime location for D-Day history seekers and home of the famous Bayeux Tapestry, is another great place to base yourself.
Not only are you super close to the Normandy invasion beaches but the countryside and natural regional park (more on that below) are just outside your door.
We highly recommend renting a car if Bayeux is your place of choosing.
Lisieux
Ah, Lisieux. We'll never forget coming upon it over the hill and seeing its majestic basilica rising above the town. So, to say the least, it's a beautiful place to stay.
However, Lisieux is also centrally located, meaning travelers who really want to see all of Normandy, whether it's the "Les Plus Beaux" villages or wonders like Mont St. Michel, will be staying in a prime location for exploration.

When to Visit Normandy

If you do your own search of "when to visit Normandy" then you'll probably find that summer is the best time to go.
We very much disagree. Why?
Normandy will be in full bloom, looking beautiful (as it does every season) but it will be very crowded!
Not only are tourists flocking to Mont St. Michel and the D-Day sites, but Parisians are taking their quick weekend trip to the countryside or beaches to escape the city, adding to the influx of people. We heard from a D-Day tour guide that Omaha Beach is lined with people and overcrowded during summertime.

And with heat waves as a good possibility? No thanks.
So, if we think summer isn't the best time to visit, then when?
Being the budget travelers we are, we are huge fans of shoulder season, sometimes even offseason.
To be completely honest, we don't think there's really a "bad" time to visit Normandy. However, our experience in late October was one that we will never forget, as the trees intermixed that deep green and soft orange.
It's something special to drive through the Normandy countryside and see colors pop over every hill and around every turn, while a cathedral or small village lies in wait.
So, if you can manage it, try to visit during the less-traveled time of year. You'll have more of Normandy to yourself and still experience the magnificent scenery around you.
Our recommended times to visit:
April-May or Late September-Mid November
What to See in Normandy
Mont. St. Michel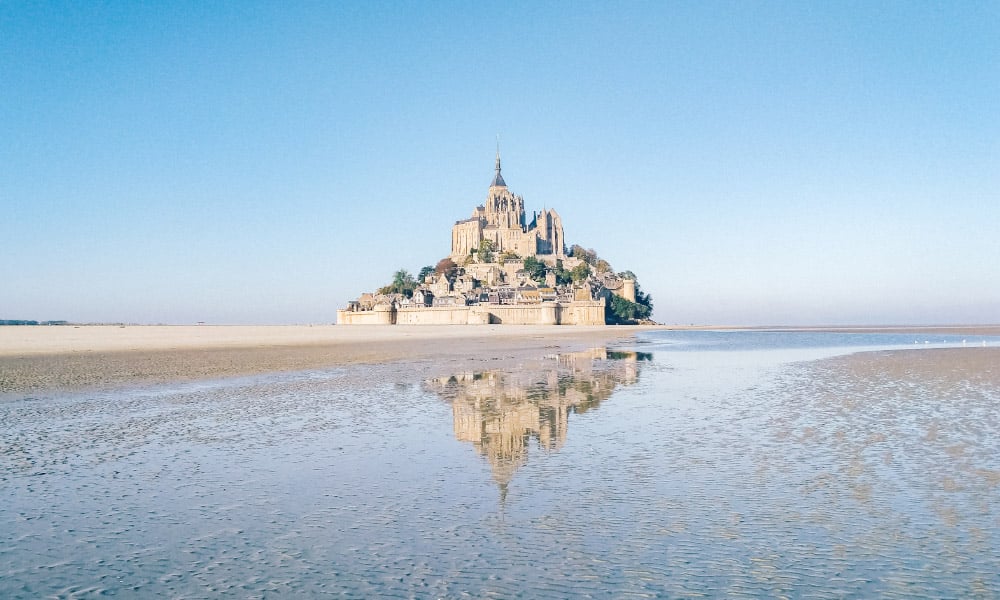 Let's start with one of the coolest monuments in France, right on the edge of Normandy and Brittany: Mont St. Michel.
Whether you go at low tide or high tide, you're in for a treat. Climb your way up to the abbey and get an incredible view but don't forget to also spend some time below and gaze around at just how unique this place is.
Our recommendation is to go during low tide so you can walk around the sea bed, which appears to be a desert at times.
However, you can manage it so you see Mont St. Michel during both high and low tides; it just takes some planning!
We've written about some important things to know before you visit Mont St. Michel so you can plan accordingly.
It will be one of your favorite things to see in Normandy!
Lisieux
As mentioned above in our recommendations of places to stay, Lisieux is also a cool place to visit, even if just for a short time.
The most eye-catching part of town, the Basilica of St Thérèse, is worth a trip in itself.
But that's not all.
Be sure and sample the calvados, apple brandy that's famous from Normandy.
It's also worth noting that Lisieux took a lot of very serious damage and many lives were lost during an Allied bombing raid in WWII.
Camembert
Stinky cheese, anyone?
That's sarcasm, of course. We love French cheese, especially Camembert, even if its stench is a little strong.
If you're a cheese lover as well, why not visit the town where the real deal comes from right in the heart of Normandy.
Sample the cheese at local farms while seeing this quaint little village. If that's not enough, stop by the Maison de Camembert (the house of camembert). It's a museum all about the cheese and if you're lucky there might be a special exhibition taking place!
Rouen
The capital of Normandy, Rouen is quite a large city so visitors may want to spend some more time in this destination. If not, it needs at least a few hours to actually appreciate some cool sights around town.
Besides the Rouen Cathedral, which Monet used for some of his paintings, travelers should also check out the ossuary.
Understandably, ossuaries aren't the happiest places to visit but this is one unique sight in Rouen, where plague victims were buried in a mass grave in the 14th century.
Visitors will find it a very peaceful place nowadays, surrounded by charming half-timbered houses.
Le Bec-Hellouin
If you're traveling in France it's a good idea to check out the "Les Plus Beaux Villages", which designates villages as the most beautiful in the country. You'll find a handful of these in Normandy but one definitely worth your time is Le Bec-Hellouin.
It's a very tiny village surrounded by countryside, making it all the more inviting. Especially in the shoulder season, visitors can expect a quiet and peaceful town that is delicious eye candy.
It's like someone took a perfect town out of an old fairytale and placed it here.
Be sure to check out the abbey, which is how the town got its roots, all the way back in the 11th century. The grounds around the abbey are a lovely walk, and you can view the half-timbered houses from a distance.
Le Bec-Hellouin is another great reason to travel through Normandy by car!
Bayeux
Bayeux, as we talked about previously, is a great place to stay in Normandy, especially if WWII sites are on your list of things to see.
You'll find many guided tours of the D-Day invasion begin in Bayeux so it's quite convenient.
However, there's more than just WWII here. History lovers will also want to check out the Bayeux Tapestry. This massive tapestry (over 200 feet long) details the events leading up to the Norman conquest.
Although it was made in England in the 11th century, it now hangs in Bayeux and is a must-see in Normandy.
Caen and the Memorial Museum
We quickly fell in love with Caen, where we made our base for discovering Normandy. The river running through town, the gothic churches and cathedral, the pastries, it's a beautiful city.
However, there's a very important memorial museum, dedicated to WWII, that visitors will very much appreciate.
So, even if you don't end up staying in Caen, a visit to this museum for a morning or afternoon is a very good idea!
Route du Cidre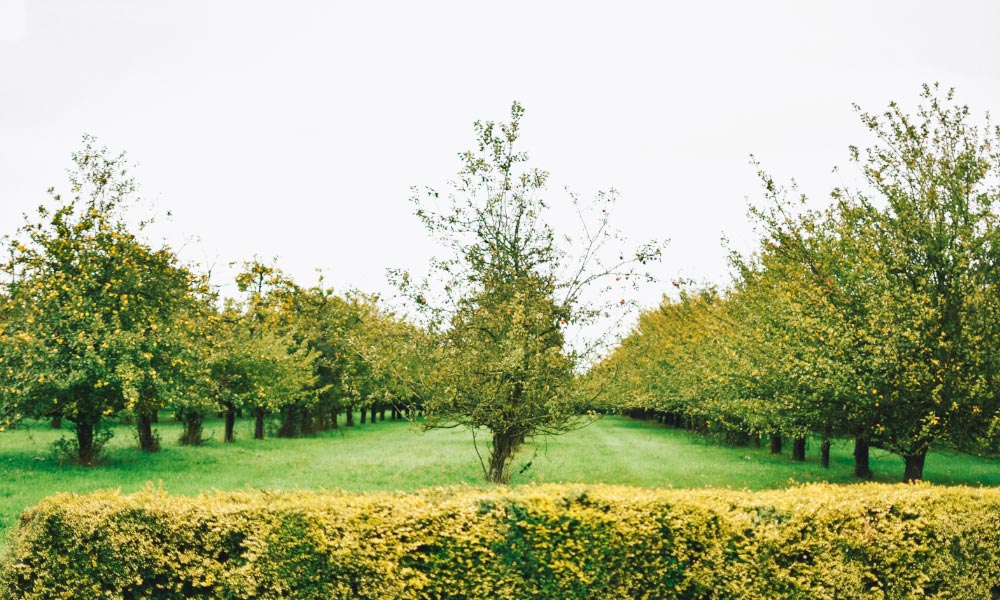 You read that right. There's a route in Normandy dedicated to cider.
We didn't even know it existed until driving aimlessly around. Again, rent a car in Normandy!
But yes, the Route du Cidre, as it's called in French, is just what it sounds like. You'll find apple orchards and even some tourism along this road.
Stop in for a tasting and tour of the cider operation. Even if you don't pull off for a drink, you'll enjoy the route anyway. Turn off on a side road for some picturesque views of Normandy.
Les Jardins du Pays d'Auge
Another countryside gem, located near the Route du Cidre, these gardens are a great place to enjoy Normandy nature. Walk along some paths or just drive through; either way, have your camera ready for some memorable pictures!
Marais du Cotentin et du Bessin Natural Regional Park
We're not well versed in how France dictates an area to be called a "Natural Regional Park", but we can say with absolute certainty that the Marais du Cotentin is every bit deserving of a special distinction.
Hedgerows after hedgerows, pools of water scattered about the fields, cows grazing near the quaint villages, a drive-through here is mandatory!
It's not mandatory, of course, but we really think you should see it.
It turns out that many D-Day sites, especially those dealing with paratroopers, are located within the natural regional park so you'll find lots to see all in one area of Normandy.
Which brings us to our next item.
D-Day Sites
A quick word about D-Day sites in Normandy. There are SO MANY!
So, you can take a guided tour, which you'll find tons of on TripAdvisor. But they don't come very cheap. However, we've heard the experience is quite special so think about it.
But you can also tour the sites on your own. If you start your D-Day self-guided tour in Sainte-Mère-Église, be sure to stop by their tourism office! You'll find tons of helpful info and discounts.
Most importantly, you can get a tablet for 8 euros that guides you around the area. Instead of using their tablet, you can also just download the app for Android or Apple devices and start your awesome day!
The Beaches of Omaha, Juno, Sword, Gold and Utah
No D-Day visit is complete without visiting the beaches themselves. You have your choice of visiting just one or all of them but we recommend at least visiting Omaha Beach. It's here you'll find the signal monument and the American Cemetery is just around the corner.
Pointe du Hoc
The famous cliff that the US Army Rangers climbed early the morning of D-Day is there for you to admire today. It's free to walk around and there are nicely done info stands (in English and French) that guide you around.
You can even enter some old bunkers that are still standing and get an idea of just how amazing the Rangers' mission was.
Sainte-Mère-Église
Sainte-Mère-Église is a must-see town for anyone interested in D-Day.
Enter the famous church in the middle of town (Church of Sainte-Mère-Église) and witness the restored stained glass that acknowledges the paratrooper landings.
Fans of the show Band of Brothers or those with an interest in the paratrooper operations need to check out the Airborne Museum. It comes highly recommended!

Angoville-au-Plain
This is one of the less talked about gems of D-Day sites in Normandy but one you must visit. Two medics, Robert Wright and Ken Moore, set up shop here in the village church and aided many American as well as German soldiers.
There's a small monument nearby dedicated to the medics but head inside the church and walk through some amazing history. The village's population is around 50 people so it's not very crowded!
You'll also find some stained glass commemorating the liberation.
La Cambe (German Cemetery)
Many Germans lost their lives during D-Day and the many bloody days that ensued. The largest German cemetery in Normandy, more than 20,000 are buried here.
It's a very quiet and peaceful cemetery and one that's worth visiting. Many of those buried weren't even 18 years old and were just serving their side.
It's important to note that many of these men had to serve whether they believed in the cause or not.

Normandy American Cemetery
It's a very serene experience and no trip to Normandy is complete without it. When we visited many of the graves were roped off but some were open for visitors to walk through.
Be sure to arrive before 4 pm and seek out the flag near the memorial, where the cemetery begins. We've been told the flag lowering is a very intimate event.

Unfortunately, we had missed it by just 5 minutes! The time of the lowering changes depending on the season so be sure to call ahead and ask. They will speak English and be very helpful!
The Normandy Countryside
Lastly, our favorite part about Normandy, is the countryside. No matter where you are in this region, everywhere you look is beautiful.
Drive around and explore the area for yourself and if a road looks enticing then take it! Who knows what you'll find.
If we were to guess, we're sure it'll be gorgeous!
Summary of Ultimate Guide to Normandy: 17 Extraordinary Things to See
As you can see, there is so much to do in Normandy. We hope you can plan a trip and explore it for yourself. France may be known for Paris but Normandy is our favorite memory of the country. Hopefully it's the same for you and hopefully this guide was helpful!
If you have any questions please ask!
Happy travels!
Like it? Pin it!