Lying near the border of Brittany and Normandy, two beautiful regions of France, you will find Mont Saint Michel. With its roots planted way back in the Middle Ages, visitors can gaze upon over a thousand years of history and explore its narrow and winding streets, as well as the island's pinnacle: the abbey. In this post, we talk about all the details of visiting Mont Saint Michel, from how to get there to when to go. 
What is Mont Saint Michel?
Before we tell you how to get there and all the other sweet deets, do you know what Mont Saint Michel is? We didn't even know it existed until after we had booked our long stay in France.
Mont Saint Michel has been used for military purposes, given its strategic location, a prison, and has served as a pilgrimage destination. Given its strategic position atop a rock that experiences multiple low and high tides throughout the day, it has always served its owners well, most notably during the 100 years' war when the English tried to take it but failed.
The abbey, dating back to the 10th century, has seen many pilgrimages made during low tide and is there today for us visitors to appreciate. Now a UNESCO heritage site, this pristine piece of history is a great reason to visit this region of France!
How to Get to Mont Saint Michel
How you get to Mont Saint Michel is very dependent on where you're staying. If staying in the Normandy region like we were, we highly recommend you to take a car and witness the beauty of this part of France. Driving through Normandy was one of the best parts about visiting. However, if you're in Paris, Nantes, the Loire Valley, or anywhere else for that matter, you have lots of options at hand. Hint: we still recommend driving!
First off, let's talk about public transportation. There is no real direct transport to Mont Saint Michel. The closest train station is in Pontorson (nearby town) and from there you'll have to catch a bus that will take you to Mont Saint Michel. You can find official info on how to arrive by train on Mont Saint Michel's tourism website.
Pro Tip: French trains are great. They can also be very expensive. The further out you book, the cheaper your train will be. If staying in Paris or somewhere that's a longer distance, booking closer to the time of your visit will cost you! Check out the SNCF website for prices!
Besides the train, you also have some buses that are now running directly to Mont Saint Michel from Paris. FlixBus runs there and back on certain dates but note the bus ride is 4-5 hours long so that's around 10 hours of your day spent on a bus!
Tours are also an option but we recommend staying away from these! Mont Saint Michel is a huge attraction and draws massive crowds, especially during the high tourist season. Tours will cost you more in the long run and while you have the convenience of getting there and back, you're stuck in the crowd and won't be able to escape it; it's on an island!
The best way to visit Mont Saint Michel? By car! We found a great deal for a one day rental out of Caen, Normandy on Kayak.com and absolutely loved our own tour of the Normandy countryside on the way to Mont Saint Michel. Not only was the drive beautiful, but we got to Mont Saint Michel early in the morning and beat all the tour groups! More on when to visit below.
The drive from Caen was only 1.5 hours and scenic the entire way. If coming from central Paris, you're looking at a 4-5 hour drive. It's a long one but you'll see so many parts of France on the way and you can leave earlier than the bus! The car also gives you the freedom of visiting other places in addition to Mont Saint Michel.
Pro Tip: Avoid the "A" roads in France! These roads are fantastic but they come at a price. The tolls are quite expensive! However, France has great "N" and "D" roads, which do not have tolls. If using Google Maps, be sure to check the "avoid tolls" option on your route!
If coming by car, you'll find a large parking area where you'll receive a ticket. Hang onto it! It will cost you big time if you lose it. There are parking machines all around this area so you can pay when you return, 9 euros in off-season. It's 14 euros during tourist season.
From the car park you can choose to take a free shuttle bus (about 10 minutes), walk (about 30-40 minutes), or ride in a carriage (not free). We chose the shuttle to get there quickly but observing Mont Saint Michel on the walk in is a lovely idea. You'll get some great pics as well!
What Time to Visit
This is the most important part about visiting Mont Saint Michel. If nothing else sticks with you from this post, just make sure this part does! As always, the summer season will be the busiest time of year. That said, we think any season will be busy! Mont Saint Michel, as we've said, draws a massive crowd. We made our visit to this spectacle in late October and while we had most of the morning to ourselves, the tour groups poured in around noon and all the peace and quiet disappeared. So, if you like to avoid the masses of people, try to plan your visit to Mont Saint Michel as early in the morning as possible.
As you venture uphill toward the abbey you'll pass through very narrow streets that are lined with restaurants and shops. When the crowds pour in, this street gets pretty crazy and it's hard to move!
We did not stay until evening but we're curious what the crowds were like. If you've been during the late day or evening please let us know. We assume crowds will dwindle somewhat so if a magical evening at Mont Saint Michel sounds good to you we say go for it!
Low Tide or High Tide?
The other important factor in planning your visit is the tide. Will it be low tide or high tide? We planned our visit at low tide and we weren't sure how that would play out. Turns out, low tide was awesome! The water recedes so far back that you're able to walk all around Mont Saint Michel. Granted, it can get really muddy in spots so be prepared. We got some great pictures by walking around on the seabed but we're sure high tide is wonderful too, with that picturesque reflection of Mont Saint Michel in the water.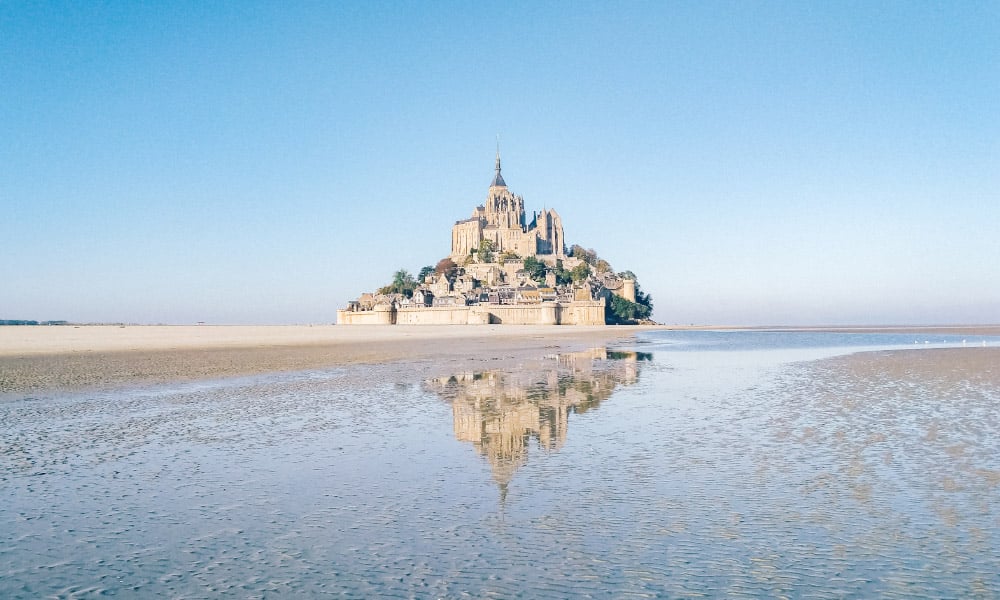 It is possible to time your visit so you see low and high tide all in one day but it's harder to pull off. Check out the Mont Saint Michel tide times and see if you can!
If you're really lucky you might just catch Mont Saint Michel rising through the fog. We saw it from a very far distance during our drive but the fog had lifted once we arrived.
And if you'd like to experience the real Mont Saint Michel, we recommend staying a night in the town and heading to the abbey very early in the morning, around 6-6:30 am. You'll find the monks are opening up the doors for prayers and we've heard it's an incredible experience. You definitely won't find many tourists there!
What to See and Do
First off, if the tide is low, you definitely want to explore the seabed around Mont Saint Michel. We thought we were in the (very muddy!) desert at times; it was so sandy and flat but mesmerizing. If we could do it differently we would have explored the abbey first or brought a spare pair of shoes because it was very muddy. The tourists also flock to the abbey and not as many venture out at low tide so it may be a better idea to tour the grounds afterward. Up to you!
Besides its beautiful surroundings, there's a lot happening in the actual town of Mont Saint Michel. As we've mentioned, there are very narrow streets leading a long way uphill to the abbey, where you'll find some breathtaking views of France and the sea. Of course, there is an entry fee to the abbey, 10 euros for adults, but they offer a free guided tour in English everyday!
However, the time for the tour is not always the same; it depends on the season. During our visit in October, it was at 11 am and we had just missed it because we didn't know! Be sure and ask before you go!
There is a lot to see during your walk through of the abbey but we were lucky enough to witness a Mass (around noon) where monks and nuns were singing in beautiful harmony. Of course, as the signs say, please be silent when walking through.
If you have a chance to stay at a hotel in town when visiting Mont Saint Michel then we're very envious. The crowds aside, this small island community seemed like an amazing spot to settle down for a couple nights.
You're going to find food a little more expensive here, of course, given its tourist status. However, you can still find great eats for an okay price. Just be aware that if you have an ocean view, you're going to pay a lot more! We grabbed a bite at "Bar Restaurant Saint Michel" and enjoyed some really good omelettes and a galette (savory crepe) for a fair price. The staff was also very welcoming and kind. It was busy at lunch! Many Google reviews of the restaurant complain that they couldn't get a table.
Again, budget eating foodies beware, there aren't many wallet-friendly places to eat here. No surprise, though. For a budget tip, pack some snacks and lunch in your bag and find a spot on one of the rocks outside the walls (at low tide) for a nice cheap meal.
Summary of Visiting Mont Saint Michel
Millions of people visit Mont Saint Michel every year and with good reason. It's absolutely breathtaking! Given its long history and its awe-inspiring architecture, it's easy to see why so many people visit. If you plan a little in advance (hopefully our guide has helped you) then you can really have an awesome experience at Mont Saint Michel.
Happy travels!
Like it? Pin it!