Naples is one of the most underrated cities in Italy and many itineraries fail to include it on their list. That makes us so sad! This vibrant city is so full of life and you'll find some of the best food in Italy here! So we've put together an itinerary for one day in Naples to help introduce travelers to the capital of Campania.
After sampling some of the cuisine (pizza and baba!) and exploring some of Italy's most breathtaking churches, we hope your one day in Naples makes you want to return again!
We've heard other travelers label Naples as "dirty" or "dangerous" but if you ask us, we think Naples is authentic. We always felt safe, it was walkable, people were friendly and most importantly, everything we ate was delicious.
However, if you've traveled Tuscany or Rome (as most travelers to Italy do) then do not expect Naples to be the same! Campania is a different region than its northern neighbors but that "different" adds a lot to the flavor of Naples!

Is One Day in Naples Enough?
Most definitely not!
However, we've been asked this question enough to warrant this one day guide to Naples and we loved making it! It's one of our favorite cities in Italy so writing about Naples is never dull.
All that said, if you can squeeze in some more time for Naples in your itinerary then it would be well worth it!
Most travelers pass Naples by on their way to Pompeii or the Amalfi Coast. While these popular places are wonderful and worthy of a visit, we think Naples will be a pleasant surprise for travelers and even serves as a great base to explore the nearby attractions.
With its rough edge charm, spectacular art (like Veiled Christ) and downright heavenly cuisine, Naples will be a city to remember.
Some Quick Tips Before You Visit Naples
1. Stay in a Centrally-Located Accommodation
If your one day in Naples doesn't include a night's stay then skip this tip!
But if you plan on spending at least one night in Naples then make sure it's centrally located. We stayed in a budget-friendly Airbnb that was near the Circumvesuviana commuter train. The train gets pretty crowded and it stops running relatively early in the evening (around 8-9 pm).
We learned this the hard way: after a day of exploring we arrived at the station to find the last train left at 8:00. We had missed it by just 20 minutes. Who knew?!

Staying centrally will make your day in Naples much easier!
2. Beware of Pickpockets and Scams (Like Everywhere Else)
This goes for any major tourist destination. Naples seems to get a bad rep thanks to pop culture and the history of the mafia but it's no more dangerous than Rome or Florence.
Some quick tips for not having a target on your back from pickpockets:
Don't draw attention to yourself. We can't tell you how many times we've seen groups of tourists talking loudly and acting like obnoxious tourists. If you make it obvious that you're a tourist you'll likely be targeted by scammers and pickpockets.

Be mindful of your belongings. Don't carry valuables on your back.

Men, keep your wallet in your front pocket or do as the Europeans do and adopt a "murse" and wear it on your front.

Women, wear a crossbody purse and wear it so your valuables are in front of you.
3. Bring an Appetite
The best part about Naples? The food! So the most important tip we can share: bring an appetite!
With only 24 hours in Naples, you don't have much time to savor the Neapolitan delights. Our one day itinerary will mention some great spots to grab authentic bites so keep reading!
4. How to Get Around
Last but not least, let's talk about how to get around Naples. Thankfully, walking around Naples' Old Town is a breeze and there's a ton crammed into this historic area so you can knock out a lot of sights in one day.
However, the metro in Naples is efficient, cheap and actually quite beautiful!
In fact, even if you don't need to take the metro during your stay, we highly recommend buying a ticket just so you can descend into Toledo (our favorite station) and appreciate the art. Dante and University are pretty cool, too! Toledo station has been named as one of Europe's most impressive metro stations.

A single ticket for the bus and metro: around 1.60 euro ($1.80 USD). A single ticket is good for 90 minutes.
A daily ticket for the bus and metro: Around 4.50 euro ($5 USD)
Ok, without further adieu, let's dive into the details of an awesome day in Naples!
One Day in Naples Itinerary
We've ordered this itinerary by location, so one thing leads to another. We heavily favor Naples' old town and think seeing the historic area is the best way to spend your one day. However, there are some fantastic things to do outside of old town as well. We'll mention them at the end of this itinerary.
Free Walking Tour
If you've read our other posts then you'll know we love free walking tours. They're a great way of learning about the history of the city you're visiting and getting a feel for what there is to do, see, and eat!
The Naples walking tour is no different. We used Napoli That's Amore for our free walking tour and it exceeded expectations.
The guides are friendly, entertaining and very informative. The best part was that they understood how important food is to the traveler so they gave a lot of tips on what to eat and where to eat it!
Be sure to book online ahead of time because they only accept so many guests (to keeps groups manageable) on their tours and don't forget to tip!
Duomo di Napoli
Now that you've had a well-rounded introduction to Naples, begin your self-guided day at the Duomo di Napoli.
The interior is breathtaking and you'll find the patron saint of Naples within: Saint Gennaro. A vial of his blood is held inside the Duomo and the blood liquefies three different times during the year.
You can read more about Saint Gennaro and his life inside. While there are many saints of Naples, Saint Gennaro is considered the most important.
Entry is free!
Nativity Market
Nativities are associated with Christmas but not in Naples! Year-round (and especially during Christmas) you'll find loads of people wandering through the Nativity Market. Including celebrities and political figures, find some very well made and intricate nativity scenes. Walk through the shops and have a look at this Neapolitan specialty on your way to Spaccanapoli.
Some nativities can sell for hundreds of euros!
Explore Spaccanapoli and Have Lunch
Literally meaning "Naples Splitter", Spaccanapoli is the long, straight street that cuts through old town. A lot of the sights we suggest seeing are located on Spaccanapoli or nearby so you'll be spending a lot of time here!
Spend some time exploring this street and take in the beautiful Neapolitan charm, snack on fried food, or head into a pizzeria for traditional pizza.
A couple of great places to grab an authentic pie are Pizzeria 900 (on Spaccanapoli) or Pizzeria Giuliano (near Piazza del Gesù Nuovo). Prices are cheap, pizzas are big and you'll leave more than satisfied! But don't eat too much just yet!
Want to know more about what to eat in Naples and where to eat it? Read our post about foods you must try in Naples! Most of our recommendations can be found on Spaccanapoli or a few blocks away from it.
For an afternoon sweet snack, indulge in some baba: a rum-soaked sweet bread. You can have it plain or with various toppings like fresh fruit, Nutella, white chocolate, the list of yummy additions is almost endless. Shops along Spaccanapoli are full of these treats!
Museo Cappella Sansevero
This is one of the must-sees for your one day in Naples. The chapel once belonged to Raimondo di Sangro, Prince of Sansevero. He was namely, amongst many things, an inventor, alchemist and freemason.
Inside you'll see various breathtaking sculptures. The most famous of them being the Veiled Christ, created by Antonio Corradini. It's one of the most beautiful and intriguing sculptures we've ever seen. Christ appears so lifelike, almost as if he could get up and move at any minute and the veil looks like it could blow away in the wind.
Not only will you see the Veiled Christ inside but another noteworthy exhibit within Museo Cappella Sansevero are the anatomical machines in the underground chamber. These are full upright skeletons of a man and a woman with the whole cardiovascular system on display, which is astonishing considering they're from the 18th century.
The museum is closed on Tuesdays. Tickets are €8 at the door and €10 online. There will be a big queue during peak season!
San Domenico Maggiore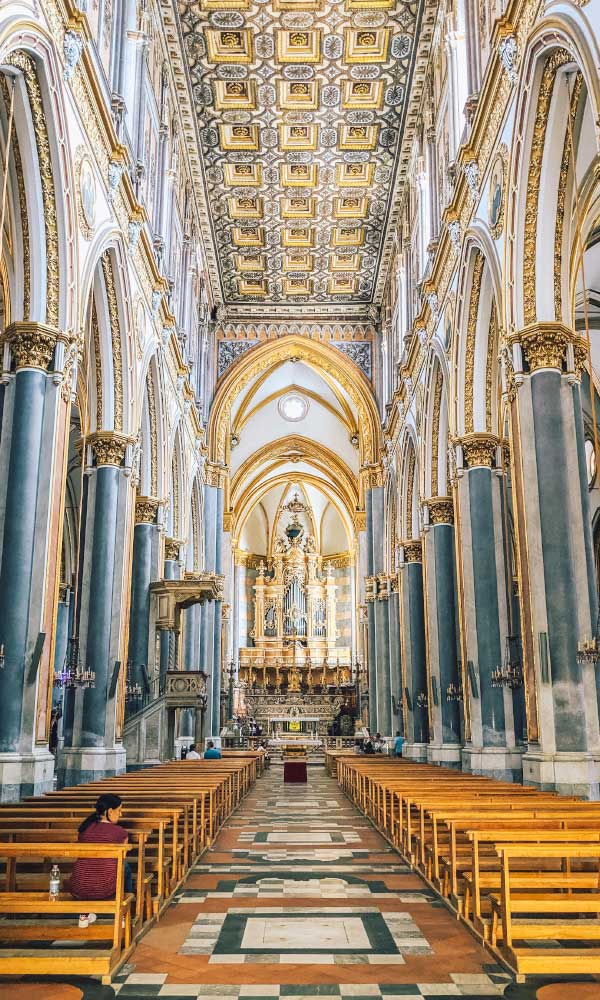 Just around the corner from Museo Cappella Sansevero, step into an architectural wonder that began in the late 13th century. With free entry, it's hard to pass up such a beautiful place where Ferdinand I and II (Kings of Naples) are buried.
Chiesa del Gesù Nuovo
Another magnificent church in Naples located in the middle of Spaccanapoli, the story behind this one is incredible. From the exterior, it's hard to discern what the inside will look like. It turns out it's one of the prettiest churches we've witnessed. Once a palace owned by the Prince of Salerno, it was transformed into the church we can view today.
Monastero di Santa Chiara
Just across the street from Chiesa del Gesù Nuovo, you'll find another historic spot: the Monastero di Santa Chiara.
While its appearance isn't as dramatic as churches nearby (it was bombed during WWII), visitors will find some alluring peace and quiet in the cloister behind the church. For just 6 euros, you can find a spot to rest and feast your eyes on the wonderful details surrounding you. A great spot to catch your breath!
Castel Sant' Elmo
Naples is known for its castles but we think Castel Sant' Elmo is the best one to visit! It takes some effort to get there but it's worth it!
Follow Spaccanapoli all the way toward the hill and begin the climb! Or you can ride the funicular, followed by a short walk. At the top of the hill sits Castel Sant'Elmo.
Castel Sant'Elmo is a medieval fortress with arguably the best view in Naples. From this overlook you can see the sprawling city and get a clear view as to why Spaccanapoli has its name.
There are also some fantastic views of Vesuvius in the distance as well. It might be our favorite spot in town!
Tickets cost 5 euros but if you go after 4:15pm or on a Tuesday you can purchase tickets at half price.
Dinner at Tandem
After a long day of exploring Naples, you've probably worked up a big appetite! The place to quell your hunger? Tandem.
Tandem has a few locations in Naples. All of them serve their incredible ragu (vegetarian or meat) and a couple of them also have genovese with octopus on their menu.
In our opinion, make sure you go to a Tandem with the genovese sauce because it is to die for! The original Tandem is located just off of Spaccanapoli, near the rear of San Domenico Maggiore.
You can eat it scarpetta style (a bowl of ragu or genovese with bread for dipping) or paired with a pasta of your choice!
The prices are so cheap considering the high quality of dishes.
If You Have More Than One Day in Naples
Other important sights to see (not in Old Town) are the Piazza del Plebiscito, Royal Palace of Naples, San Carlo Theatre and Galleria Umberto I.
These are not located in Old Town but are must-sees in Naples as well. So, if you'd rather replace some of our suggestions with these for your one day itinerary then feel free!
What about Pompeii? Naples was our base to explore fabulous Campania so we did a half-day trip to Pompeii in the morning. For some tips (budget-friendly!) on how to get there from Naples and what to do while you're there, read up on visiting Pompeii on a budget.
Summary of One Day in Naples
We sincerely hope that you fall in love with Naples like we did and can return again someday to spend more time in the city. But even if you just have one day in Naples, you're in for an amazing 24 hours in one of Italy's most vibrant cities!
Like it? Pin it!