Vienna, Austria, is a place that you dream of coming back to even before you leave. Unfortunately for us, 3 days is all we had in Vienna but that didn't stop us from having an awesome time. From delicious desserts, coffees and schnitzel to the ornate architecture that lines every street, Vienna is full of things to do that will fill your 3 days in this capital city. Keep reading for our guide on what to do in Vienna in 3 days!
If you're in Vienna for only a few days then it's likely you'll be heading to a nearby city like Prague or Budapest during your travels in Europe. We've got you covered! Check out our posts on things to do in Prague and what to do in Budapest!
Vienna Free Walking Tour!
No visit is complete without a walking tour! In fact, we recommend one in every city where it's offered. It's the best way to see a new city and learn something you didn't know beforehand. There are quite a few companies operating in Vienna but we recommend Welcome Tour Vienna. Check meeting times and details on their website.
Volksgarten
Our favorite park in Vienna, Volksgarten provides relaxation and a beautiful setting. The flowers were in full bloom during our visit in early June but we have no doubt this is a wonderful park year round. Find a spot under a shade tree and enjoy this free attraction! Don't forget to pack some wine and something to munch on!
Kunsthistorisches Museum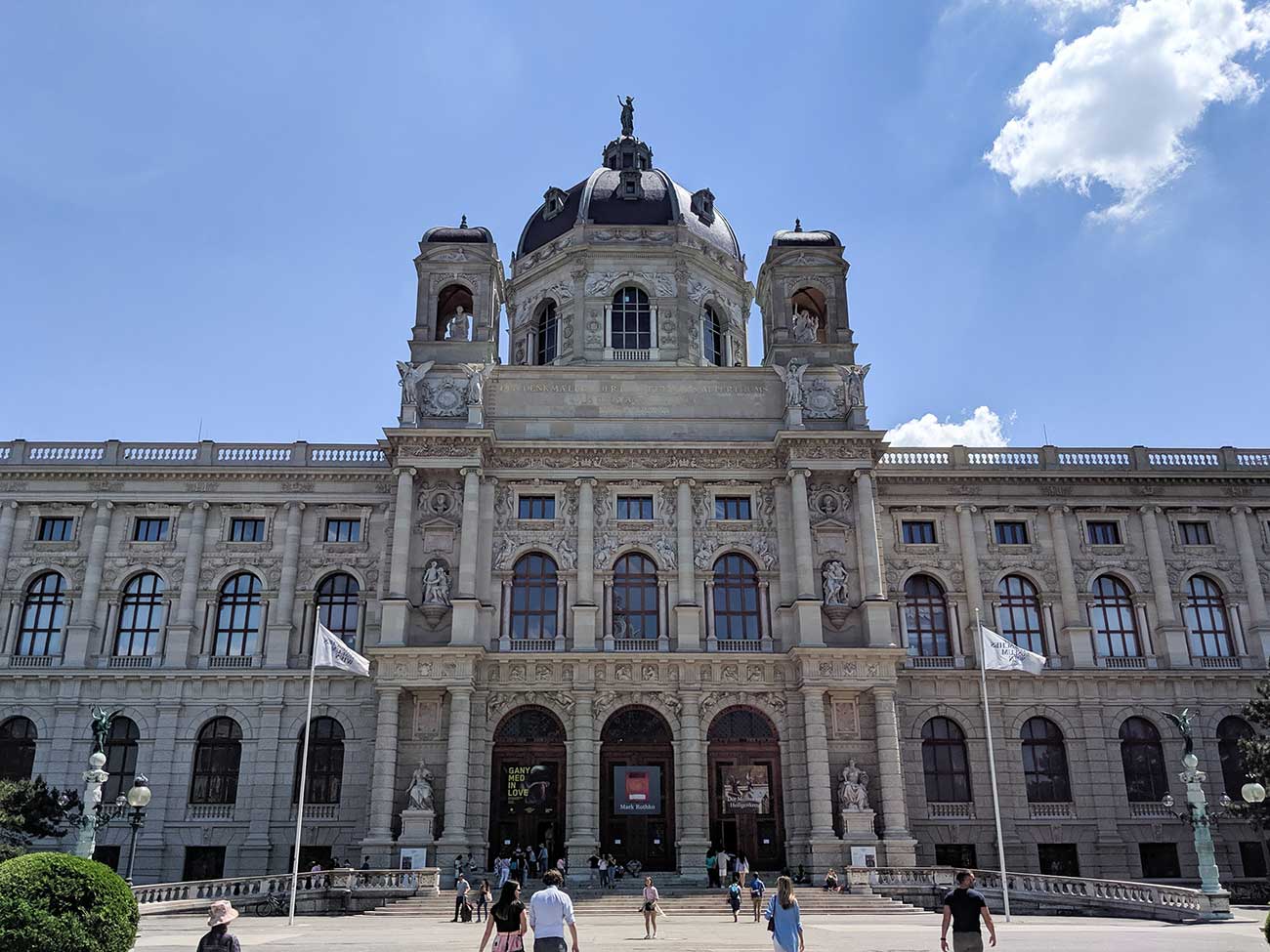 Vienna is a city of museums! But you only have 3 days, right? Museums are a lot of fun, but they're also exhausting. With only 3 days in Vienna, we recommend picking one or two and leaving the rest of your itinerary open. If you're a fan of art and antiquity then check out the Kunsthistorisches Museum! From Egpytian to Roman to Renaissance, this fine art museum is packed full of interesting things; the building itself is worthy of a visit.
Heldenplatz
Heldenplatz, "Heroes' Square", is a vast square and one where you can see some of the most iconic places in Vienna. From two heroic equestrian statues to the balcony where Hitler delivered a speech to a massive crowd in 1938, Heldenplatz deserves to be explored and enjoyed!
Pro Tip: If you carry refillable water bottles like we do then you like city-provided water fountains! You'll find them in Heldenplatz but also throughout the first district. They're a much welcome relief in the summer heat!
Roman Ruins in Michaelerplatz
Just past Heldenplatz, as you pass through The Hofburg, you'll see a small hole in the middle of a roundabout. There are Roman ruins, Renaissance walls, and 18th century foundations. That's a lot of history packed into one spot! Be sure to stop by and read the infographic and take a picture on your way through historic Vienna and the 1st district.  
Sachertorte
Your 3 days in Vienna would not be complete without sachertorte! One of the most famous desserts in Vienna, sachertorte is a rich chocolate cake with apricot jam. Also known as heaven, some might say. We made the mistake of ordering one each and had a sugar crash. But as the saying goes, when in Vienna…
St. Stephen's Cathedral
The spire that dominates the skyline in Vienna, St. Stephen's Cathedral is beautiful chaos. Okay, it's actually a gorgeous church but the ocean of people make it chaotic. They have a big section of the interior blocked off to tourists unless you pay to go further in. However, you can still get some great views for free.
For a less chaotic but way more tiresome adventure, head up the 343 stairs of the tower for some great views of the city (and a chance to catch your breath). It's a tight spiral staircase so be prepared for close quarters!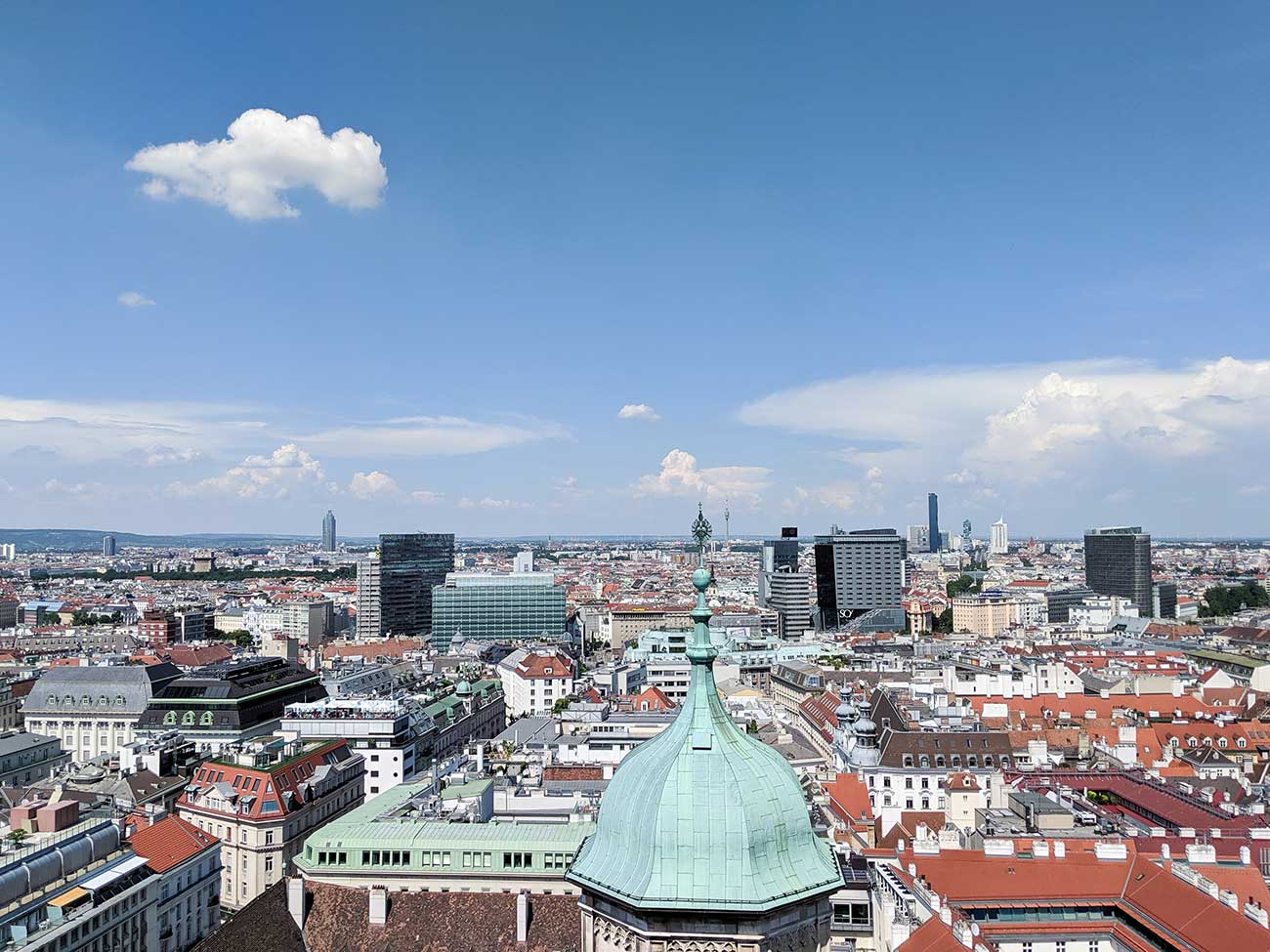 See an Opera at the Vienna State Opera
One of the most popular buildings in Vienna, the Vienna State Opera is quite magnificent to look at. If you want to head inside there are tours and if you'd like to catch a show there are tickets for sale, of course. However, if you want the cheaper seats or would like to be in the standing area then you'll most likely be waiting in a long line.
3 days don't last forever so don't waste precious Vienna time standing in line for tickets and just watch the opera outdoors! They project the opera live on the east side of the opera house (look for the Bristol Hotel) and there are seats provided. Of course, seats fill up so get there early or you can have a seat on the ground nearby. We were early enough to grab a seat and watched the first act before moving on.
Schweizerhaus
Looking for some beer, brats, and schnitzel? You've come to the right place! Vienna is teeming with deliciousness and Schwizerhaus is a great restaurant to experience some local cuisine. It's outside of the city center so it won't feel as touristy and their outdoor area is huge. Order the rear pork stilt and the best potato salad ever.
Warm Apple Strudel
Another famous dessert like sachertorte, warm apple strudel is gooey goodness that goes great with some Viennese coffee. You can find this at any cafe and we highly recommend trying it during your 3 day stay!
Belvedere Palace
Today it's a museum but it was once a palace and summer residence for a prince. You're able to venture inside for a look but we like to keep it free and wandered around the grounds ourselves. There are many places to sit and enjoy the view.
University of Vienna Botanical Garden
Neighboring Belvedere Palace is the Botanical Garden of Vienna. It's run by the botany department at the university and is a unique mix of all different varieties of plants. If you're a fan of nature, stop by after Belvedere for another free attraction.
St. Peter's Catholic Church
If you're like us then you walk in most churches if their doors are open. Walking around the 1st district, you'll find no shortage of churches. St. Peter's is quite beautiful and worth a few minutes inside for free. The bonus of this church is that concerts are offered on certain nights. Some are free! This goes for many churches in Vienna in this area. Keep an eye out during your 3 day stay and maybe you'll hear some great music in a beautiful setting!
St. Michael's Church
Another church like St. Peter's, it's free to enter and admire the beautiful interior. This one is just next to the Roman ruins near Heldenplatz so no excuse not to go in!
Imperial Crypt in the Capuchin Church
You can't talk about Vienna and leave the Habsburgs out of the equation. One of the most influential and powerful families in Europe, their history is all over the city of Vienna. In fact, the Habsburgs are buried in a crypt under the Capuchin Church. You can visit for a small fee and follow the history of this massive family tree and see just how intricately they designed their caskets.
Aida Cafe
Google reviews had us guessing but Aida Cafe is a must in Vienna! If you're here for 3 days then why not go all 3 days?! Try the sachertorte here, as it's absolutely delicious or, better yet, indulge in some cold, creamy goodness. Don't forget to order some French press coffee and read about the cool history of this Viennese cafe!
Huth Da Moritz
Not all meals need to be local cuisine. Venture to a quiet street just off the city center and enjoy some Italian. Weather permitting, dine on the street and enjoy a romantic evening out.
Figlmüller Bäckerstraße
Schnitzel is a big deal in Vienna. And Figlmüller Bäckerstraße is famous for it. Make a reservation because the line will be going out the door and onto the street. It's a reasonable price and if you don't make a reservation like us, it's worth the wait!
Pro Tip: the pork schnitzel is big enough to split between two people but the veal schnitzel is better suited for just one person. 
Burggarten and Mozart
Burggarten is another beautiful park, near Volksgarten and Heldenplatz. You can see a lot of locals passing the time or having a picnic on the grass. You should do the same! Don't forget to check out Mozart's statue while you're there! And what lazy day in the park doesn't go good with some Vienna ice cream (there's a great place called Zanoni & Zanoni across the street!)
Summary of What to Do in 3 Days in Vienna
You need more than 3 days in Vienna for all there is to do, but we're firm believers in not overdoing it. Take it easy and don't try to cram it all in 3 days. It's too much! Instead, eat well, see what you can, and spend some time relaxing in the beautiful parks or beer gardens that make Vienna a wonderful city. Besides, that leaves you with an excuse to come back to Vienna again in the future!
Happy travels!
Like it? Pin it!