Our journey out of the Balkans landed us in Rijeka, Croatia, for a few days. After some action in fun but tourist-packed Split, Rijeka was the calm and peace we were looking for. Serving as a major port, its harbor is quite active but there's more to this town than just ships coming and going.
From the fortress atop a hill with a beautiful overlook of the city to the winding and scenic streets of the center, we found Rijeka to be a lovely place that wasn't filled with tourists, allowing us to explore with ease. In this post, we talk about some things to do in Rijeka, Croatia, (almost all of them are free!) and hope you get a chance to visit as well!
Rijeka is also the European Capital of Culture for 2020 so be on the lookout for that!
Trsat Fortress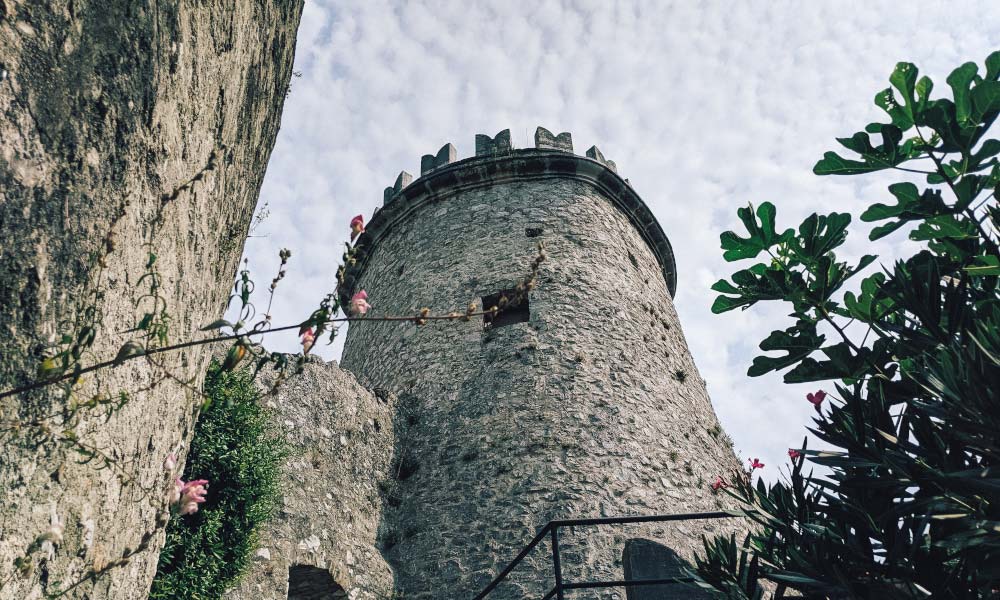 This fortress dates back to the 13th century but is thought to also have been a place of importance during Roman and earlier times. It has switched hands throughout the centuries but is still there today for us to appreciate. You can find a nice restaurant within to have a coffee or there's plenty of space to spread out and get a wonderful view of Rijeka and the Adriatic Sea below. It's free!
If you're on foot, getting here is quite a trek as it's entirely uphill (around 30 minutes from the bus station) and you'll be pooped by the time you reach the top. We recommend grabbing a taxi or uber as it's a cheap ride and you'll save your energy for other exploration!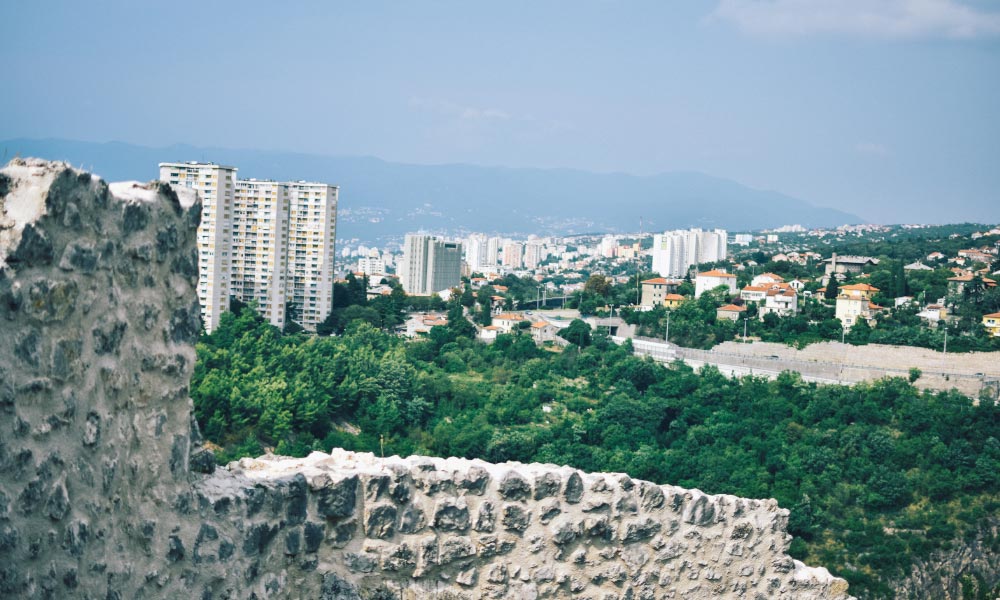 Franciscan Monastery Trsat and Pope John Paul II
Exit the fortress and head toward the church. If you love touring churches then you'll love this Franciscan Monastery. There are some fantastic paintings throughout so be sure to have a look. You'll also find a Pope John Paul II monument outside the church in a pretty courtyard.
If you have time to kill then wander around Pančićev park (the church is located at the edge of the park). A very peaceful place!
Trsatske Stube (Stairs…Lots of Stairs)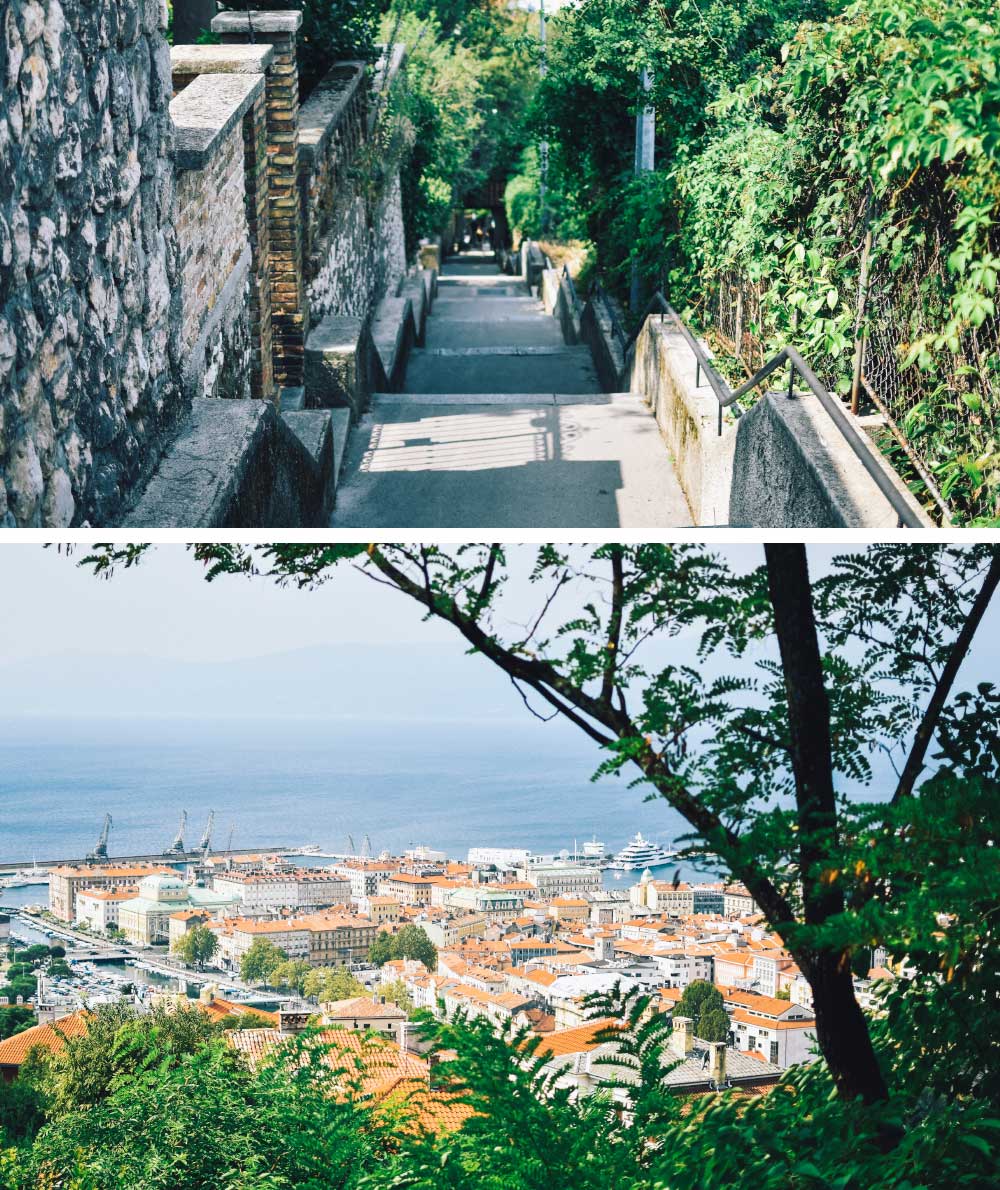 This stairway connects Rijeka to Trsat and began construction in the 16 century. If you decide to walk up to Trsat Fortress then the stairs are a direct route and the one you'll want to take. However, you'll be climbing 561 steps to the top. Phew! We took a car up and took the stairway down; while we didn't count all 561 steps, we can definitively say it takes a while!
St. Vitus Cathedral
It's said that a church has been on this site since the Middle Ages but the St. Vitus Cathedral we see today has its roots planted in the 17th century. It's definitely a unique church in this region, as it's the only large Baroque rotunda in Croatia. Admire the architecture and take a look inside!
Rijeka Tunnel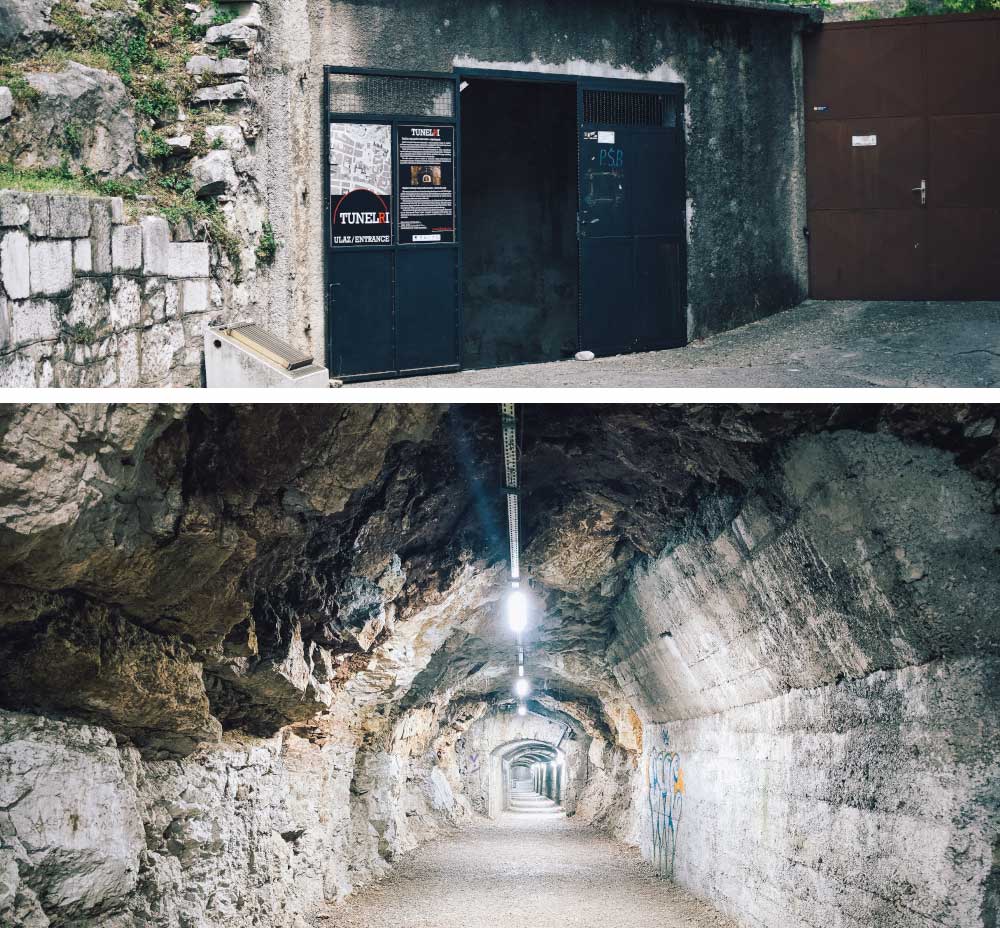 Just to the left of St. Vitus is another historical sight in Rijeka. This tunnel spans 330m and was built by the Italians during WWII. It was built as protection from bombings and connects St. Vitus Cathedral to an elementary school, running under a good chunk of the city's center. Today you can walk through for free! If you're in Rijeka on a hot day then take shelter in here! It's much cooler in the tunnel!
Roman Archway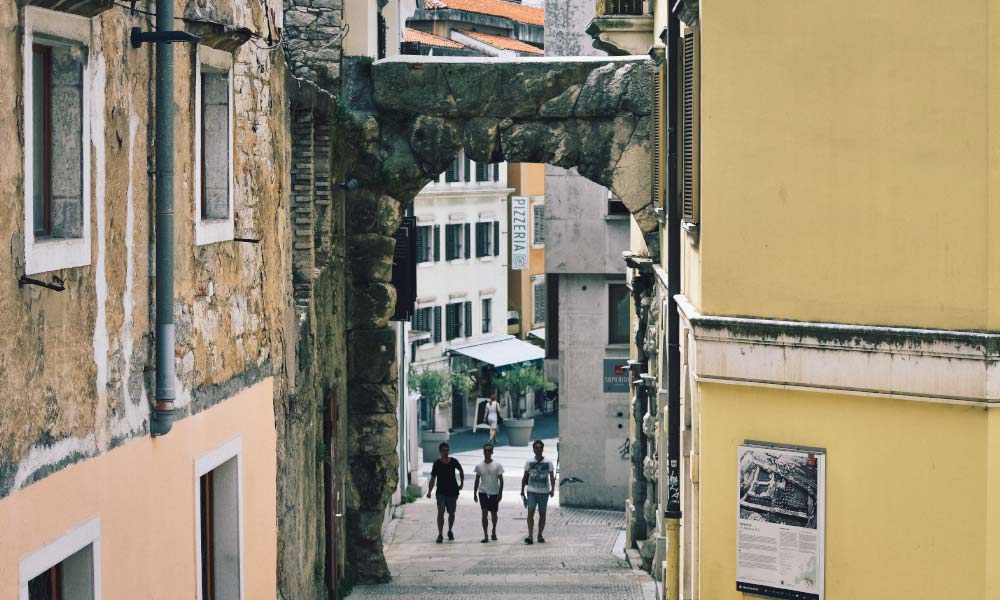 There aren't many noticeable Roman ruins standing in Rijeka today. In fact, you'll probably pass a lot of little bits of Roman history all over town without knowing. However, seek out the Roman archway. Even though it's not very large, it's pretty impressive and combines medieval times (the houses on either side) with Roman times. Take a walk underneath!
Church of the Assumption of the Blessed Virgin Mary and Leaning Tower
Another unique and historical sight within the city's center is the Church of the Assumption of the Blessed Virgin Mary. It wasn't always a church. Dating back to the 1st century, it served as a thermal bath. It's thought that around the 5th or 6th centuries it was converted into a church and slowly transformed into what we see today. Take a gander inside and then gaze up at the slightly leaning tower.
You'll see a small bakery window across from the church. Approach! Then buy a Nutella-filled pastry for less than $1 USD. There are more options, of course, but who can say no to Nutella?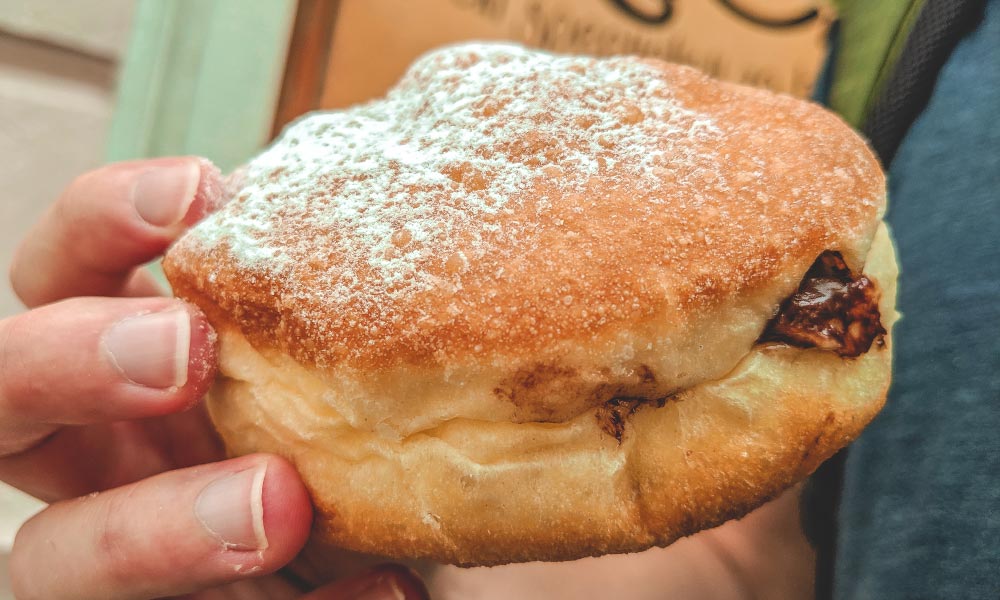 Korzo and City Clock Tower
Stroll down Korzo and if you're lucky there will be a local market in town! Your best chance is on the weekend. Honey, wine, oil, and all sorts of goodies were being traded during our visit but sadly our backpacks are full so we could only browse.
Besides all the shopping and eating that brings Korzo to life, the City Clock Tower of Rijeka also draws a crowd. The Habsburgs granted a coat of arms to the city in the 17th century and you'll find it just under the clock. It's a double-headed eagle and they're looking in the same direction, holding a cup of infinitely flowing water, which symbolizes Rijeka's never-ending loyalty to the empire.
You'll find plenty of quick eats throughout town so if you're hungry but on a time crunch, be sure to stop for some cheap and yummy bites! Mlinar is a chain in this region that has a good selection! If you want to avoid chains then you won't have to look far!
Capuchin Church of Our Lady of Lourdes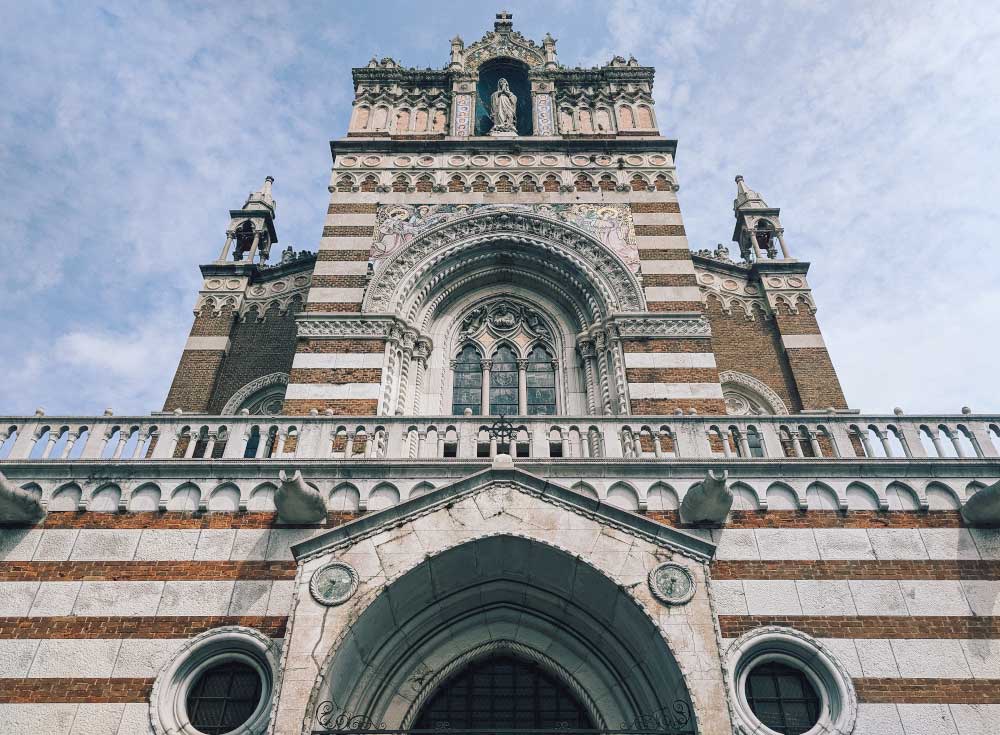 If you arrive by bus like us then this is the first thing to catch your eye; it's right next to the station. Constructed over a span of a few decades during the early 1900s, this Capuchin church is Neo-gothic and wonderful to look at. The interior is actually quite plain but head on inside and see it all for yourself!
Lovers of Street Art Rejoice
One surprisingly awesome part of Rijeka is the street art. We don't purposefully seek out street art when we travel but we love stumbling upon it. Rijeka is full of street art gems so if you love some color and thought during your walk through a city, you'll have a lot of fun here!
Day Trip to Učka Nature Park
Looking for some nature during your time in Rijeka? The cool part about Croatia is you don't have to look far! Učka Nature Park is around a 40 minute drive away. You'll need to rent a car as we couldn't find public transportation. Day hikes and stunning views await!
Rijeka Beaches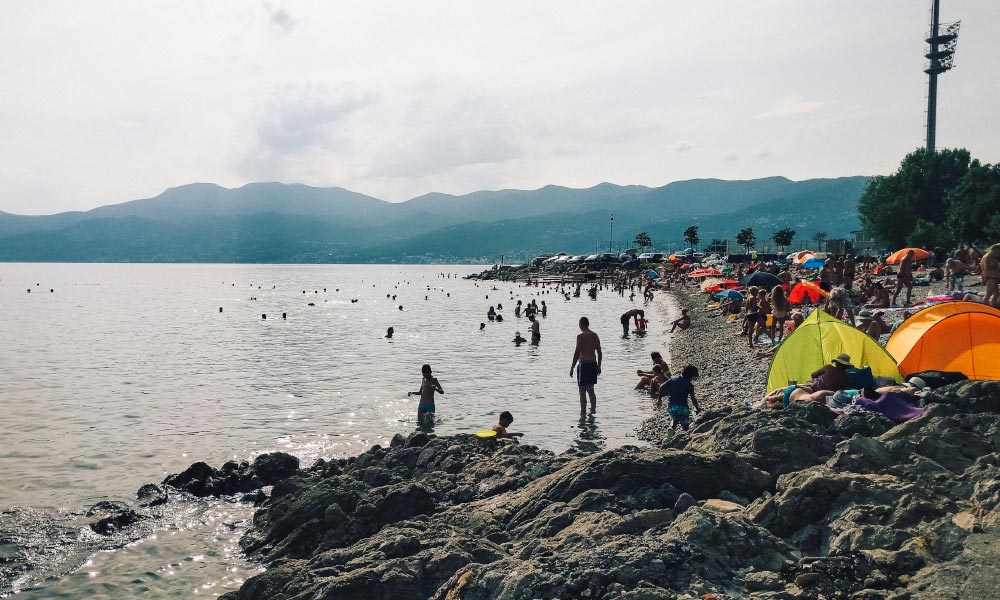 And finally, the beach! We did visit the beach while in Rijeka and really enjoyed it. If you don't mind rocky shores then you'll really enjoy it too.
However, keep in mind Rijeka is a port city and there are huge ships and barges visible nearby. We were swimming in Kantrida Beach with many locals, having a lot of fun, when we noticed a glossy substance near the surface. It appeared to be oil which, when you gaze out at the big tankers and ships, comes as no surprise.
So, if you'd like to get in the water, be cautious. Not every beach will be like that but if so, we highly recommend not putting your head under. But even if you don't get wet, Rijeka has some pretty areas to catch some sun. There are so many beaches to choose from up and down the coast so we're sure there are some great ones!
Kantrida Beach is a popular spot (the one we visited) as well as Fiumana Beach.
Summary of Things to Do in Rijeka, Croatia
Rijeka, although not as known for tourism as other cities along the coast, did not disappoint. If you're on a road trip through Croatia or bussing through the Balkans and along the Adriatic like we did, be sure to give Rijeka a visit!
Are these all of the things to do in Rijeka? Of course not! Check out the Rijeka Tourism Website for even more ideas! Be prepared to translate it as their English section has trouble at times.
Happy travels!
Like it? Pin it!