Whether you're adventuring through Sicily for a couple weeks or just a few days, it would be a shame to miss out on the Valley of the Temples! The fact that some of these ancient constructions are standing here today is incredible and the fact we get to see them up close is truly special. In this post, we talk about how to get to the Valley of the Temples from Palermo (with some fun along the way) plus the sights you definitely want to see while you're there (we've included lots of pictures!). Grab some of that fresh produce and meat (some arancini too) from Palermo's markets for a snack and let's take a day trip to the Valley of the Temples!
When to Visit the Valley of the Temples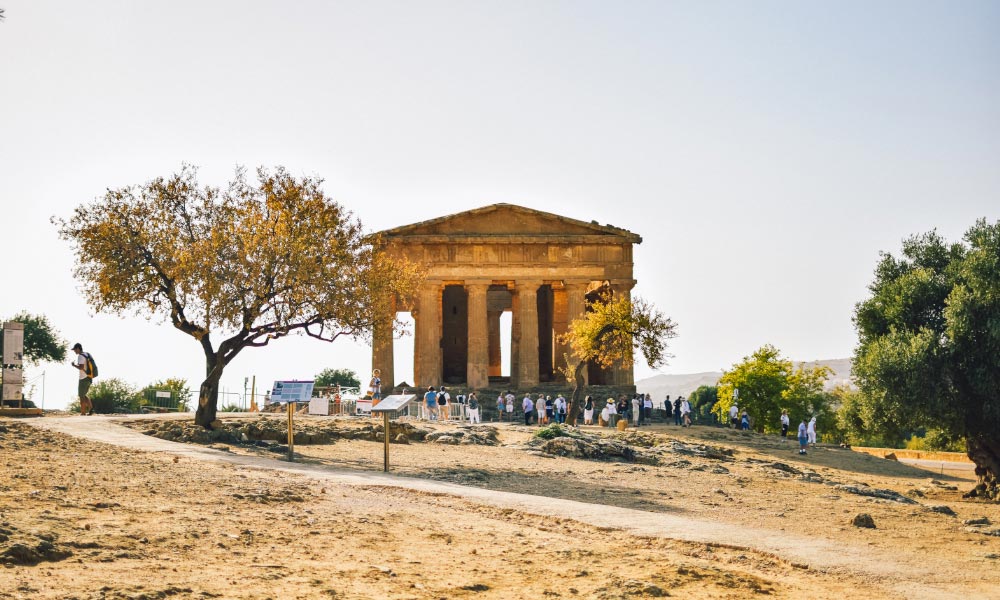 It's worth noting that the Valley of the Temples is one of the most popular spots in Sicily so it's likely you're going to run into some crowds. That said, there are better or worse times to visit.
We think the morning, as soon as the park opens at 8:30, is a great idea. However, coming from Palermo that's a really early start to your day trip. Avoid midday as that's when a lot of tour groups are doing their thing and maneuvering around them is a pain.
We timed our visit to the Valley of the Temples around the late afternoon and early evening. It wasn't on purpose, as we were just exploring Sicily and decided to go (more on that below) but we have to say the timing was perfect! The sun was setting over the sea and it gave off that orange glow to these ancient ruins. In addition to the beautiful lighting, crowds were minimal. There were still a few groups here and there (it's unavoidable here) and there was even a bride and groom photoshoot going on due to the low crowd size.
Another very important factor is what time of year you visit. We went to the Valley of the Temples during the first week in October. The weather was gorgeous (of course it was, it's Sicily) and summer crowds were nonexistent.
As always, if you can avoid traveling to very popular places during the summertime then make it happen! You'll find a more relaxed and inviting visit awaits you plus there won't be the possibility of a heat wave!
How to Get to the Valley of the Temples from Palermo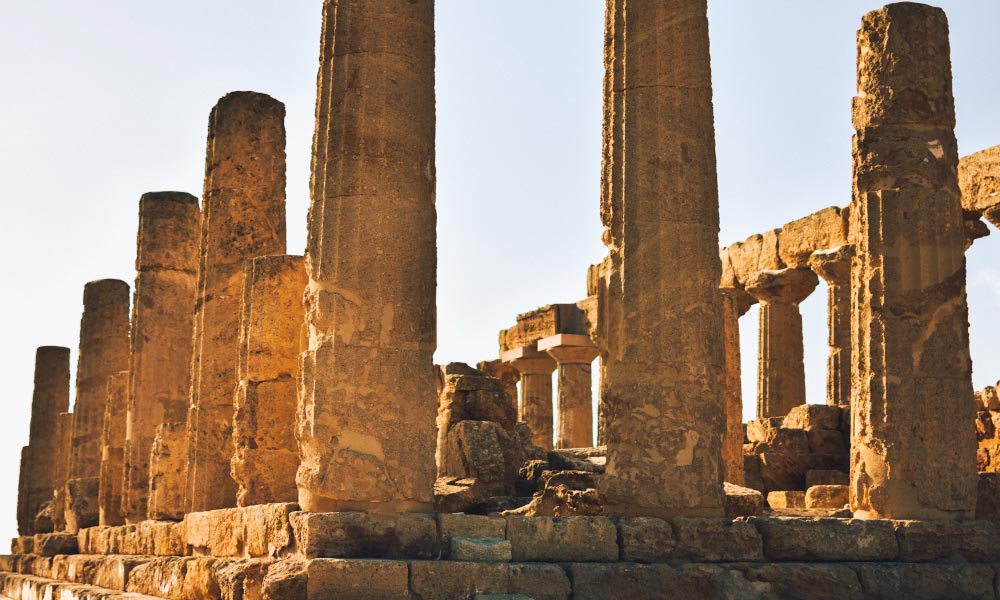 There are a few options you can choose from here: tour, public transport, or car rental.
Tours
As far as tours go, It's kind of like visiting Pompeii in that regard: there are a ton! If you'd like to setup your pickup and drop-off from Palermo plus a guided visit then check out some options on TripAdvisor. However, tours are the most expensive option, but if you don't like the idea of getting there on your own then tours are a good way to go. Be sure to double-check the tour info as some include the entry ticket in their price and some don't.
Public Transport
Training in Italy can be a beautiful experience and that's especially true for Sicily. From Palermo, take the train to Agrigento Centrale. It's not pricey, takes 2-3 hours and is very scenic. Don't forget to validate your ticket!
From the station (Agrigento Centrale), you can take a public bus. For more info check out the Valley of the Temples' advice for public transport.
Renting a Car
This is the best option! What's better than discovering Sicily on your own time and on the less traveled roads? We left Palermo around 10am and began our countryside adventure. We didn't know if we'd make it to Agrigento and the Valley of the Temples, we were just going to drive around and see what happens.
Turns out, we stopped in the town of Corleone (made famous by The Godfather) for lunch and did a little bit of exploring. It was a lovely Sicilian town and provided a nice halfway point between Palermo and the Valley of the Temples. If you'd like to road trip through here too then check out our post on an afternoon in Corleone. The drive in and out of town is just gorgeous.
Once you arrive at the Valley of the Temples you'll have to find a spot to park. Luckily, if you arrive in the late afternoon or evening in non-peak season, you'll find there is ample parking just outside the gates and it's only a few euros.
Palermo to Coreleone took us around 2 hours, which is longer than what Google estimates because we took some side roads. If you go straight to the Valley of the Temples from Palermo than you're looking at a 2-4 hour drive, depending on which route you take. All of them will be pretty!
Pro Tip: Rent a mini-car, or as small as you can, as tinier cars are easier to navigate the narrow roads in Sicily, making parking a piece of cake! You'll save on gas mileage too. We used Kayak and got an automatic transmission car for $12 USD total for two days.
Things to Note and Budget Tips
There's an archaeological museum near the Valley of the Temples and you can purchase a combined ticket through the park's official website. The park offers guided tours as well so if you'd like to get there on your own but still have a guide then check it out!
You can also buy a ticket with an audio guide if you choose to tour the ruins on your own. There are signs with info near each attraction but an audio guide would help further explain what you're seeing.
If you really like to budget travel then there's a great app for Valley of the Temples (Google Play) or Apple Store. It's free! It's not a guided tour but you can find info on all the sights in the park. That's pretty cool! There will also be info on restaurants in the area and hotels but ignore those if you're just looking for Valley of the Temples info.
As far as dining goes in this area, we recommend avoiding the restaurants. They are more expensive and you'll get amazing cuisine in Agrigento proper or any other Sicilian town. We packed some sandwiches and enjoyed them next to the Temple of Hercules. Great spot for a mini picnic!
Must-See Sights in the Valley of the Temples
Temple of Juno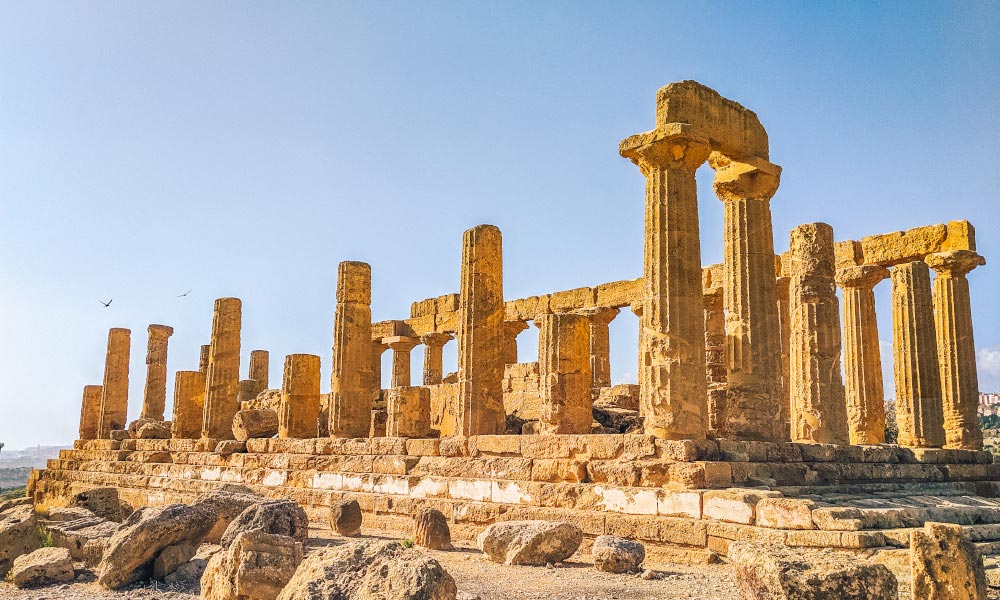 This is the first temple you see as you enter the park so head up the small hill and admire! This one dates back to the 5th century BC so saying it's old is an understatement. This is also a great spot for views of the whole valley and the sea. One of our favorite spots!
Temple of Concordia
This is the coolest temple you can see in Valley of the Temples! It's fascinating; this temple from the 5th century BC looks so well-preserved. It was turned into a basilica which is probably why it's in such good shape compared to the other temples we can see today.
Temple of Hercules (Heracles)
Hercules in Roman or Heracles in Greek, you'll see both names displayed in the park. There's not as much standing here today as Concordia but the columns themselves are worth a long look. Wander around the temple on the rocks and imagine how this would have looked way back in the day!
Views of the Mediterranean
While the Temple of Juno offers some pretty sweet views of the sea, you'll find these views all throughout your walk through this historic area, especially along the wall, which was the wall of the ancient city of Akragas. We found ourselves stopping often just to gaze out as the sun made its descent.
Temple of Zeus
This must have been huge! Unfortunately for us visitors, it's mostly a heap of ruins. But man oh man is the heap a big one! Be sure and look for the "atlases", which are men-shaped stones, used in the place of pillars. There's one atlas that's pretty well-preserved but it's lying horizontal. After seeing it then you can picture just how big this temple must have been.
Garden of Villa Aurea
Not exactly an ancient temple but still a beautiful attraction within the Valley of the Temples, be sure to take a jaunt through the garden. You'll find Villa Aurea between Concordia and Hercules. Again, it was perfect in the early evening as there were very few people in the garden at the same time as us.
What Else Will You See?

There are so many more ruins to see! Plus there's the archaeological museum (not attached to the main park). You'll also found some really cool goats just hanging out. When you buy your ticket, it's not a bad idea to purchase a map (1-2 euros). We found it helpful for planning our time in the Valley of the Temples and it helps visualize how massive this park is.
Summary of the Valley o
f Temples: Day Trip from Palermo
We understand, it's hard to get away from the arancini and colorful markets of Palermo but trust us, take a day trip down to the Valley of Temples and venture through some ancient history. It will be a great memory to add to your Sicilian adventure. We hope you can rent a car and drive your way around this beautiful island.
Happy travels!
Like it? Pin it!