Tuscany is one of the most traveled regions in Italy and with good reason! Besides the beautiful rolling hills and cyprus trees that dot the countryside, visitors can find some of the best art, architecture, and food in the world. But experiencing such things on your travels doesn't have to be expensive! That's why we've created this guide on how to see Tuscany on a budget.
From accommodation to getting around and of course, dining, we cover all the bases that travelers should take into account when seeing Tuscany on a budget.
What about our own experience?
We spent a total of 10 days in Tuscany in early September, finishing with a daily budget of exactly $30 per day, excluding accommodation (more on that below). Not too shabby! A helpful app for budget travelers is TravelSpend. Its free version is all you need!
Ok, with that out of the way, let's see how to travel Tuscany on a budget!
Where to Stay
The biggest chunk of your budget in Tuscany will most likely be spent on accommodation. Tuscany is a big region with lots of must-see cities and sights, but the most notable (and popular) of these is Florence.
So, what's our biggest recommendation on where to stay in Tuscany for cheap?
Don't stay in Florence!
We're not saying to avoid Florence! You should at least visit because, well, it's Florence. Enough said.
But when you choose the most touristy city in the region to settle down for your trip, your costs are going to go up fast and unnecessarily so!
From Lucca to Pisa to less traveled but still beautiful cities like Arezzo (it has great train connections), there are so many other options for accommodation in Tuscany.
For example, we stayed in Poggibonsi for less than $40 USD per night in an Airbnb, saving us a ton on accomodation. Siena was only a 20-30 minute train ride away and it cost around 7 euros roundtrip to get there. San Gimignano was only a 20 minute bus ride and tickets were super cheap.
What's our point?
Tuscany has so many options besides Florence where you can stay and save money for other things in your budget for more important things…like wine tastings!
As is usually the case with budget traveling, you'll have to do a little planning on your part for day trips and excursions. But with good train travel connections across Tuscany it won't be much of a hassle!
Not sure on where to start looking for accommodation? Check out our post about where to stay in Tuscany for some good options that aren't Florence!
Seek Out Cheap Experiences
Just a few seconds on TripAdvisor and you'll find loads of tours. Florence, Siena, Pisa, so many cities (and wineries) have so many tours.
That said, not all of them are worth the price!
Many things offered via tour in Tuscany you can do on your own. And if you ask us, travel is better that way.
Well, most of the time. There are countries and cities, especially those less-traveled ones, where a tour makes sense and is a great time. However, we think Tuscany is easy and worthwhile to explore by yourself. It all depends on you and your travels!
Whether you're wanting to check out Siena and its awe inspiring Duomo or take your taste buds to gelato heaven in San Gimignano, it can be done on your own and save you money in the long run.
There are tons of resources out there for fun experiences besides TripAdvisor. Airbnb Experiences has become quite popular and rightfully so! We tend to use this resource first to get an idea of how much a paid activity in a destination will cost us.
In Tuscany, you have a lot of budget-friendly options for fun outings; you just have to find them! We had the experience of a lifetime at an organic wine and olive oil tasting in Chianti (region within Tuscany) for $30 USD total!
That's right, $30 USD got us a four hour tour of an old villa and vineyard during harvest time in September. It ended with a fantastic tasting and some nice chat time with fellow travelers. The hosts were incredible, warmly welcoming us and ensuring we had a wonderful time.
So, yes, you don't have to shell out a ton of money in Tuscany in order to have an amazing time!
All it requires is some research ahead of time on your part and you can make memorable experiences happen on a budget!
Don't forget about free walking tours! These are a very budget-friendly way to get the layout and history of a city. These will be more common in the more traveled cities.
How to Get Around Tuscany on a Budget
Public transport, anyone?
Nothing screams "I'm a budget traveler!" like lugging your bags around on buses, trains, trams, subways, you get the idea. And let's be real, it gets pretty exhausting and sometimes you'd kill for a taxi or Uber or a personal travel chauffeur. Wouldn't that be nice?
However, Tuscany (Italy in general) is good for convenient public transport and one that budget travel seekers should take advantage of!
It's cheap and will get you where you need to go! That is, unless you're taking a bus; they're not always on time, which we're about to talk about it!
Buses in Tuscany
By far the cheapest way to get around Tuscany is by bus. For example, a bus from Siena to Florence will cost you just 8.40 euros and take around an hour and a half. But again, Italian buses aren't always reliable.
Our example?
We once had a bus be over 30 minutes late. Apparently the "organization" had told the driver the wrong information and he was in the wrong city.
So, whatever happened, our point is to not always trust Italian buses. Our mishap isn't the only Italian bus fail we've heard of.
That said, FlixBus or other private operators are more reliable, especially if going to more popular cities like Florence, Siena, Pisa, etc…
Trains in Tuscany
The train is arguably just as affordable as buses in Tuscany and we prefer this mode of travel.
A train from Siena to Florence will cost you only 9.50 euros and take an hour and a half. Trains can be much more reliable when traveling in Tuscany.
The trick with the trains in Tuscany: if you're wanting to travel a longer distance then you should look at tickets three months in advance of your trip to see if you can get a discounted ticket for your journey. Prices can get pretty high for long journeys!
Rental Car
If you have a more adventurous spirit and a more flexible budget then look into what car rental deals are available. We rented a car in Sicily for $12USD for 2 days. The only expensive part was the gas but as long as you get a fuel efficient car then you should be able to keep costs down. We think our Sicily deal was too good to be true but we're certain you can find a very affordable rental in Tuscany!
On Foot or By Bike

In many parts of Tuscany it's possible to travel from town to town on foot. They've built many walking paths connecting towns that you can seek out and explore.
Keep in mind that this is the slowest form of travel and isn't the most efficient, especially if you're toting a lot of weight on your back.
City/Attraction Passes
City passes (or attraction passes) are a good idea when you plan on visiting a city for a short amount of time but have a lot to see! Especially in Tuscan cities like Siena or Florence, you'll want to look into these inclusive passes that will save you a good amount of money.
See Siena's pass and Florence's pass (FirenzeCard) for more info on if it's right for you!
If you're not trying to cram in all the museums and other priced attractions, you may want to decline on buying a pass.
Even smaller gems in Tuscany like San Gimignano have a pass. However, be sure and start at the Torre Grossa (Grossa Tower) where you can purchase a pass. We began at the Duomo, which is included in the pass, but they weren't offering the pass there.
While that was frustrating, to say the least, our advice is to always be on the lookout for a city/attraction pass in any city you visit in Tuscany! Your budget will be happier!
Find out more about San Gimignano's pass is you're interested!
Don't Eat in the Piazza
This rule is no different in Tuscany than everywhere else on the planet. Don't eat in the main tourist area if you're on a budget!
The main piazza in Tuscan towns are by far the most tempting places to grab a bite to eat but they're also the most expensive.
We understand, the Piazza del Campo in Siena is stunning and dining with that view sounds awesome. But why pay double the price for food when you can find hidden gems all over town and away from the touristy areas? Your budget will thank you and your taste buds will too!
While exploring Siena, there was a period of rain in the afternoon. We decided to sit down at one of the restaurants on Piazza del Campo for some espresso and people watch until the weather cleared. The espresso alone cost 3 euros each plus a service fee! That's just dumb, seeing as how you can easily get an espresso for a euro elsewhere.
Especially in the more visited cities, try and explore restaurants off the main piazza, you won't regret it!
Explore the Free Things to Do in a City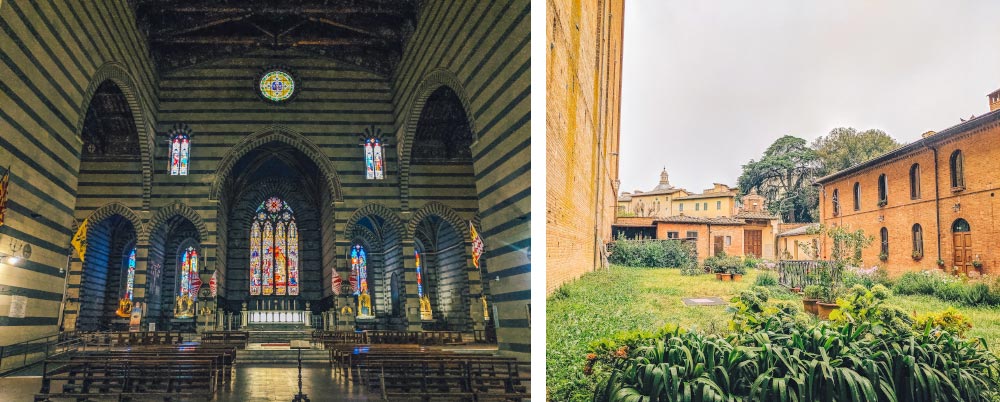 With so many destinations scattered about the region, what about free things to do? In Italy, you can always find churches, churches, and more churches! It never got old to us but if seeing the architecture or immaculate artwork inside these places doesn't suit you, there's always something free to do.
Whether it's simply walking down side streets, lounging in a park, taking pictures, finding good views, or simply admiring these medieval towns, you can always occupy yourself with something enjoyable in Tuscany on a budget.
Summary of Tuscany on a Budget!
Tuscany is most definitely doable on a budget! From staying in less popular destinations to being smart when eating out, these are budget tips to apply to any travels. If you have any tips to suggest or questions about anything Tuscany or travel then don't hesitate to contact us or drop a comment below. We wish you an amazing stay in Tuscany!
Happy travels!
Like it? Pin it!