While coastal towns are all the rave in Sicily (rightfully so) don't miss the gems deeper inland. While driving around western Sicily for a couple days, we found ourselves in the town of Corleone for a short afternoon. Fans of The Godfather trilogy will recognize this town as the origin of the Corleone family. While the movies play a big part in the popularity of Corleone, there's much more here than just the film. We felt the vibe of a true Sicilian town and one that, even though our visit was short, we'll always remember. In this post, we tell you how to get to Corleone from Palermo, some things to do and where to eat!
And since it seems many people wonder, we will go ahead and tell you that Corleone is safe!
How to Get to Corleone from Palermo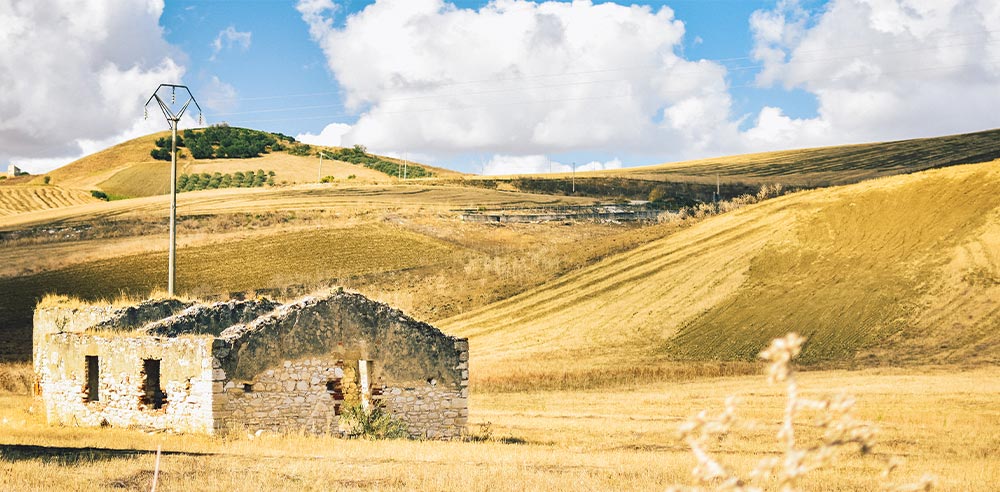 We can do this the easy way or we can do it the hard way. Honestly, they're not that bad and you'll probably have a story to tell, but Italian buses, especially in Sicily, are hard for a traveler to figure out. We've had our own run-in with buses in Italy in Tuscany, when it was 30 minutes late. Of course, there wasn't any communication about its tardiness and the ticket office had no idea. So, that said, if you take a bus, just prepare for everything.
If you are interested then check out Siciliana Transporti for info. We have not used them but found other other travelers mentioning them. 
Now for the easy part! Rent a car and explore Sicily on your own! We were able to rent a car for $12 USD for two days. That's cheap! It was also an automatic transmission, which in Europe, usually means more expensive. Kayak is our go-to for rental car deals. We've used it in several countries in Europe now and it's always found us a sweet deal.
Pro Tip: Rent a smaller car, even a mini. The roads in Sicily can be narrow and winding and it's easier to navigate in a small vehicle. This is especially true in towns. You save on gas money as well!
Coreleone is just over an hour's drive from Palermo and serves as a sort of halfway point to the Valley of the Temples. It was a great spot to stretch our legs, view some scenic Sicily and fill our bellies before hitting the road again.
As far as parking in Corleone, there are many free spaces. We were lucky enough to get one close to the very center of town. Another reason to get a small or mini car: parking!
Things to Do in Corleone
Corleone is the perfect place to spend a couple hours while driving through Sicily. Below we list some ideas for a pleasant afternoon in Corleone for visitors. If you're spending more time then be sure to fit it all in!
Mafia Museum
If stopping by Corleone for a look around and a bite to eat, a museum may not sound very enticing. However, for an interesting and very real look at the mafia's past in Sicily and how people lived through it you shouldn't miss this museum!
Be aware that this museum doesn't present stories like Hollywood. Instead, you're exposed to the real terror the inhabitants lived through during that time as well as the prosecutors who brought justice. It's worth a stop in Corleone just for this museum!
Churches, Churches, and More Churches
We visited many towns and cities during our month-long adventure in Italy and we thought Corleone had a ton of churches relative to the town size; more than usual. Everywhere you look there's a church. They're old and beautiful and we encourage you to visit as many as you can. A lot of them were, unfortunately, closed during our stop in Corleone but there are info stands by the door that explain a little of their history.
One special church we found by accident. We were trying to figure our way out of Corleone (harder than you think!) and stumbled upon some beautiful ruins of a church.
Then we turned around and Corleone was so picturesque. Hopefully you can find this one too! We've provided a location below to help!
Due Rocche Waterfall
We didn't make it to the waterfall but not for lack of trying! We realized we just didn't have enough time to see it and make our other destinations further south before sunset. Maybe you can make time and give it a look. The pictures we've seen have been very pretty and we've heard people like to swim there as well, at least in the summer.
Charming Narrow Streets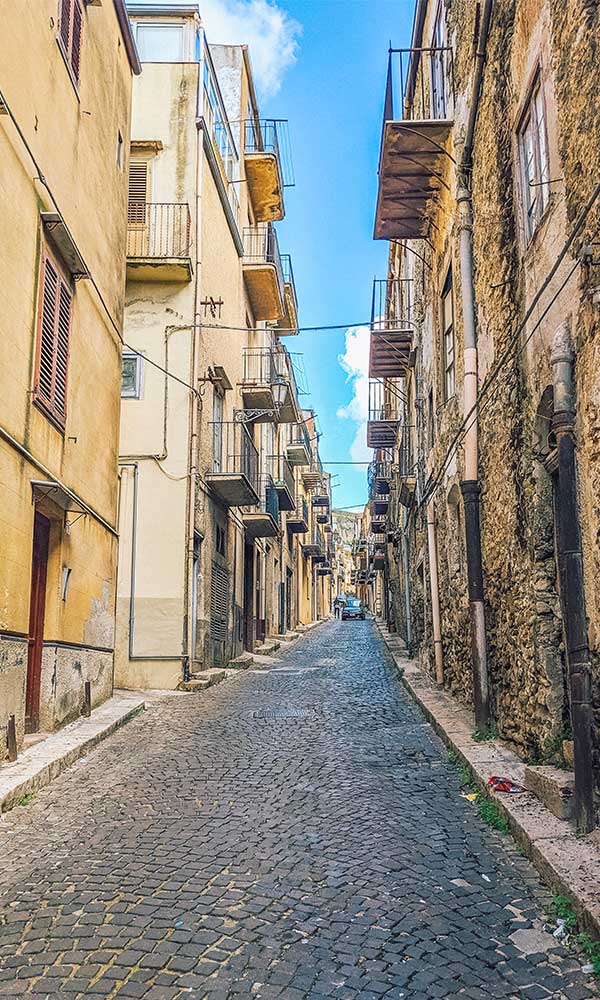 Like most Italian towns, Corleone has many picturesque narrow streets to wander. The summer tourists having waned, we found ourselves alone in these streets quite often. You'll likely happen upon several churches while wandering through.
Where to Eat in Corleone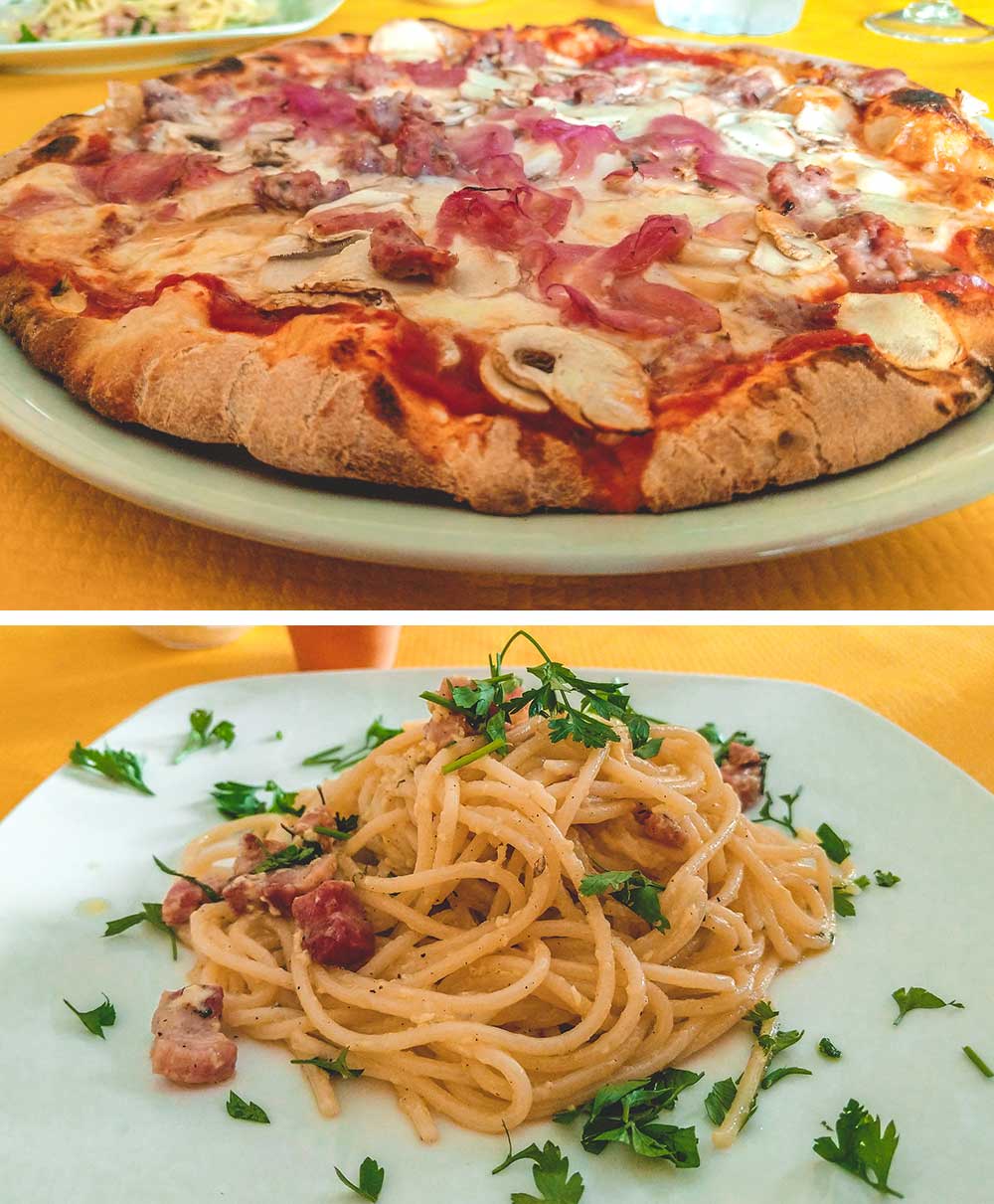 Corleone is a smaller town and restaurants aren't lining up everywhere for tourists to try. That said, we found a couple awesome restaurants tucked away near the town hall.
Pizza Nasce'
If you're in a real hurry and need to eat and go then look no further than Pizza Nasce'. It's Italy, right? Kind of hard to go wrong with pizza here but Pizza Nasce' was some of the best pie we had. It's a kind of grab and go place so it's perfect for those wanting quick and delicious. Or, if you're not in a rush, grab some and find a bench in the shaded area out front.
Ristorazione Polleria Garibaldi
This was one of our most memorable dining experiences in all of Italy. It wasn't the atmosphere, decor or anything like that. It was the fact that it's a true family establishment with a small kitchen, serving up great food. They didn't speak any English and the menu wasn't in English but that makes it all the more authentic! Written Italian isn't too hard to decipher anyway so you'll be fine! They specialize in deep fried food and rotisserie chicken so be adventurous here! They were very kind, patient and we enjoyed every minute.
We visited around 1 o'clock and they were open during that time. We are noting the time because many restaurants in Italy close during the afternoon until evening. However, you should be fine if you're there around lunch time. Just don't wait too long!
If you order pizza they're going to have it delivered from Pizza Nasce' so you can try both places at the same time!
It's located across from the town hall so you can't miss it. Good prices, too!
Summary of an Afternoon in Corleone, Sicily
Whether you're road tripping through town or settling down, Corleone is a beautiful place with an important story to tell and one that needs to be on your Sicily itinerary. We hope we've given you some ideas of things to do in Corleone and even if you're not a fan of The Godfather, there's so much more to appreciate here. Stop by and experience some Sicilian hospitality during your trip! 
Happy travels!
Like it? Pin it!