This question comes up a lot when travelers have an interest in destinations within eastern or southeastern Europe. Is "X" city actually worth visiting? Bucharest is a popular spot in this region and we've spent several weeks in the city, giving us ample time really think about this question. Our answer? Yes! Bucharest is most definitely worth visiting!
It's one of our favorite cities in this region of Europe and if we had to choose the most delicious country in this part of the world, it would be Romania.
We've read other blogs that talk about how Bucharest isn't safe, the people aren't nice, etc…. Our opinion? That's not true.
Everyone has a different experience in their travels but we absolutely loved Bucharest as well as the rest of Romania. We highly recommend travelers to experience this culturally eclectic city and the rest of the country.
From friendly people to food to a relaxing day at the beach (say what?), let's talk about some awesome reasons why you should visit Bucharest.
9 Reasons Why Bucharest is Worth Visiting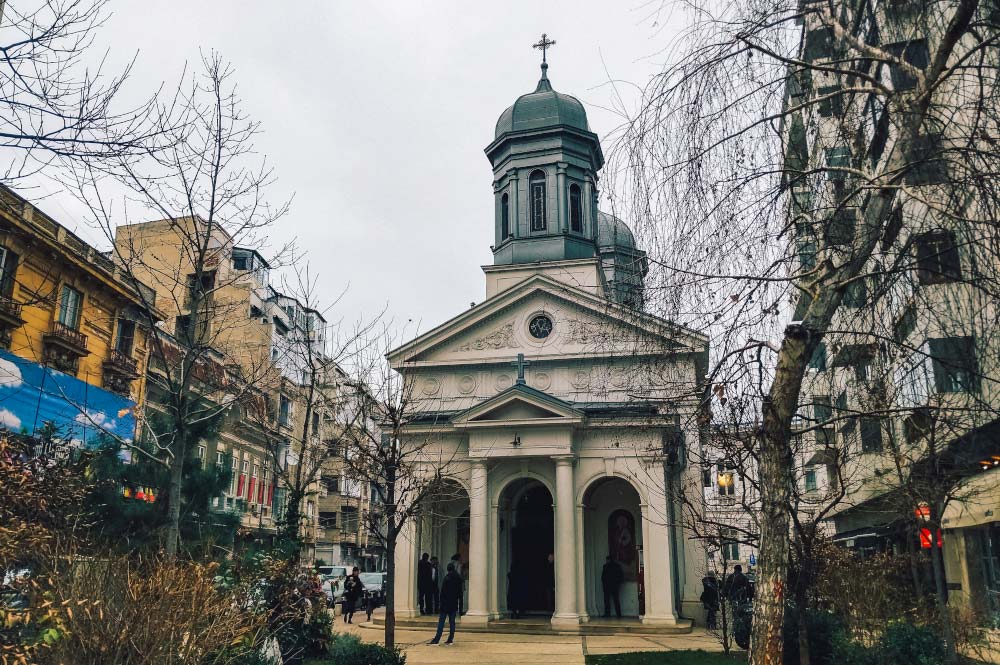 Bucharest is Safe!
Many potential visitors to Bucharest are curious if it's safe. We could have written an entire post about it but there wouldn't be much else to read. Yes! Bucharest is safe!
Romania as a whole is a safe country to visit. We spent 7 weeks in Bucharest and ventured up to Brasov in Transylvania so we have some insight on the safety in this part of the world.
Of course, we've read other blogs that say otherwise. Maybe they had a negative experience but all we can tell you is what we witnessed. English is widely spoken and locals were always patient and helpful.
If you need more convincing, head to SafeAround, an independent website that compiles safety information from public websites. Hint: Romania has a good score!
But don't just let your guard down because you read that Bucharest is safe! As is the case with everywhere in Europe, be a smart traveler! Pickpockets are all over the world and tourists are always a target. Be aware of your belongings at all times!
Do not show off your designer bag or jewelry while traveling in Bucharest or anywhere else. It's just not smart!
The People are Very Friendly
One thing we realized immediately when arriving in Bucharest is that everyone is very friendly and many people speak English. If not, they always know enough to get by.
We especially noticed the friendliness of the people in the Uber drivers, even if they don't know English (one driver was speaking to us in French, Italian and Spanish).
Again, we've read other blogs who actually recommend ignoring Bucharest when in Romania. We assume they just had a bad experience. However, during our 7 weeks in the country, we feel that it's one of the friendliest cities we've visited.
Pro Tip: If you encounter someone in Bucharest who doesn't speak English but you know a few words in other Romance languages (Italian, French, Spanish), odds are they'll know a few words too!
The Food is Incredibly Delicious

You may have guessed from our blog's name, Where Food Takes Us, that we have a strong love of food. Bucharest, and we don't say this lightly, has some of the most amazing food we've had while abroad. If your stomach dictates your travels like ours then you'll love Bucharest!
Some food to try:
Sarmale is cabbage leaves stuffed with ground pork and rice, slow cooked for a few hours and is typically served with a large helping of polenta.
Speaking of polenta, Bucharest is where we fell in love with it. It's rich in flavor and we typically had it served with sour cream and cheese, which is to die for!
Mici is usually a mix of beef, lamb and pork with various spices like thyme, coriander, pepper, and garlic. All of this is rolled into a sausage shape before grilling.
Dobrogeana cu brânză is flakey pastry with cheese filling. Pretty much a cheese pie. You can find these at many bakeries and grocery stores.
Papanași is a large donut stuffed with white cheese and topped with a large helping of sour cream and fruit compote.
Honestly, most restaurants in Old Town will not be too expensive and the food will be fantastic! This isn't usually the case in major European cities so take advantage!
Read up on our short and sweet (literally) list of some of the best restaurants in Bucharest!
Bucharest is a Vibrant Mix of New and Old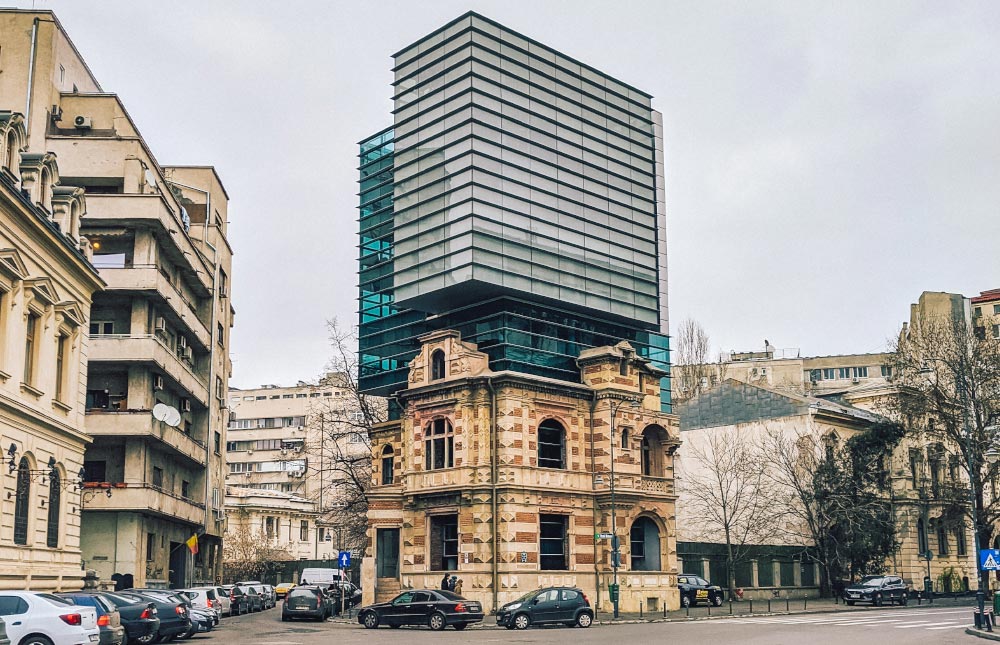 Many post-communist countries have this unique mixture going on but Bucharest is special. Not only is there one of the largest buildings in the world (more on that below) but Bucharest has been called the Little Paris. One walk through Old Town and you'll understand why Bucharest earned the name.
However, there's a fair amount of communist-style architecture sprinkled through Old Town too. The result? One of the most unique and somewhat quirky old towns we've visited.
Public Transportation is Cheap and Efficient
In addition to food and accommodation being wallet-friendly, Bucharest also has really cheap public transportation. And it's very efficient!
The subway is also clean (but some of the stations are quite old) and the cars are wider than average, meaning there's room to spread out and relax. That's not very typical on a subway.
You can buy single-ride tickets but we recommend buying a card loaded up with 10 rides for 20 lei ($4.61 USD). You can also use Google Pay, Apple Pay or contactless credit card to just tap and enter the station.
While we never found a need to use the bus or tram while in Bucharest, it's important to note that a metro card won't work on these forms of public transportation. They're run by different companies.
We stayed in an Airbnb in a residential area quite far from Old Town during our first visit to Bucharest and found that subway stations near the center were much easier for buying tickets.
As for train connections elsewhere, like Transylvania, there are many trains running back and forth throughout the day. Tickets can run as cheap as $5 USD per person. However, trains to Brasov, for example, will take anywhere from 2-4 hours. More on Transylvania below!
Bucharest has Therme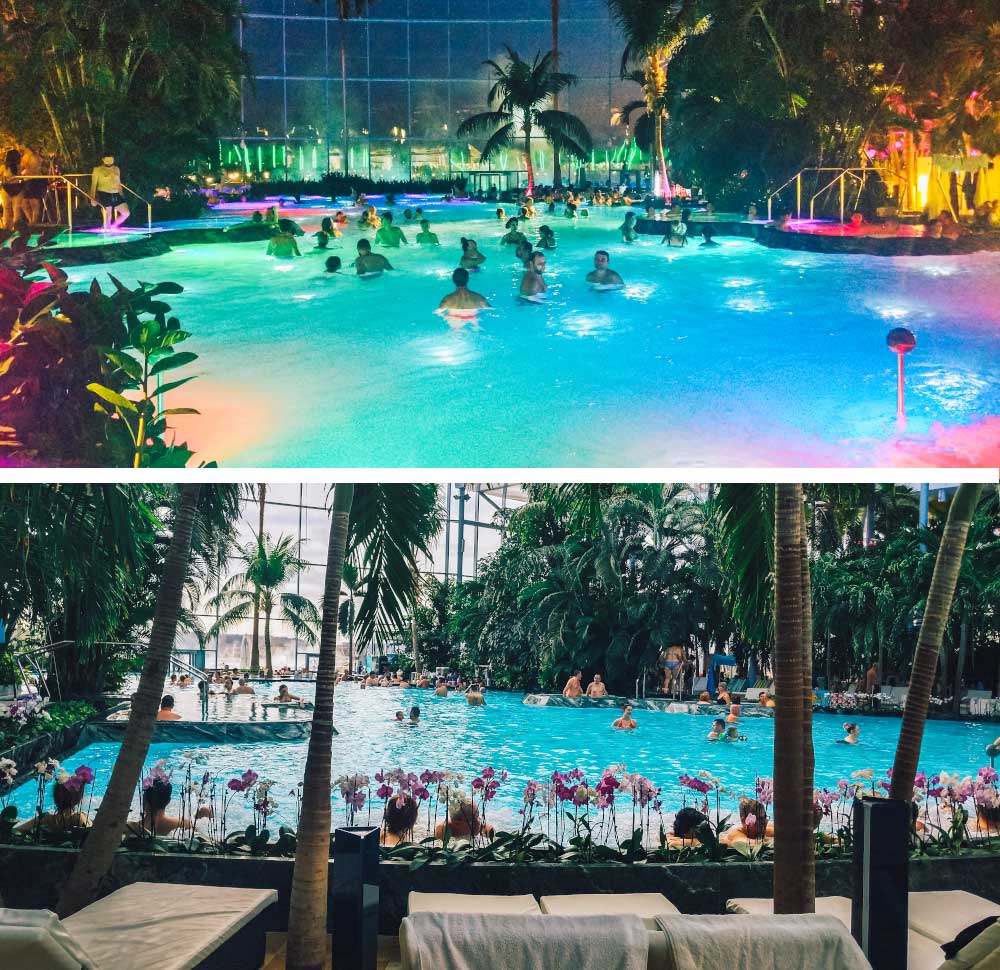 It's said to be the "largest relaxation and entertainment center in Europe" and we're not going to argue with them on that. They boast multiple saunas, thermal pools, and year-round warm temperatures in all of their pools (including the outdoor pools). In addition to all of that, they offer activities like yoga, water aerobics and mud peels.
Therme has three areas you can visit:
Galaxy, which is geared towards families and has multiple water slides, a wave pool and a relaxation area.
The Palm, which has saunas, hydromassage beds, 3 mineral pools (Dead Sea salt, lithium and calcium) and a large thermal pool with a bar. Alcohol is very cheap at the pool bar!
Elysium offers a few different pools and saunas, massages and infrared beds.
If the weather outside is favorable, dig your toes in the sand at Therme's beach area.
For under $100 USD we spent half a day there. $100 may seem like a lot for Bucharest but that's including the entrance fees, towel rentals, shoes, several drinks each, lunch and overstaying the 4.5 hours we paid for. Honestly, we think it's a very reasonable price for what they offer. They even offer a free shuttle bus from Bucharest's center.
We didn't visit Therme during our first visit to town and we really regret it! To have such warmth and relaxing entertainment next door, especially in the dead of winter, is reason enough to visit Bucharest!
Bucharest is Budget Friendly
Bucharest won't break the bank when you visit. We found accommodation in a central location for $20 USD per night. That's unheard of in other European destinations, especially for an entire apartment!
Not only is accommodation cheap but the food is too! We paid $30 USD for an appetizer, 2 entrees, a carafe of wine and 2 glasses of palinka. Many restaurants in Bucharest also offer lunch specials! At Caru Cu Bere, a very popular restaurant in Old Town, we had a soup, salad, main course and dessert for 24.90 RON ($5.78 USD).
Going to the grocery store you'll find that most of the food, beer and alcohol are all very reasonably priced. We'd spend $20 to $30 USD on groceries for the better part of a week.
As we mentioned, public transportation is dirt cheap in Bucharest and Uber rides can be very cheap depending on how far you're going. A short 10 minute Uber ride cost us $3.48 USD (including tip!). Alternatively, we took an Uber from the airport to our first Airbnb, which wasn't centrally located and it cost us $50 USD but the ride was over an hour long!
Transylvania is Next Door
Bucharest is the perfect city to base yourself for a Romanian holiday. Many visitors come to Romania to see Dracula's Castle, which is called Bran Castle. However, this isn't the real Dracula's Castle.
Vlad the Impaler (Vlad Țepeș), who Dracula is based on, didn't actually rule from Bran Castle. The book, which used Bran Castle for inspiration, has turned it into a tourist hotspot.
From Bucharest, you're just a few hours by train from Brasov, the nearest major city to Bran Castle. But there's more than just Bran Castle in Transylvania. Some of the prettiest views in Europe can be found in the mountains here, plus winter sports and outdoors lovers will have a blast.
In our opinion, you should stay in Brasov for a few days so you can relax and explore the region without the hassle of a day trip. Regardless, staying in Bucharest is a great spot for a base!
The Palace of Parliament
What's the big deal about this place? It's the 2nd largest building in the world! This is in terms of square meters, not height. The former Romanian president, Nicolae Ceaușescu, chose its design based solely on the fact that it was the largest proposal from the architects.
It was built during the reign of communism but today holds two houses of parliament, three museums, and a large conference center.
It's hard to fit it all in one photo, needless to say!
Summary of Why Bucharest is Worth Visiting
Whether you're passing through on your way to Transylvania or backpacking on a budget, Bucharest is a cheap and truly interesting city that will surprise travelers. The food alone is worth the visit! If you have any questions about visiting Bucharest don't hesitate to ask!
Happy travels!
Like it? Pin it!