The Czech Republic (Czechia) is already one of the most beautiful countries in Europe. Add some snow to the equation and you've got yourself some snowy, fairytale-like castles and Prague in the vicinity. Granted, the cold can get really cold so bundling up is required. But there's some kind of magic about the Czech Republic in the winter that makes you forget about the chilly temps and focus on the wonders in front of you. Seriously, the Czech Republic is full of UNESCO heritage sites.
In this post, we summarize some pretty great reasons to visit the Czech Republic in winter and why we think it's the best time to visit!
Reasons Why You Should Visit the Czech Republic in Winter
Less Tourists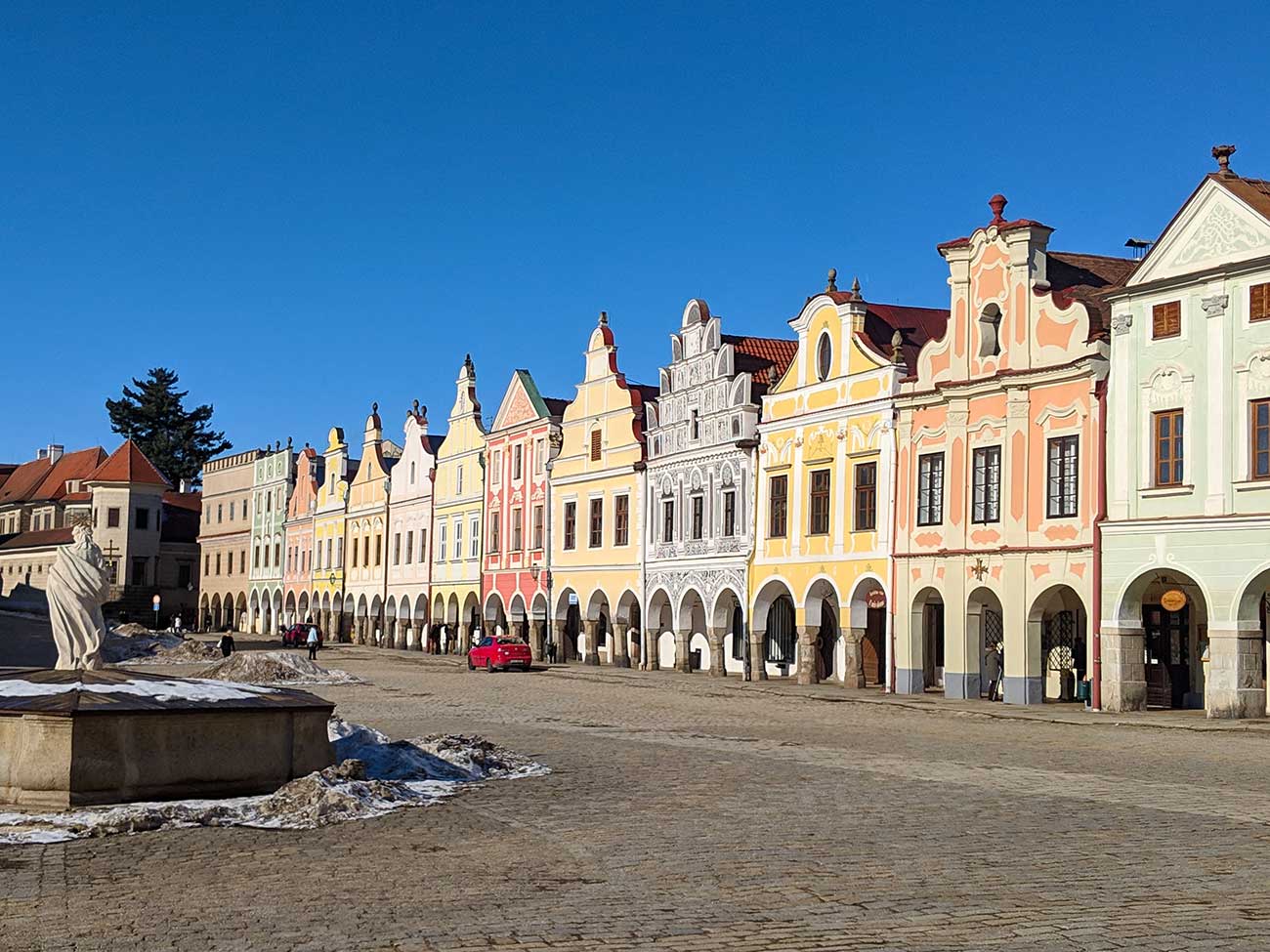 Like most destinations, traveling in the winter is the best time to experience less crowds and the Czech Republic is no exception.
During our month stay we noticed that many towns were almost completely devoid of other tourists and we had no issue finding a table to eat or entering castles without a pre-booked ticket.
With that said, it's important to note that some things do shut down in the winter like a few castles, the free walking tour in Brno, and most of the shops and restaurants in the UNESCO Heritage site, Telč. But don't let that deter you because there's still plenty of things to do and see in the Czech Republic in winter.
Cheaper Accommodation
A quick search on Booking.com will show you that hotels are half the price in winter than they are in the summer. On Airbnb, you'll see that many places are cheaper in winter vs. summer and in general, much cheaper than a hotel will run you. Granted, that's not always the case! It all depends on how many people are staying and your budget. 
We're big fans of staying in Airbnbs because we feel you get more of a local insight, especially if you stay with the host. You can also get some awesome tips for your stay! On the fence about booking an Airbnb for your trip to the Czech Republic? Read our post about the pros and cons of being an Airbnb guest.
Cheaper Flights (on Average)
Are there always cheaper flights in the winter for Prague and the rest of the Czech Republic? Not always! However, on average, you'll find more frequent transportation deals going on.
Finding cheap flights is part of the arduous process of budget travel. But it doesn't have to be that bad! If you have a little patience and flexibility then you'll find that deals come around more than you think. Check out our post on ways to find cheap flights for some tried and trusted tips!
The Chance of Snow!
Like most places in Europe, traveling in the winter means the possibility of a snowy visit. In the Czech Republic this is especially enticing, as the snow completely transforms the landscape as well as the plethora of castles scattered about the country.
While we weren't lucky enough to experience snow in Prague, we experienced some pretty heavy snowfall in other parts of the country in late January and early February. Driving past all the castle ruins or stumbling upon small Czech towns, the snowfall had us eager to see what was over every hill and around every corner.
Important to Note: If you are visiting the Czech Republic during the winter and want to see castles (there are so many!) then you'll need to put in a little extra effort into planning your trip. A lot of castles are closed during the winter months but the more popular ones (Hluboká and Lednice) will still be open.

We ventured inside of Hluboká in late January, with snow all around, and it was a blast! But don't think that just because many spots are closed for the winter that you'll get bored.
Warm Up With Some of the Best Food and Drink in Europe
Like many other countries in this region, goulash is a popular dish that will help fight that winter chill. The Czech Republic has a lot more to offer than goulash, though.
Indulge in fried cheese, potato or fruit dumplings, and wash it down with a pilsner beer. You can't visit the Czech Republic without having at least one kolac…or 10! Great in any weather, kolac is a fruit and/or cheese filled pastry that will fill you up with sweet goodness.
The Road is All Yours
The best part about visiting a foreign country? Driving it!
We say that a lot. But we do so because it's true! Our best memories were in places where we got some wheels and explored the countryside on our own. Driving through the Czech Republic, namely Vysočina, Moravia and South Bohemia, is an unforgettable experience. This is especially true in winter, as snow covers the hills and pine trees.
Renting a car allowed us to see towns like Třebíč (great kolac!), Žďár nad Sázavou (we can't pronounce it either but it's amazing), plus a TON of castles. If we saw a sign for a castle (Hrad or Zamek) then we'd follow it! Again, there's nothing like exploring a country in a car. With a well-maintained road system and many scenic routes, why not take advantage of the opportunity!
If you're interested in castles then be sure and read our post on some castles in southern Czech Republic!
In general, renting a car is dirt cheap in the Czech Republic. For example, we rented a car for two days near Brno (2nd largest city in the country) and got it for $26 USD. That's a steal! It was an automatic as well, which is typically much more costly than manuals. Our go-to car rental website is Kayak and we've found some amazing deals throughout our travels in Europe.
Pro Tip: We did not need our IDP (International Driving Permit) to drive in the Czech Republic but we still think it's a good idea to have one. Think of it as extra verification for just $20. It comes in handy for other countries in Europe too! Most importantly, you need your driver's license and passport.
Summary of Visiting the Czech Republic in Winter
We hope we've given you enough reasons to brave the cold and explore the gorgeous country that is the Czech Republic. Trust us, it'll feel like you have the country all to yourself at times and the sights you see will be some of the most memorable in Europe. Enjoy!
Happy travels!
Like it? Pin it!