Split, Croatia, where the pristine Adriatic meets historic beauty and charm. The 2nd largest city in Croatia seems pretty small when you walk through the narrow streets of Diocletian's Palace and admire all that once was. In this post, we talk about what to see, when to go, and how to have an awesome 1 or 2 day holiday in Split! We also provide tips to save you money and avoid tourist traps!
When to Visit Split
Obviously, summer is always the most touristy season for just about anywhere. We stopped by Split in mid-August and the crowds were overwhelming at times, especially in the narrow streets of Diocletian's Palace. If you have a personal space bubble (as we do sometimes) then avoid the peak summer season!
Cruise ships are always coming and going so it only adds to the busyness when passengers disembark. Some restaurants also have "spring/summer" menus which means prices are typically higher during this time.
To avoid crowds but still see Croatia and all its blooming beauty, we recommend early spring or fall. School is in session and you'll have more opportunity to walk through the palace and not be shoulder to shoulder with other tourists. Accommodation will be more wallet-friendly as well. The water will still be inviting and activities and day trips still aplenty!
Important Things to Note!
Being budget travelers and always on the road, we can say Split is not a budget-friendly destination. But 1 or 2 days is all you need to explore so it's still manageable. Be prepared for higher than average dining and, most importantly, note that a lot of places only accept cash!
Cards are accepted occasionally so if you want to use a credit card then be sure to ask the host/hostess before sitting down. We went to four restaurants before finding one that accepted credit card! When withdrawing cash, watch out for ATM fees and NEVER accept the currency conversion at an ATM!
Are you a Game of Thrones fan? Split has a few important spots where some filming took place. There's also a Game of Thrones museum. We highly recommend avoiding it! It's full of wax figures and costumes that don't actually appear to be legit or anything special. It seems like a museum that opened because Game of Thrones was popular, not because it offers anything unique. That said, the choice is all yours!
Just 1 day in Split: Exploring the Palace and Some Great Views
(If you have 1 day and want to enjoy the water, check out what we say for day 2!)
Free Walking Tour…Maybe?
A free walking tour in Split? Maybe. We cover things to do in every destination we visit and we always recommend a free walking tour. Rarely have we had a bad experience and we learn so much along the way.
We went on a free walking tour in Split. The guide's English was just alright and it was hard to hear her. Granted, the crowds that day (mid-August) were insane so it's not entirely the guide's fault. Most walking tours last at least two hours, but this was barely longer than an hour. That said, we saw all the main parts of Diocletian's Palace and got our layout of Split. It's not very big.
If you'd like to pay for a walking tour, which may bring you better fortune than the free one, then we recommend a professionally-guided walking tour of Split, based on really good reviews. There's an option for wine tasting as well!
Or if you want to skip the tour altogether, keep reading for an awesome guide to show you around Split!
Diocletian's Palace
Honestly, we could fit most of the other things to see in Split all in this section but we've separated it to be reader friendly. Diocletian's Palace is just one huge area filled with so much history and absolutely gorgeous architecture. You can simply walk down the narrow streets and become absorbed in the picturesque surroundings. The best part? It's free!
Diocletian was, for lack of a better term, a paranoid and kind of crazy emperor. But today we can appreciate the history he left behind. To think that this entire palace was just his and his family's. Wow!
It dates back to 305 AD so you're literally walking through 1700 years of history! The sphinxes, brought from Egypt to Croatia by Diocletian, are from 3500 BC!

Inside Diocletian's Palace:
St. Dominus Cathedral (Roman Mausoleum)
The cathedral once served as Diocletian's mausoleum but when Christianity became the official religion it was transformed into a cathedral. We were told that it's the smallest cathedral in the world. There are some very old frescoes inside and be sure to admire the building itself, one of the best preserved Roman buildings you can see today.

The crypt is below and it now functions as a chapel. It's also much cooler (temperature wise) than above.

Pro Tip: Make sure to visit the cathedral first! If you want to go inside the cathedral, the Temple of Jupiter, and the crypt, there's an all-access ticket which will save you money! It's sort of confusing but bear with us!
To enter the cathedral, you have to buy a "blue pass" which gives you entry to all three sights. There is no single cathedral ticket. However, we visited the Temple of Jupiter first and they didn't sell a blue pass and we had no idea it existed. So we double paid for that attraction. Seems like a tourist trap to us! There's also a "red pass" which gives you entry to the treasury and costs a little extra.
Temple of Jupiter
Quite small but nonetheless impressive, the Temple of Jupiter is now a baptistery. However, when inside, you're standing in a building constructed between 295-305. Diocletian had it built because he believed he was the son of Jupiter.

Climb the Bell Tower
Although it costs 30 kn ($4.50 USD) per person, you can climb the bell tower for a great view of Diocletian's Palace and see much of Split. Or if you don't feel like paying to climb a lot of steps, there are plenty of great views elsewhere for free! Keep reading!
City Gates
There are four gates into Diocletian's Palace (Gold-North, Bronze-South, Silver-East , Iron-West). All four are worth a look and a picture! The golden gate was solely used by Diocletian and his family, and them only.
Cellars of the Palace
Once used as storage during Diocletian's reign, the cellars were repurposed as a sewage dump for centuries. However, it became full of human waste and had to be cleaned out. After a thorough scrubbing (we feel bad for those who cleaned it), it's okay to wander through now! Today it's full of souvenir shops.
For fans of Game of Thrones, there's an area where they filmed the dragons during their captivity in the early seasons. Walk through the bronze gate (south side) into the cellars and turn right immediately. You have to pay to enter!
Leaving Diocletian's Palace now!
Statue of Grgur Ninski
Considered the father of the Croatian language, Grgur Ninski introduced the language in religious services, as most of the local populace didn't understand Latin. Today you can find this large and impressive statue, built by the renowned Ivan Mestrovic, just outside the golden gate (north side of the palace). And of course, like most statues in Europe, he offers some good fortune. You can rub his shiny foot for some good luck!
Museum of Fine Art
One of the less talked about things to see in Split, the museum of fine art is worthy of your time! If you need to kill an hour or two or just want out of the heat for an afternoon, stop in for some great insight into Croatian culture. Spanning several centuries of history, this museum showcases awesome exhibits and it's located just north of the palace.
Fish Market
The smell of sulfur aside, the fish market is a cool place to check out! Fresh fish is plentiful in this small area and you can find a good deal. Take some back to your accommodation and dine in! You can find it by heading west in the palace and following your nose!

Marjan Forest Park (Park Šuma Marjan) and Sunset
The perfect ending to a long day exploring Split! Marjan Forest Park is an uphill climb but the views are stunning! Time your visit around sunset and see the Adriatic, dotted with green islands, fall asleep. You can also get a good view of the palace from above.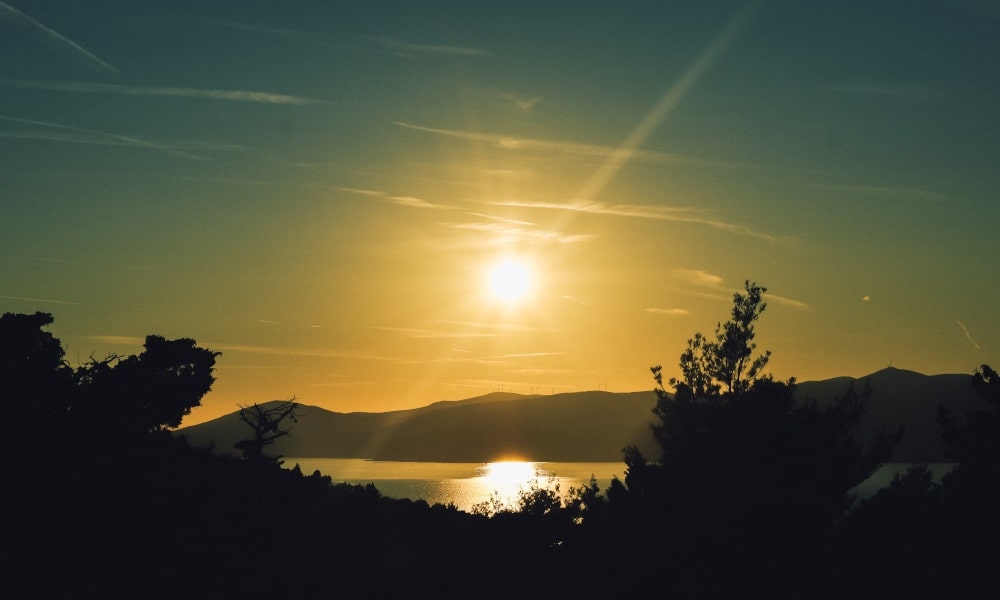 If you're interested in old and historic churches then be sure to keep trekking. There are so many paths diverting from the main road that lead you to these sights. After being in an overly crowded Split all day, Marjan Forest Park provided the peace we needed. Afterward head back for a bite to eat!
Toto's Burger Bar
One of the few restaurants we found that accepts credit cards, Toto's Burger Bar was actually freaking delicious! Yes, it was a little overpriced in our opinion but anything near the palace is going to be that way. Grab a huge burger, fries, and a drink (beer included) then sit outside and let the ocean breeze cool you off!
Fabrique Pub
Looking for some Croatian cuisine near the palace? Check out Fabrique Pub! Their outdoor seating is perfect, letting you enjoy the fresh air while dining on some traditional dishes. Their menu also has common food like burgers and such. They have a special spot for drinks only so it could be a great start to a night on the town. The best part, they accept credit cards!

2 Days in Split: Time for the Water!
Now that you've seen what Split has to offer in terms of history and sights, it's time to head out on the Adriatic! There are countless boat tours lined up along the seawall outside of the palace. If you're already in town and didn't book online then walk along the water and check out their offers.
While no one vendor seems more affordable than the other, their packages differ. Some offer the blue cave excursion, a sunset sail, kayaking, jet skiing, submarine rides, oh my goodness, the list of water activities are endless in Split.
There are also tons of day trips to the famous Krka Waterfalls. However, if visiting in the summer, be prepared for massive crowds! You might be better off avoiding this one in peak summer if crowds are a turn-off.
While we linked to a Krka Waterfalls tour so you have more info, note that you can also take a bus and make your own trip out of it. You'll be on your own but it will save you money! See what Bus Croatia says for more info!
But let's say you want to forgo the touristy things and boat outings and just have a relaxed day in Split. Head to the beach! 
Trstenik Beach
If crowded beaches aren't your thing, then Trstenik Beach is the place for you. Like a lot of beaches in the Adriatic, expect it to have pebbles or be a little rocky in certain areas. However, swimming is still a great thing to do here!
Kaštelet Beach
This beach also has pebbles but you'll likely find a more local scene here, although tourist families and couples can be found as well. The best part is you can reach this beach by walking 20 minutes from Split's center!
Bačvice Beach
Looking to mingle and make some friends during your travels? Bačvice Beach is the place for you! It's probably the most crowded shore in Split and is a hit among younger travelers. Lounge chairs and umbrellas come at a price here. It's definitely a beach for the extrovert!
Summary of What to See in Split, Croatia in 1 or 2 Days
What we've listed is, of course, just an idea for one or two days in Split. Mix and match and find your happy place. Maybe you head to the beach for a bit and see the palace in the evening or vice versa. Either way, we hope this post has given you an idea of how to enjoy your short time in Split.
Happy travels!
Like it? Pin it!