Vienna is known for its delicate desserts and influential presence throughout Europe. From Mozart to the Habsburg Empire, Vienna has seen its share of essential history. However, Vienna is also known for being an expensive destination. If your budget doesn't have a lot of wiggle room, don't worry! We've put together this guide to enjoying Vienna on a budget so you can appreciate this architectural and cultural masterpiece without breaking the bank.
In this post, we'll share some tips on where to stay and how to get around plus some places you need to see. Of course, we'll also throw in some great places to eat.
What Was Our Time in Vienna Like?
Before we dive into all the details we'd like to share some insight from our experience in Vienna. We spent three days in the city, which was plenty of time to see a lot at a relaxing pace.
Since we're talking Vienna on a budget, we don't think staying more than three days is a good idea. However, if you've got a super cheap accommodation where you can cook a few meals then longer than three days would be feasible.
We went on a walking tour, hit a museum, saw a free opera (more on that below), ate all the Viennese cuisine we could, walked the districts, chilled in the parks; we even went to a concert at the big arena in town. Needless to say, we did quite a lot in a short amount of time, all with a budget in mind.
Vienna was a success for us while sticking to a budget, unlike Paris or London, which are much more difficult. So, in case you had any more doubts, you can have an unforgettable time in Vienna for a lot less than other cities in Europe.
Where to Stay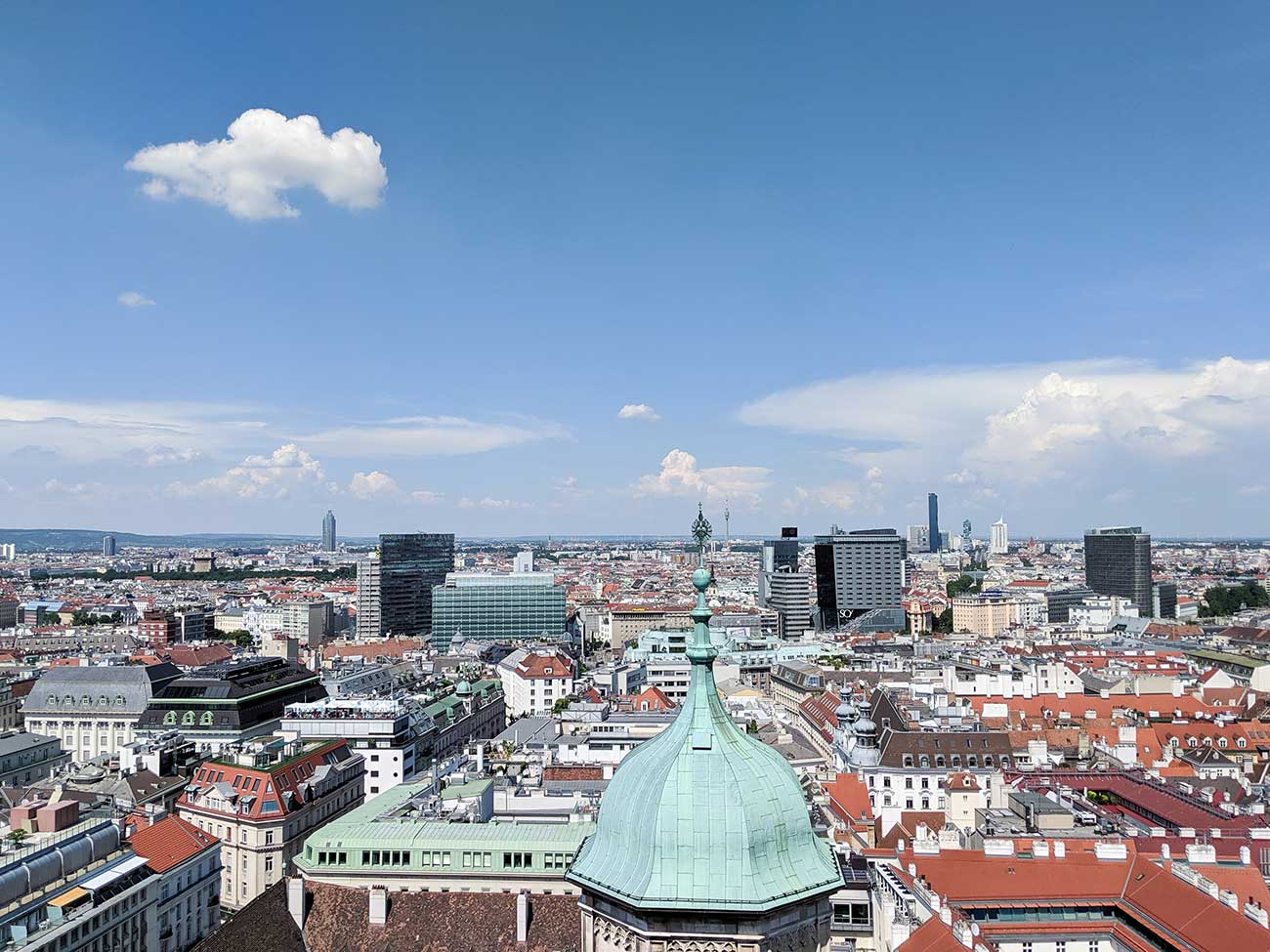 You'll probably hear "First District" quite a lot during your time in Vienna. That's because the First District is where all the attractions are. The First District is also really expensive when it comes to accommodation.
But Vienna is so walkable and so connected via public transport that staying outside of the touristy district is a great idea. In addition to saving some money on accommodation by staying further from the center, you'll also see a side of the city you likely wouldn't have seen otherwise.
For the backpackers out there (and solo travelers), hostels are always a budget-friendly option. You also get the opportunity to meet fellow travelers. However, hostels in Vienna aren't the cheapest you'll find. Be prepared to pay around $25 USD for a bed in a dorm. Check prices on Hostelworld.
For those who prefer their own space while sticking to a budget, see what Airbnb has to offer. We've stayed in more than 30 Airbnbs in Europe, all while sticking to a budget. It was no different in Vienna.
Choose a residential apartment (whether the entire place or a private room) not too far from the center and save a lot! You could have your own kitchen as well.
If you're traveling as a couple then we recommend the Familie Huber Airbnb as a great accomodation option. Not only is it close to multiple tram stops that take you straight into the First District but the host, Roland, was the definition of hospitality. The apartment was sparkling clean and there was bread, milk, cheese and eggs available for breakfast.
There are cheaper Airbnbs available but we had such an amazing experience at Familie Huber that it deserves a shout out!
If you're on the fence about Airbnb then read up on some pros and cons of being an Airbnb guest. Who knows? Maybe you'll find your favorite bakery on the corner of a quiet neighborhood street. This happened to us so many times in Europe!
For the really adventurous travelers out there, give Couchsurfing a shot. Stay with a local for free. You would get some priceless insight on Vienna!
Lastly, if neither hostels or Airbnb fit your needs, there's a good chance you'll find cheap accommodation on booking.com.
You've got some great options for accommodation right there. If you can save some money on a place to stay, you've more money in your budget to spend on that amazing Viennese food. More on that later!
How to Get Around Vienna
Vienna is a lovely city to walk, so being on a budget is actually a benefit! However, for those really lengthy distances or if your legs just need a rest, Vienna is so easy to navigate by metro, bus and tram.
We chose to walk most places during our stay but there was a tram stop near our Airbnb that led to the center of town. We definitely took advantage of that a few times!
The best part about Vienna's public transport? It's cheap! If you're gallivanting around throughout the day, a 24 hour pass is well worth the €8. There are also 48 and 72 hour passes, as well as longer term deals.
So, depending on how long you're staying in town, you may want to look into buying a transportation pass. If not, you can always purchase single tickets as you go. It's all about what makes sense for your budget!
Vienna Pass Vs. Vienna Card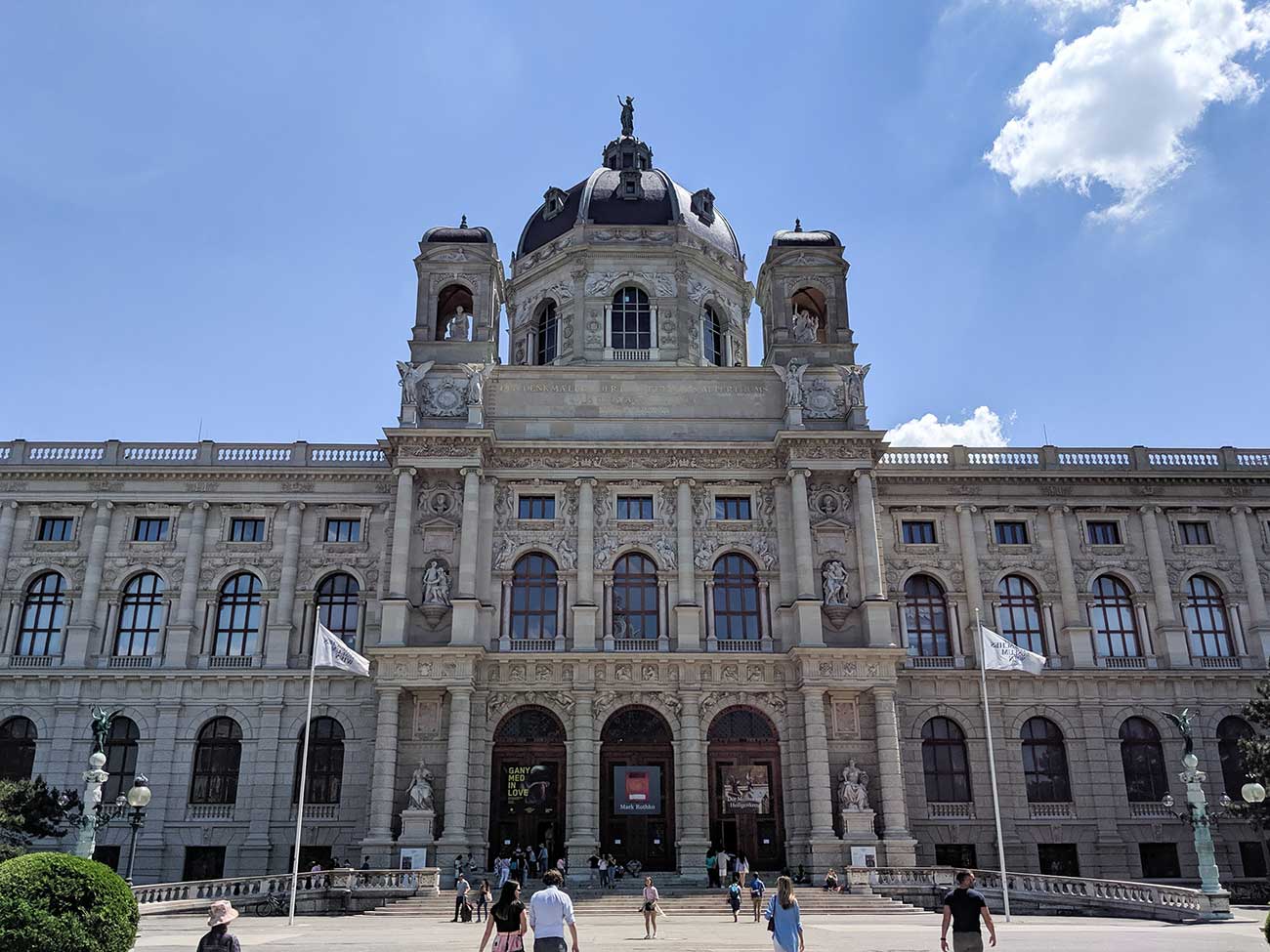 Are these passes worth it? Eh, maybe.
Some visitors might think it makes sense. While free transportation is part of the package deal, these passes really just offer discounted entry into a ton of attractions. So you're still spending money to capture the discount.
It depends on your plans in Vienna. Do you want to see as many museums as you can? Then these cards/passes are probably a great choice. Do you want to see a museum, enter some churches, and chill at a biergarten? You should probably skip the card.
The Vienna Card starts at €17 for a 24 hour pass. It gives you discounts for many attractions (€1-5 off), restaurants (5%-25% off), shops (5%-15% off), and activities (5%-25% off) in Vienna. All you have to do is show your card when making your purchase and they'll apply the discount. The free transportation is limited according to the timeframe of your pass but the discounts are good for up to 7 days.
The Vienna Pass is much more expensive than the Vienna Card. Starting at €79 for a one day pass and €159 for a 6 day pass. We're going to be honest: you'd have to pack in a lot of sights to make this pass worth the price. If you're willing to fill your itinerary with a lot of sights in a little time then go for it.
But do your own research to see if it's right for you! Read more about the Vienna Card and Vienna Pass before making a decision. If you have any questions please ask!
Things to Do in Vienna on a Budget
Ok, now that all those details are out of the way, let's get down to the good stuff: things to do in Vienna on a budget!
Free Walking Tour
For those on a budget and those who aren't, your trip to a major European city isn't complete without a free walking tour.
Welcome Tour Vienna was our choice (it was great!) but you'll find plenty more with a quick online search. Of course, one walking tour can't cover all of Vienna's must-sees in a two hour period so you'll have to do some exploring on your own to catch the rest. But a free walking tour is the perfect way to start your budget Vienna experience!
The average tip to leave your guide is €10 per person but leave as much as you feel the tour is worth.
The tour will take you to some very popular areas, like Heldenplatz, which is free to wander around. Instead of listing those major spots below, we'll leave that up to your friendly tour guide!
Parks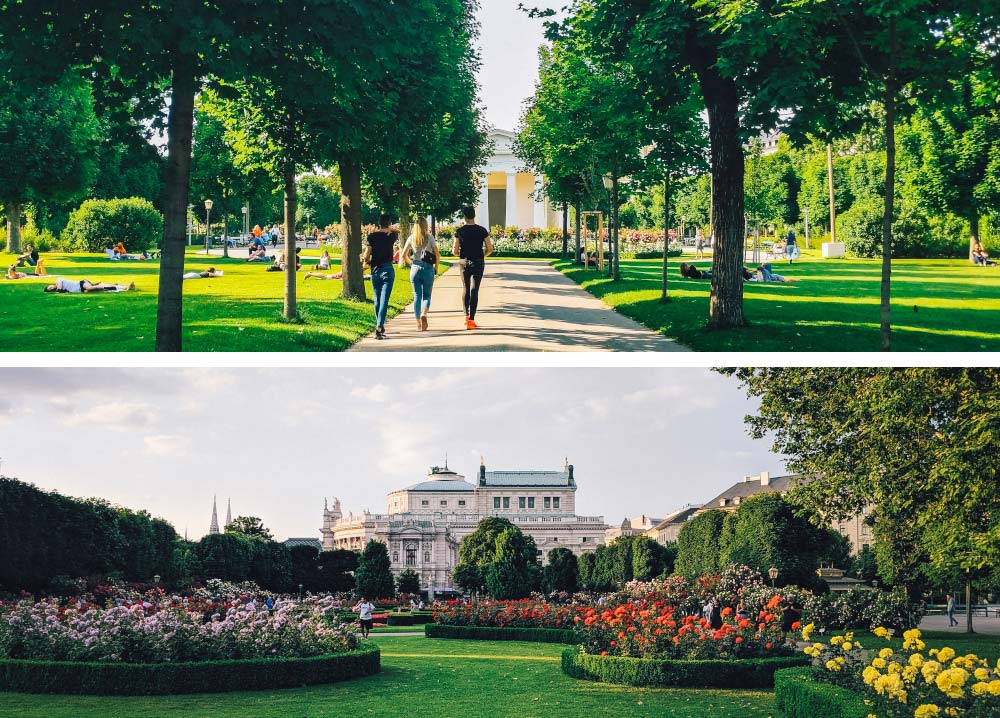 Vienna's parks. Enough said.
But we'll say more anyway. We've been to over 15 countries in Europe and Vienna's parks are arguably our favorite. Maybe it was the fact that we visited in early June and the flowers were bursting with color, but we have a feeling these parks are amazing any time of year.
The best park to visit? Volksgarten. It's centrally located, next to Heldenplatz, and is the perfect spot to have a seat and soak in Vienna. Whether you're stopping for a rest or want to have a bite and sip on some wine, there's nothing like it.
Burrgarten is another winner. This garden is around 200 years old and has one of Vienna's most famous figures: Mozart. Pay him and the flower treble clef a visit!
Not only are the parks relaxing and full of eye candy, but they're free too!
Museums
Museums in Vienna? There's maybe one. Or two?
Ha! Rather, there's too many to count! You could spend every minute of daylight in a museum. There are some first-rate museums in Vienna and they're well worth a trip inside. However, on a budget, you'll need to be a little picky as to which you visit.
We chose the Kunsthistorisches Museum, which is packed with incredible art and some ancient artifacts. The ornate interior is enough on its own to warrant a visit.
But maybe you'd rather see another museum. Some others worthy of note: Albertina, Natural History, Sigmund Freud.
Pro Tip: If you visit a large museum, like Kunsthistorisches, don't try to see every piece of art on display. You'll be drained, mentally and physically, by the end of your visit. We made this mistake and were pretty sluggish the rest of the day. See what each floor has and pick a couple that are of interest.
Is anyone in your group under 19 years old? They get free entry to select museums!
Free (or Cheap) Opera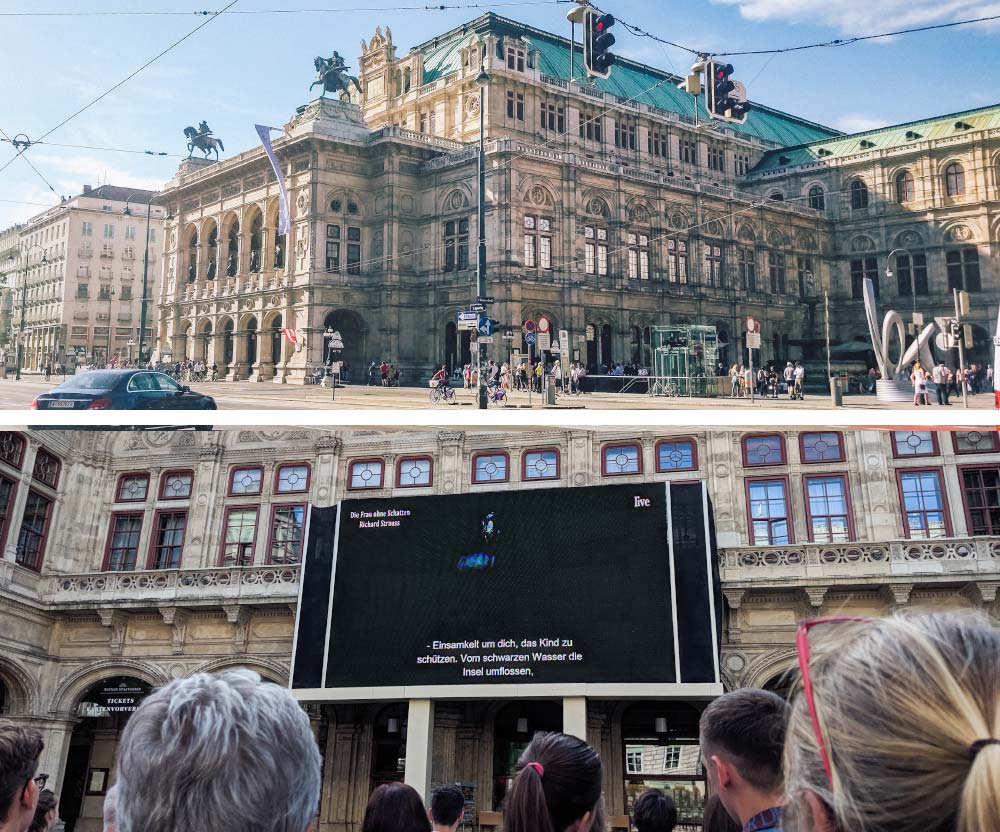 Vienna's Opera House is famous. The inside is open to the public via tours so check that out if you're interested. However, for those on a budget, see a Vienna opera for free just outside the opera house doors.
On the east side of the building (look for the Bristol Hotel on the other side of the street), the opera is broadcast live on a huge screen. There are chairs available but they fill up quickly. Arrive 30 minutes to an hour early to snatch a seat!
Most people don't stay for the entire opera so be ready to grab a chair if you see folks getting up.
What if you're visiting in winter? If you don't mind standing for the whole show, you can get tickets for as low as €4 (some tickets are available a week in advance, some only an hour before the show). Occasionally you can find seated tickets at a discounted rate if people return their tickets. For these you need to regularly check online or visit the ticket office on the day of the show.
St. Stephen's Cathedral
This is one of the most visited spots in all of Vienna and rightfully so! St. Stephen's is free to enter so you should take a look around inside. However, to get up close and personal, you have to pay a small fee. Otherwise, you'll be packed in with all the other tourists.
There's another small fee to pay that will get you away from the crowds and allow you a fantastic view of Vienna. Climb the 343 steps to the top of the cathedral and see Vienna from above.
Is it worth it to pay a couple of euros to climb 343 steps? We'll leave that one up to you but the view was pretty awesome. As an added bonus, there are way less tourists at the top!
Other Churches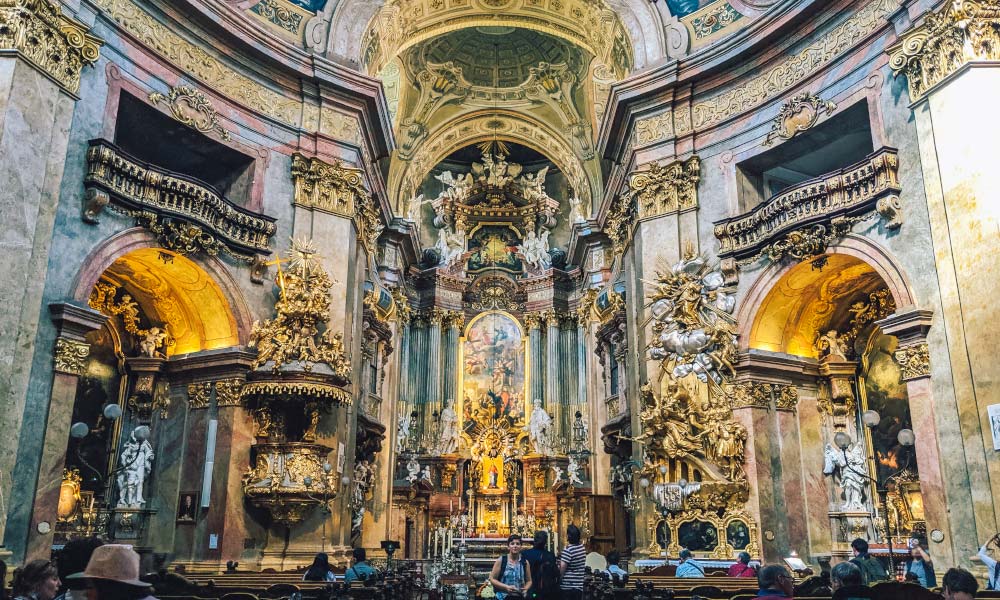 Walking through central Vienna, you're guaranteed to find several churches. Go inside! Every church we entered was free and every one of them was stunning.
A couple churches worth noting: St. Peter's and St. Michael's.
Walk Around Belvedere Palace
For those on a budget, walking around the inside of Belvedere Palace isn't the best idea. There are three museums in connection with Belvedere Palace: Upper, Lower, and Belvedere 21. Each one stands on its own and each costs a certain entry price. However, purchasing all three tickets will create a discount.
We opted to save the money for food (duh) and walked around the grounds instead. This is a truly enjoyable activity and it's free. The gardens surrounding the palace are very nice and you can get some beautiful views of the palace itself from certain parts of the grounds.
Botanical Gardens
You'll find the Botanical Gardens near Belvedere Palace. They're free to walk through and visitors will find so many different species of plants and trees. It's a pleasant way to spend an afternoon, especially when searching for shade in summer.
There's a small section that requires an entry fee. We didn't venture in, although it looked gorgeous.
Prater Park
In full swing during the warmer months, Prater Park is a huge attraction in the 2nd District. You'll find games, rides, and all types of other entertainment in Prater Park. It felt like a very local spot when we visited one evening in early June. Walking around is free but there's something in particular you need to see (or rather, eat), which leads us to our next point.
Where to Eat in Vienna on a Budget
Vienna can get pretty pricey when it comes to dining, especially in the city center. That said, and this goes for any city, don't eat in the city center! Unless you're splurging on a special occasion, eating in the center will destroy your budget.
So how do you eat in Vienna while babysitting your wallet? You share meals! Sharing meals means trying authentic food at lower costs. Better yet, you won't be overly stuffed from the schnitzel!
Traveling solo? Look for the smaller/light portion on the menu. Or to sample a few different dishes for less, look for a sampler plate (sometimes found in the appetizer section).
Schweizerhaus
Located in Prater Park, Schweizerhaus is the beer garden you need to visit in Vienna. Their potato salad is the perfect side to a huge helping of rear pork stilt (the shoulder).
Soak up the authenticity in a welcoming outdoor atmosphere to end your day on a high note.
Prices here are fairly average for Vienna. If you're more than one person, split the pork stilt to save money. It's huge!
Figlmüller Bäckerstraße
Want to try one of Vienna's most popular dishes? Head to Figlmüller Bäckerstraße for the best schnitzel in town! Veal is the real deal but pork schnitzel is also delicious and much cheaper (and bigger)!
Make a reservation because it will get really crowded!
Naschmarkt
Look no further than Vienna's biggest market near Karlsplatz! Stock up on fresh produce and other food items to make your own meal at a low cost. You'll be saving money and doing something the locals would do.
Aida Cafe
After walking just 10-20 minutes in Vienna central, you're guaranteed to spot at least one Aida Cafe. We're not recommending Aida Cafe because there are so many, we're recommending it because it's that good!
This is a great place to try the famous sachertorte, although you can try the original at Hotel Sacher for a decent price. The real winner at Aida is the ice cream. Pick one of several unique ice cream bowls guaranteed to satisfy your sweet tooth.
And if that wasn't enough, Aida serves a great apple strudel. Another traditional viennese treat!
Pro Tip: Split the Sachertorte! You may be thinking the slice isn't very big but it's such a rich cake that eating it by yourself can be a challenge…one we unknowingly accepted. Take our advice and share this incredible dessert!
Sausage Stands
Lastly, grab some cheap grub at sausage stands throughout the city. The most well-known of these, Bitzinger's, is located near the opera house. Get fancy and sip on some champagne while digging in.
You'll find no shortage of sausage stands all over Vienna and these simple, yet delicious stops will have your tummy and wallet more than satisfied.
Summary of Guide to Vienna on a Budget
Don't let the expensive and touristy side of Vienna deter you from visiting this central European gem! Vienna is very doable on a budget and just requires a bit of planning on your part.
We hope you've found our information useful and we wish you a happy time in Austria! If you have any questions, please ask! We'd love to help.
Happy Travels!
Like it? Pin it!