Durres, Albania has its roots planted all the way back to the 7th century BCE. It's safe to say this coastal town is very old and has been through a lot of important history. From Greek settlers, to Roman rulers, the Venetians, the Ottomans, and Italians briefly in WWII, Durres has seen it all.
It's also safe to say that Durres is an awesome day trip from Tirana and you should visit when in Albania! We had a really enjoyable day in this port town and we'd like to share some ideas of what to do in Durres! In this post, we cover a lot of the city's history but also some great eats and, of course, the beach! Don't forget to bring your bathing suit!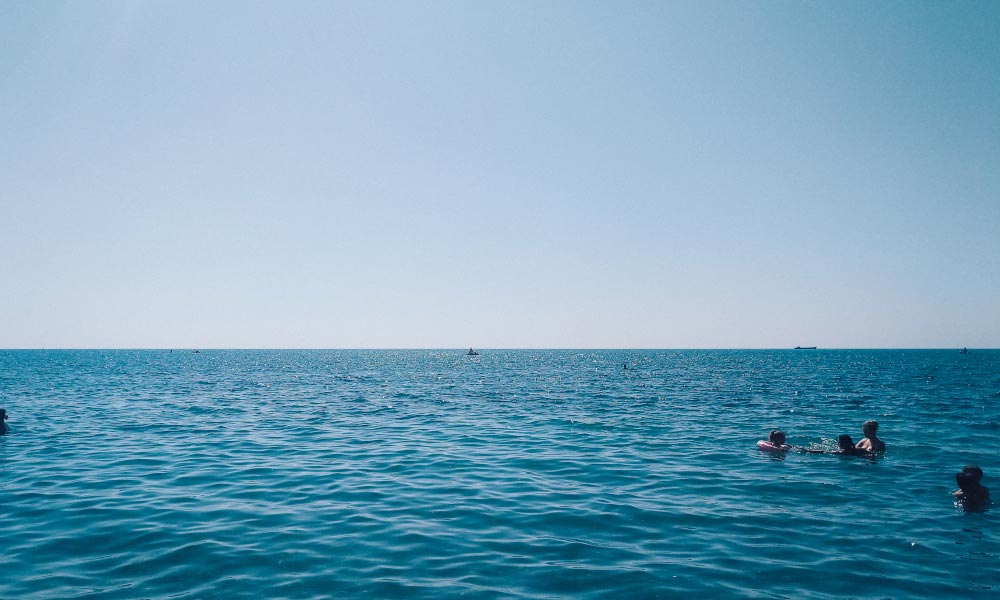 How to Get to Durres from Tirana
There are plenty of tours you can find online that will set up a Durres day trip from Tirana and take care of all the details for you. However, why not save all that money and spend it while you're in Durres? Taking a bus is by far the cheapest option, just over $1 USD one way, and takes around 45 minutes. You can't beat that! Plus, you get your own beach time!
Our bus rides to Durres and back were really entertaining. We say "entertaining" because it was unlike any bus ride we've had. The Balkans are always an adventure. The A/C wasn't great, some people were very impatient, some people stood up the entire ride (not safe!); it was one of those situations where you just had to go with the flow. The Albanians do it on the daily!
How do you get to the bus station in Tirana?
The station you're looking for is Regional Bus Terminal – South Albania. Don't expect it to be like a normal bus station with schedules and organization. There are a lot of guys out front calling out names like "Durres" and "Berat" and "Vlore" and a lot of other Albanian cities. All you have to do is say "Durres" and they'll point you in the right direction.
Once you're on board you'll wait for the bus to fill up (it will pretty fast!) and then pay for your ticket on board. So be sure to have some cash on hand! It's 130 Lek ($1.19 USD) per person for the trip to Durres from Tirana. Wow!
Pro Tip: Once you arrive in Durres, make a pin in Google Maps or make a mental note (don't forget!) of where the bus dropped you. You'll come back to this spot and repeat all of this for the trip back to Tirana. However, you might be returning in a van and not a bus. Just depends on the day and time. It runs around 150 Lek ($1.37) per person for a van.
Again, just go with the flow, smile and try to have some patience. The people living here do it all the time!
Stroll Durres Boulevard
You're now in Durres after a short journey from Tirana and now it's time to explore! The first stop is Durres Boulevard. It's a wide pedestrian street, full of restaurants and shops. It's picturesque as well so spend some time here. But most importantly, there aren't any cars for most of it and it's how you get to the forum. Onward!
See Ruins of the Forum and Roman Baths
So a little disclaimer here: don't expect the forum and baths to be like Rome. We were a little disappointed due to how little remains, but hey, it was enough to appreciate. It helps paint the picture of how old Durres is.
Walk Through the Ancient Roman Amphitheater
Worried the amphitheater would be similar to the forum and baths, we were in complete surprise when we arrived. It's huge! This ancient amphitheater used to sit 15-20 thousand people for gladiator games and other kinds of ancient spectacles.
What sets this amphitheater apart is the fact that after Christianity became the official religion of Rome, a small chapel was built within during the 4th or 5th century. This chapel has very faint (very old!) frescoes and some spectacular mosaics.
There is an entry fee but it's only a couple of dollars. More than worth it to wander around this awesome piece of history. This was arguably our favorite thing to do in Durres. The beach is hard to beat though!
Admire the Tall Medieval Walls
We mentioned the Venetians and Ottomans also played a part in the history of Durres, and you can observe their contribution by gazing up at the old medieval walls just outside the amphitheater. Of course, modifications like guard towers and reinforcements were made over time.
Shawarma! At Rehat Kebab
Time for lunch! There's a lot to do in Durres so grab a quick bite but one that's sure to fill your tummy with yummy. Rehat Kebab, located on Durres Boulevard, is the perfect place for just that. Spends a few bucks and get a massive shawarma. Grab some water as well, especially in summer, because it's hot!
Venetian Tower
The Venetian Tower is a good place to stop on your way to the sea. Unfortunately, the inside has turned into a cafe but feel free to have a bite inside. Otherwise, admire this old structure from its exterior and then press on toward the harbor!
Archaeological Museum of Durres
For those with time to kill or if it's extremely hot (it was almost 100F when we visited), try the Archaeological Museum of Durres. Museums can be exhausting but pace yourself, get cool, and appreciate all that's inside! There are some very large rooms that are currently empty so hopefully they get filled soon!
Walk Along Ventus Harbor and Sfinksi
Nothing beats walking next to the water. Start near Ventus Harbor, located near the archaeological museum, and head west. You'll come to a point of interest, Sfinksi, where you'll find a statue of a man fishing. You can get great views of the sea, beaches, and large boats coming to and fro in the distance. A great spot to relax in nice weather!
Hit the Beach!
Finally! The beaches near Sfinksi were very crowded so we meandered northward from there until we found a good spot. Turns out we made a great decision because about 5-10 minutes later, we stumbled upon Bar Tymi.
There are a lot of restaurants and bars that line the shore so if you see a good one, feel free to stop in. However, we highly recommend Bar Tymi. We paid $5 USD for two chairs and an umbrella for the day with the water just 20 feet in front of us. That's a steal!
Yes, as is the case most of the time in the Adriatic, the beach was a little rocky. But we didn't have water shoes and were fine. It was also very clean! The water was clear and refreshing and the views were stunning. We spent a good chunk of the day here before heading back into town.
Bar Tymi has a bathroom (free!) next to the bar where you can change in and out of your swimsuit if you need to.
The Grand Mosque of Durres and Iliria Square
Iliria is a massive square dotted with fountains and palm trees and provides the perfect spot for a breather after a long day. You can also see the Grand Mosque from here, whose history is short yet very unique! Be sure to take a gander and appreciate its beauty.
Spaghetteria Luli
And now, to cap off your wonderful day trip to Durres, dine with an Albanian family who are some of the friendliest people we've met on our travels. The son speaks English and is very kind and the mother speaks Italian, as she spent 24 years cooking in Italy (hint: the food is legit!). She was very kind as well and traded a few words in Italian with Darah.
The family ate dinner at the table next to us and they were nice enough to let us try their "pasta povera", or "poor man's pasta". It was delicious!
For two plates of ravioli, a free little dish of pasta, bread, and four beers, we paid around $13 USD. You'll find Spaghetteria Luli just off of Iliria Square.
Then seek out some gelato for dessert (there are three stands just in Iliria Square) and call it a day.
Summary of What to Do in Durres
We hope you get to experience Durres while spending time in Albania. Whether it's a day trip from Tirana or you're driving up and down Albania's beautiful coast, you'll fall in love with this ancient city.
Happy travels!
Like it? Pin it!