What's the best way to travel in France? By car! So, for Americans (and anyone else) out there looking to do a bit of driving in France, we've got some tips for you!
Whether you're driving through Normandy or experiencing some charming chateaus along the Loire River, driving gives you the freedom that public transportation and tour groups can't. With each region touting its own specialty, whether it be the wine, cheese or way of life, travelers to France would do well to see more than Paris!
Stop by that small patisserie (pastry shop) in a quaint village on the way to Mont St. Michel or find some of the most beautiful countryside via back roads; it's all possible when driving in France!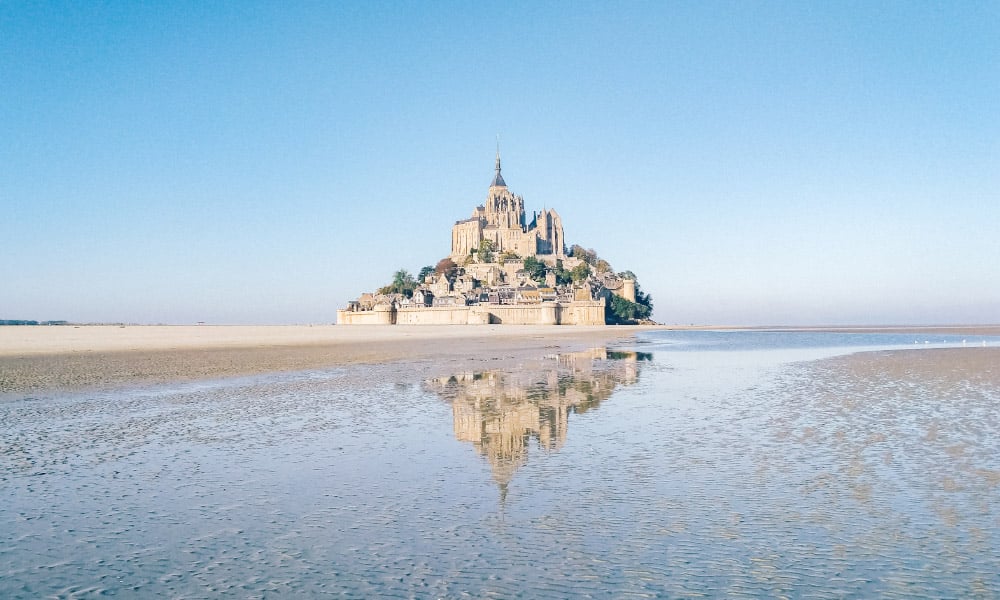 If you're not driving in France the entire time then it's important to know your other options of getting from place to place. Check out some of the best ways to get around France to make your trip go smoother!
Tips for Americans Driving in France
Get an IDP, More for Peace of Mind
While France doesn't require an IDP (International Driver's Permit) for Americans to drive, it can't hurt to have one. It especially can't hurt if France is just part of your Europe itinerary as some countries. like neighboring Italy, require the IDP.
Ultimately, as long as you have an American driver's license, you'll be fine. However, if you're ever stopped by the police, it's just another form of identification that can only aid in the process. We never actually used our IDP while driving in France but we used it in other countries.
Getting an IDP is simple. For Americans, you can apply for an IDP through AAA and the cost is $20 USD. That's not a steep price to pay for some peace of mind!
A Manual is Cheaper Than an Automatic
This is a good tip for France but also for anywhere in Europe. Manual cars are cheaper (seemingly always) than automatics.
But what if you're not comfortable driving a stick? That's ok! We're not either.
We've rented a car in several countries, France included, and they've all been automatic transmissions. Yes, we've had to pay more for automatics but the peace of mind and confidence is worth the extra cost!
If you've got a trip to France far in the future, it's not a bad idea to practice up on your manual driving if you have the means.
Don't Panic. It's Not the UK
Driving in a foreign country can cause some anxiety, especially if it's your first time. An anxious trip? No thanks.
But honestly, there's no need to panic! If you're comfortable behind the wheel in your home country then you'll be just fine in France! Especially for Americans driving in France, the rules are practically the same!
It's not the UK, where driving on the other side of the road can cause a real headache. However, there are a ton of roundabouts in France (welcome to Europe) so we hope you like circles!
When you're driving in France, it's important to remember why. This might help calm your nerves. Our experience in France would have been completely different had we not rented a car. We'd have seen a lot less of this gorgeous country had we just used public transportation and missed out on some amazing experiences.
So don't panic! You're in for a real treat when driving in France!
Get a Small, Fuel Efficient Car

As we would suggest for any destination, the smaller, most fuel-efficient car is best! Granted, if you're traveling as a family or a large group of friends, a small car probably isn't the best option. But in the long run, you'll save a ton of money by driving the most efficient car you can. Gas in France is quite expensive and it's a large country. You've got a lot of ground to cover if you're seeing more than just Paris (which you definitely should do) and gas will eat into your budget.
So be smart and rent an efficient car!
Why does a fuel efficient car have to be small? It doesn't, by any means, but it will be a big help when parking!

Avoid Toll Roads at All Costs
Toll roads in France are extremely expensive but they are super fast and efficient. When deciding on your itinerary for driving in France it's important to note whether your route will use toll roads and if those toll roads can be avoided.
We drove from Nice to Orleans and since we were one a time crunch, we had no other choice but to use the toll roads. At the end of the day we spent €80 on toll roads. €80! That was a budget killer.
How do you know if the road you're on is a toll road?
Most A roads are toll roads but you should look out for road signs that say "péage". These will be toll roads. There are times when you'll be on the A roads for a bit but exit before having to pay a toll. Pay attention!
How do you pay the tolls?
Luckily, you can pay for tolls with a credit card but you should always keep some cash on you in the off chance that the credit card machine isn't working.
If you want to estimate ahead of time how much tolls could potentially cost you then we recommend you check out your route on Mappy. This handy dandy website will tell estimate the cost of tolls and gas for your route.
No time crunch? Good call on your part! Google Maps or Waze will be a great guide. These applications will find the best toll-free routes (be sure to select the "avoid tolls" option in your app!).
You will likely spend more time on the non-toll roads but this also means you could drive through small French villages and see more of the countryside. Which brings us to the other roads in France…
N and D Roads are Your Best Friends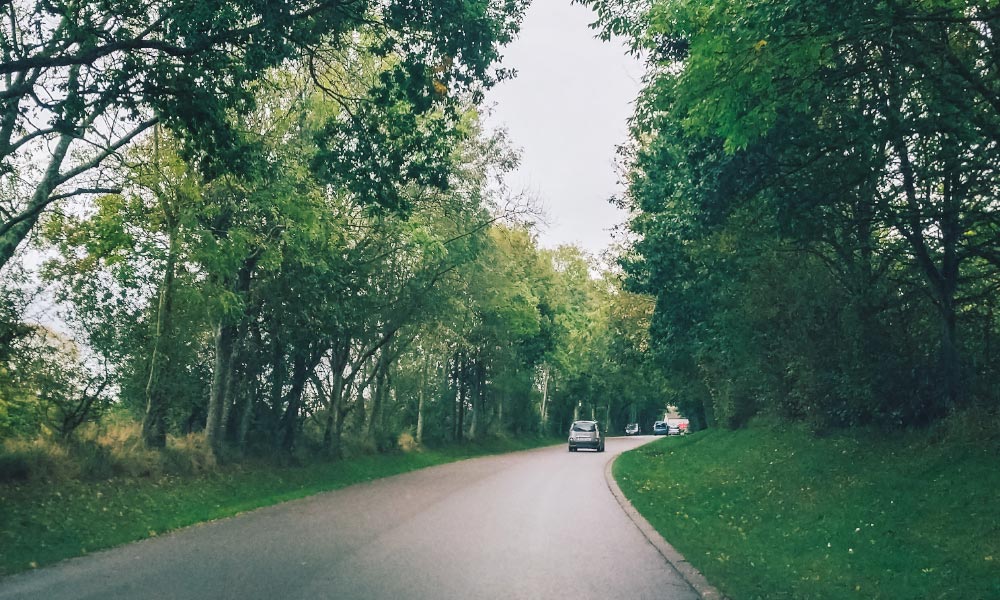 Like we just mentioned, driving on A roads (toll roads) can get costly in a hurry. However, the N and D roads are there to save the day. While they're not quite as efficient in terms of time, they make up for it in terms of scenery.
We'll never forget coming over the hill and seeing Lisieux's basilica from afar. The autumn leaves, bursting with yellows and oranges, added so much to our day of wandering in the car.
Even though N and D roads aren't as quick as A roads, they're still well maintained and allow high speeds. You'll pass through more small towns as well, opening the door for undiscovered gems during your travels in France!
Avoid Driving in Paris at All Costs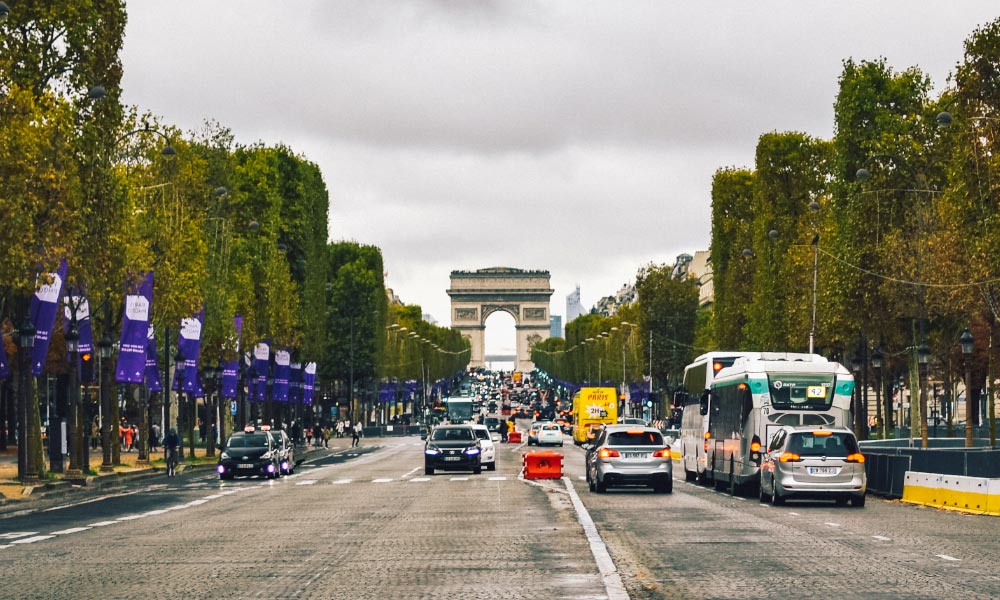 We can at least say we attempted it. We even went around the Arc de Triomphe multiple times, drove down the Champs-Élysées, went the wrong way down a one way street, freaked out, screamed while in a mad panic; however, we still made it!
But we don't recommend driving in Paris! It's insane. The Arc de Triomphe roundabout was a nightmare.
We reserved our rental car from Caen (Normandy) to Paris and thought it would be a good idea to drop it off near a central train station. In theory, this was a great idea. We wouldn't have to walk far with our bags and it appeared like we could easily get to the rental car drop-off.
Our theory was proven to be invalid; our short experience driving in Paris was a stressful disaster. If you drive in central Paris, keep in mind many gas stations and parking garages (including rental car drop offs) are underground.
So, if you end up dropping off your rental car in central Paris, save yourself a headache and fill up before you enter the center!
If There's a Back Road, Then Take it!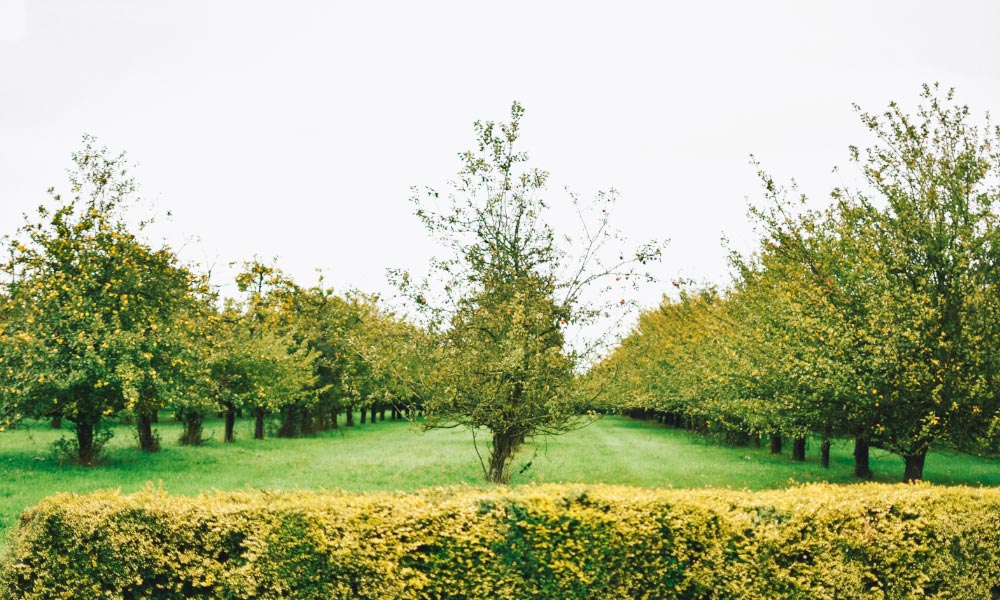 This is our last tip but it's the most important! France is packed to the brim with picturesque villages and stunning countryside. That said, take some back roads and discover as many as you can!
For example, we drove all over Normandy and just happened upon the "Route de Cidre" (Cider Route). Yes, an entire route dedicated to the crisp and refreshing drink that Normandy is famed for. We found so many orchards, scenic farms, and even some cider tastings!
This was all possible simply because we chose a different route than what Google suggested. Map apps will typically suggest the quickest, most efficient route (don't forget to tick the "avoid tolls" box!).
While the quickest route is great if you're in a hurry, it really sucks when you're looking for some adventure. When you're driving in France, make some time for the side roads (N and D roads). You'll likely stumble upon a surprise that will become one of your favorite memories of France!
Common Sense
Buckle Up
No matter what country you're driving in you should buckle up but if you need a little more incentive then keep in mind that being caught without a seatbelt will result in a hefty fine.
No Talking on the Phone
This is a big one. You are not allowed to talk on the phone while in your car even if you're parked, stopped or have your hazards on, the only exception being if you are broken down on the side of the road. Again, you will get a hefty fine for using your phone while behind the wheel.
Don't Drink and Drive
A no-brainer but still important to mention. Most of Europe has very strict drinking and driving laws; much more strict than many states in the United States. You basically can't have a single drink and legally drive. If you plan on having a few drinks then you should have a designated driver or plan on using taxis, public transportation, or walking (if possible).
Summary of Driving in France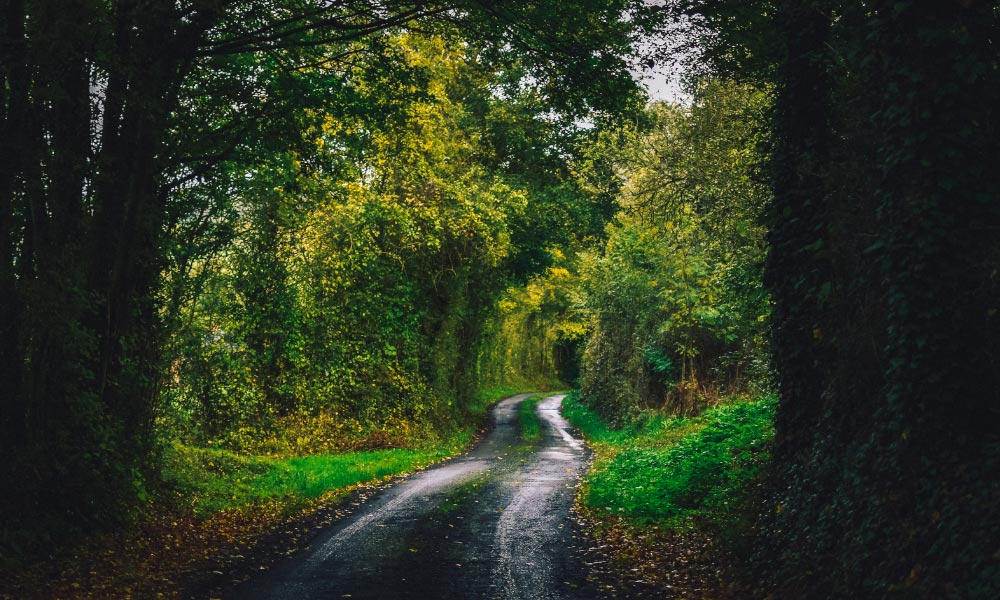 If driving in a foreign country is new to you, France is a great country to get your feet wet. The roads are well taken care of and easy to navigate.
Remember, everything about driving in France is practically the same as home; except signs are in French! If you have any questions about driving or want to ask a general question about travel in France, please ask away!
Happy travels!
Like it? Pin it!