When people think of Europe, the first destinations that come to mind are typically the most expensive, like London or Paris. While those places are rightfully popular and travelers flock year after year, they're not exactly cheap. But there are more than 40 countries in Europe! That means there are a ton of cheap European destinations out there to be discovered.
We've visited every country on this list, all while teaching English online and living out of a couple backpacks. These countries were the cheapest in terms of accommodation, food, and attractions. Not only were they affordable, but they were also some of the friendliest, tastiest, and most beautiful places in the world.
Below, we talk about our personal experience in each country, as well as give some tips on what to do while you're there. We also give an average daily cost estimate. However, that average does not include accommodation. That would make the average estimate too unreliable because we're not sure if you're traveling as a big group or a solo traveler.
So, let's dive into some of the cheapest (and most awesome) European destinations!
11 Cheap European Destinations
Poland
Poland is a must-see on anyone's eastern Europe itinerary and it was a country that we fell in love with immediately. The country's capital, Warsaw, is a cultural metropolis that has beautifully restored the historic center to its pre-WWII beauty.
But Warsaw is just one of the many gems to be found in Poland. Krakow is by far the most popular city and prices tend to be more expensive here but a couple nights and a day trip to Auschwitz isn't going to break the bank by any means.
Gdansk, Wroclaw, Poznan, these are all very budget-friendly and under-the-radar destinations. You can get even more intimate with Poland by visiting the lesser-traveled places like Torun or visiting Treblinka.
With pierogies, potato pancakes and beer for just a few bucks, Poland will have budget travelers dreaming of their return.
Poland is an EU member but złoty is the currency. However, in popular destinations, you may find euros to be acceptable.
You can spend anywhere between $20 and $30 USD per day in Poland, on average.
Czechia (Czech Republic)
Czechia is a popular spot for budget-backpackers and students but travelers of all types tend to make a visit – thanks to Prague. While hostels and Airbnbs are more costly in Prague than the rest of the country, it's by no means expensive.
But don't just visit Prague and think you've seen Czechia. Brno is a lovely city to visit in the Moravia region and there are tons of stunning castles to find in the south. It's the perfect country to rent a car and explore aimlessly.
But won't a rental car increase the costs? Not really! We were able to rent an automatic transmission for two days for just $26 USD. You just need to keep an eye on gas! It's more expensive in Europe than in the US.
Depending on what cities you visit, you can spend anywhere between $25 and $35 USD per day in Czechia, on average.
Hungary
Hungary was where our 13 month European adventure began and we wouldn't change it for the world. We spent 30 days in Budapest in winter and discovered all the city had to offer at an enjoyable pace.
Our Airbnb was around $300 USD for one month and right next to a metro stop. Meals were always dirt cheap and delicious, although you should avoid very touristy spots like Saint Steven's Square and Vörösmarty Square. Work up an appetite by browsing our favorite restaurants in Budapest.

But many travelers, especially students and backpackers, seek out the famous ruin pubs. As is usually the case, alcohol is where your budget can go wrong. Check out some ruin pubs in Budapest to get an idea before going!
Hungary is an EU member but Hungarian forint is the currency. However, in popular destinations, you may find euros to be acceptable.
You can spend anywhere between $20 and $30 USD per day in Hungary, on average.
Bulgaria
We've been further east in Europe but Bulgaria was our first real taste of a post-communist country. We hunkered down in Sofia and found this to be one of the most vibrant and budget-friendly destinations in Europe. The architecture is eclectic, fusing both communist and pre-communist buildings together, all on top of Roman ruins. It's quite a sight to behold!
Public transportation is so cheap (the subway is super clean!) and a night out of Bulgarian cuisine and rakia will never break the bank.
However, Bulgaria is best seen in nature. A quick day trip to Rila Monastery from Sofia will have you following in the steps of Saint Ivan of Rila in one of the most peaceful settings on earth.
If you love hiking, waterfalls or amazing views but can't make it to Rila, you just need to hop on a bus from Sofia's center and you'll experience it within minutes at Vitosha Mountain. If hiking isn't for you or you're visiting during winter, there are ski lifts to the top!
Bulgaria is an EU member but Bulgarian Lev is the currency. We never witnessed anyone accepting euros.
You can spend anywhere between $15 and $25 USD per day in Bulgaria, on average.
Albania
Albania almost didn't happen for us during our time in Southeastern Europe (Balkans) but we're so thankful that it did. It's arguably the most unique place we've visited. It's also arguably the cheapest! Everything from accommodation to transport to food, it was a steal.
A visit to Tirana, the capital city, will give insight on its extreme communist past and offer you a chance to explore a few of the hundreds of thousands of bunkers in the country. Mountain and nature lovers will also love Tirana thanks to Mount Dajti.
But there's more to Albania than just Tirana. Albania's southern beaches (the Albanian Riviera) are quickly becoming popular among backpackers due to their smaller crowds and untouched landscape.
Less than an hour from Tirana, check out the beautiful port city of Durres. You'll find a huge Roman amphitheater, as well as some great beaches. You'll also find one of the friendliest, family-run Italian joints in the world! Find out more in our post about how to get there and what to do in Durres!
Most blogs and websites that list Albania as a cheap destination forget to mention the fact that there will be headaches involved! Public transportation was very difficult for us to navigate and English wasn't widely spoken. A lot of information is missing from Google Maps on bus stops and there's not even a main bus station. While we highly recommend Albania to travelers, we want you to be aware that you'll need to be a little adventurous. Savor the journey!
Albania is not an EU member and Albanian Lek is the currency.
You can spend anywhere between $15 and $25 USD per day in Albania, on average.
Romania
Would you like to try some of the best food in Europe for insanely cheap prices?
If you say no to that, then there's something wrong with you!
Romania is our stomach's favorite country; throw in the fact that it's cheap and it's one of our budget's favorite countries too.
Bucharest, the lively capital, gives visitors a chance to witness the charming Old Town but also allows visitors a close look into the dark, communist past. Bucharest has been called the Little Paris. One walk through the center and you'll see why!
But Bucharest is just part of the equation here. Transylvania lies just a couple hours' train ride to the north. Castles and more castles wait in the scenic mountains in one of Europe's most beautiful regions. Make a day trip (or set up base) to Brasov, where you'll experience some of the best Romanian cuisine.
Public transport in Romania, especially compared to other eastern and southeastern European countries, is amazing!
Oh yes, and there's Therme. Who needs a beach or nice weather when Therme lies just 20 minutes north of Bucharest? Grab an Uber for around $10 USD and enjoy a day at the spa with cheap drinks and a Dead Sea salt pool (as well as other thermal pools).
Romania is an EU member but Romanian leu (lei) is the currency. We never witnessed anyone accepting euros.
You can spend anywhere between $25 and $35 USD per day in Romania, on average.
North Macedonia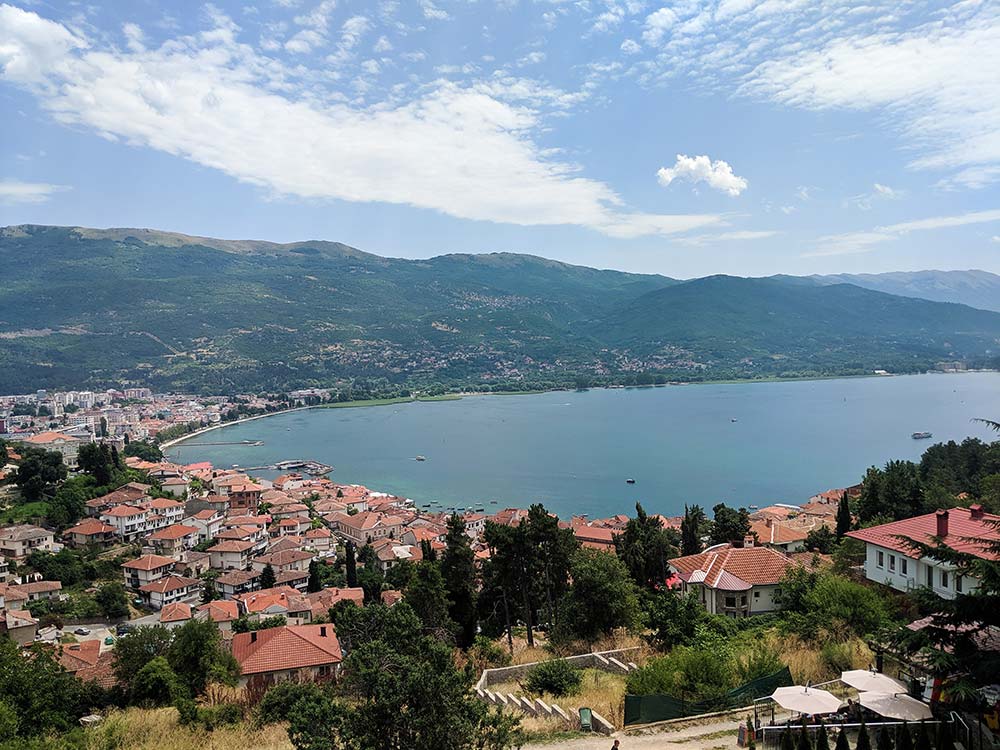 North Macedonia is a relatively new country but this doesn't change the fact that thousands of years of history lie in wait.
If statues and monuments are of interest (or even if they're not), visitors to Skopje, North Macedonia's capital, might be confused as to why there are so many. While the statues bring up a controversial issue, there's no arguing about Skopje's delicious restaurants. They're just that good.
And yes, it's so very cheap.
Grab an Airbnb or hostel in Skopje's center to experience all that it has to offer. From Mother Theresa to the Old Bazaar, get a tasty history lesson while opening your eyes to one of Europe's lesser-traveled destinations.
Again, the capital city is only just a sample. Picturesque Lake Ohrid lies in wait just a few hours to the south and can be reached by public transport. However, like Albania, public transport in North Macedonia is hard to understand for the uninitiated. Check out our post on how to get around Skopje for some helpful info!
Wine tastings extend much further east than France or Italy. In fact, there's a fantastic winery, Kartal Winery, just outside of Skopje that will be one of the most fun and intimate tastings you'll experience in Europe. The owners, two brothers, have a passion for winemaking and an equal passion for telling you all about it.
North Macedonia is not an EU member and Macedonian denar is the currency.
You can spend anywhere between $25 and $35 USD per day in North Macedonia, on average.
Slovakia
Don't let the movie Hostel deter you from coming to Slovakia! It's a work of fiction and tour guides will explain how that really put a damper on tourism for years. Which leads us to a side note: don't let pop culture dictate your travels!
Now that we got that out of the way…
Our time in Slovakia was short and we're so sad that was the case! Bratislava, the capital city, was one of our favorites in all of Europe. Whether it's the historic castles or sheep's cheese and dumplings, cheap travel seekers will have a blast.
But it's not just Bratislava that beckons visitors to this country. Lovers of nature need to seek out Low Tatras National Park for some of the prettiest views in Europe. That's doubly true if you're a fan of winter sports!
Hostels and Airbnbs are super affordable here and a night out of huge, hearty meals and several beers will run you around $20. And that's a splurge meal! You can easily keep food budgets lower.
Slovakia is an EU member and euros are the country's currency.
You can spend anywhere between $20 and $30 USD per day in Slovakia, on average.
Croatia
Croatia can be very cheap and the nature here is unlike any other. That said, you can kill your budget quickly in touristy places like Split and Dubrovnik. You will pay out the wazoo in these places on attractions, accommodation, and meals. Thanks, Game of Thrones.
If you choose to visit Croatia for a beach holiday or to explore cities like Rijeka and Zagreb then you'll have a much easier time keeping a thrifty budget.
Another thing to be aware of when visiting Croatia is that many restaurants do not accept credit cards (as of late 2019). So if you rely on using a non-foreign exchange fee credit card like we do than you might not be prepared for withdrawing a lot of cash or exchanging it, which leads to a lot of fees.
In truth, it's best to have a travel credit card with no foreign exchange fees or even better, a checking account (debit card) that doesn't have foreign exchange fees and refunds all ATM fees like Charles Schwab.
You can spend anywhere between $25 and $35 USD per day in Croatia, on average.
Honorable Mentions
Why are the following destinations honorable mentions?
They're much harder to accomplish on a budget. However, with a little planning in advance and some know-how, these countries offer budget travelers a wonderful stay!
Italy
Italy is number one on our list of honorable mentions.
But wait, isn't Italy one of the most traveled to countries in the world?
It's true. Italy is super popular with world travelers. But every part of Italy? Nope! You'll find most tourists in Rome, Tuscany, and Venice. There's a gold mine of travel to the south, all the way to Sicily.
We spent a month in Italy traveling from Tuscany to Sicily and at the end of it all, we averaged $41 USD a day for both of us. That number does not include accommodation.
However, our trip to Italy includes a lot of mess-ups like purchasing expensive phone plans that didn't even work. Why buy phone plans? Teaching English online has its downsides.
So how do you see Italy on a budget?
Our biggest tip? Forgo the touristy cities like Florence and Rome and opt for the smaller, less popular spots. For example, if you're in Tuscany, stay in unknown towns with train connections like Poggibonsi. Check out our guide to Tuscany on a budget!
But the real authenticity and cheaper parts of Italy, in our opinion, lie further south. Whether you're doing Naples on a budget or checking out the clear blue and sandy beaches of Sicily, southern Italy will keep you and your budget happy.

You can spend anywhere between $35 and $45 USD per day in Italy, on average.
France
It's rare that you'll find France on a cheap European destination list. Even so, we spent almost 30 days in the country and managed to leave at a final average of $48 USD per day for both of us. Again, that's excluding accommodation.
Like Italy, it's definitely possible to visit France on a budget, especially if you avoid major cities like Nice and Paris. But don't ignore them completely! Check out our guide to Nice on a budget for some helpful tips! As for Paris, it's just really hard to plan that one on a budget. But there's so much more to France than the City of Lights!
To really save money and see France on a budget? Avoid making mistakes! We made a huge no-no by driving from Nice to Orleans on A roads (very expensive toll roads) and again, buying expensive phone plans that ended up failing us.
If visiting France has been a dream of yours then we recommend traveling around Normandy and the Loire River, like Amboise Chateau. We found these areas to have budget-friendly accommodations and eating out didn't break the bank.
Getting around France is probably the most expensive part of this country but if you plan ahead or utilize services like BlaBlaCar then you won't hurt your budget when visiting France.
You can spend anywhere between $45 and $55 USD per day in France, on average.
Summary of Cheap European Destinations
Budget traveling isn't that easy and takes a lot of planning. However, there's a sweet spot for every budget traveler out there. Pick a cheap destination, a few sights to see, and have a basic plan in mind. If you do that, you're in for a cheap European adventure!
Planning a cheap European vacation or have any questions about the destinations we mentioned? Reach out to us! We'd be happy to help.
Happy travels!
Like it? Pin it!