One of the true gems of Eastern Europe, Sofia beckons all types of travelers. Whether you're on a foodie adventure, exploring Roman ruins or in pursuit of a nature escape, you'll find what you're looking for in Sofia, Bulgaria. To guide you through a short but wonderful stay we've put together this guide for an amazing 2 days in Sofia itinerary.
Should you stay longer? Most definitely! However, Sofia is a great destination not only because of what it has to offer, but because of its close vicinity to other European greats.
Sofia is a short bus ride away from Skopje, North Macedonia and tickets are dirt cheap! In the opposite direction lies Bucharest, Romania; another short bus or train ride away. Again, tickets are very affordable! So, spending two days in Sofia allows enough time to properly experience this unique capital city before wandering off and seeing more of this region.
In addition to Sofia's great location, travelers will also find some of the cheapest prices in Europe! In fact, Sofia is one of the cheapest European destinations out there.
When you add all of this together, you've got a formula for an awesome time in Sofia.
A quick note about public transportation in Sofia. You'll want to take advantage of Sofia's public transportation system, especially the subway. You can purchase a day pass from a tourist information office for around 2 euros. So cheap! Otherwise, single rides cost less than 1 euro per trip.
The trams and buses are also viable options but they're more difficult to maneuver and understand; you have to buy tickets at specified kiosks (typically near most bus/tram stops) or you can get your tickets from the driver. It's advised to pay with exact change. We stayed outside of the city center in a residential area and had to take the bus and tram often. It was a little difficult since we only spoke English! But it was an adventure nonetheless.
Where to Stay
Sofia is dotted with hip neighborhoods where you can experience a more local vibe and yet still be close to transportation and all the action. That's why we recommend staying in an Airbnb. In fact, we recommend Airbnb for just about anywhere. Why? You meet a local (your host) and will likely see a part of the city you wouldn't have if you stayed in a hotel. Airbnbs are also typically cheaper than a hotel, especially when looking at private rooms.
If you're not sure if Airbnb is right for you, debate it out while reading our pros and cons of staying in an Airbnb.
When to Visit Sofia
Is there a bad time to visit Sofia? Not really! The only negative that comes to mind, and it's one we experienced firsthand, is the summer heat. We visited in mid-June and temps were in the 90s fahrenheit.
On the flip side, we've also spent some time in Sofia in December. We even got snow! So, if you're fans of offseason travel like us, check out reasons for visiting Sofia in winter.
But again, there isn't a "bad" time to visit!
Ok, now that we've gotten some of the details out of the way, let's begin our guide for 2 days in Sofia! We'll list some absolutely delicious restaurants at the end of this post.
Day 1: Sofia's Center
Sofia Free Walking Tour
The best introduction to any new city is a look at its most historic area. For Sofia, like many others, that's the city center. But you don't want to aimlessly wander around without any backstory behind the interesting buildings and monuments! Instead, take a free walking tour!
Free Sofia Tour is the company we chose for our free walking tour and it was fantastic! And yes, the tour is free. However, the guides work on tips. So if you had a blast on the tour (you will!) then leave an appropriate tip! 10 euros per person seems to be the norm but you're welcome to leave whatever you deem fit. The meeting point is in front of the Sofia Court House, a building deserving of a picture or two!
In addition to being budget-friendly, free walking tours get you acquainted with the city and all of its important sights. Your guide can also give you tips on where to eat and help you figure out public transportation.
A walking tour is the perfect way to jumpstart your two days in Sofia!
Alexander Nevsky Cathedral
Arguably the most iconic sight in Sofia, Alexander Nevsky Cathedral needs to be a must-see on your 2 day itinerary. Step inside this Orthodox church and experience a drastically different environment from its Catholic counterparts.
If you take the Free Sofia Tour, you'll end nearby and can check it out right after!
Roman Ruins
One particularly special aspect of Sofia is the abundance of Roman ruins. You'll be walking through an underground passage or simply wandering the streets and likely stumble upon Roman ruins. And they're well preserved! The biggest batch of Roman ruins can be found near the Church of St. Petka, a Roman building that became an Orthodox church. Entrance into the church costs a few euros.
However, the surrounding ruins and information plaques (in English!) are free. From here you can also spot another iconic sight in town: the Saint Sofia Monument.
Another reason you need to take a walking tour? You'll learn the interesting (and somewhat silly) idea behind this intriguing monument placed in the city center.
Vitosha Boulevard
Sofia's happening avenue, Vitosha Boulevard is packed to the brim with shops and eateries. And some great eateries, at that.
But take your gaze away from the shop windows and look up. You'll see Vitosha Mountain in the distance, overlooking Sofia from high above. If you visit in winter, you'll see a white mountaintop!
Fill Up Your Water at a Mineral Spring
One of the best perks of staying in Sofia? The water! Many people wonder if the water is okay to drink in Sofia and having lived there for more than a month in total, we think water is great! It's mostly due to the mineral springs that run throughout the city. In fact, you can fill up at a public spot. Don't be surprised to see locals piling in with huge, empty bottles. They're just filling up!
You should do the same! We always advise having a refillable water bottle on your person. It not only saves you money (water bottles are always pricey in the city center!) but you create less waste. Win-win!
Church of St. George
The Church of St. George is another must-see sight in Sofia during your 2 days in town. However, this one is a little tricky to find. You can thank the Soviet regime for that. As part of the regime's crackdown on religion, they constructed a huge huge complex to surround it.
But it's still easily accessible. There are a couple entrances into the courtyard and it's free to enter the grounds as well as the church. The church itself dates as far back as the 4th century so you're looking at something over 1,500 years old. That's reason enough to take a look! Inside you'll find some gorgeous artwork but no pictures are allowed!
Don't forget to wander around the ruins outside of the church as well!
Day 2: Day Trip or More Sofia
We'll say it again: 2 days in Sofia aren't enough! You could easily spend several days sampling the cuisine and taking day trips. However, two days is just enough to get a good glimpse of Sofia.
So, we've left day 2 open to you. We'll talk about a couple awesome day trips but also throw in some good spots to explore in the city if you want to stay in town.
Day Trips from Sofia
Vitosha Mountain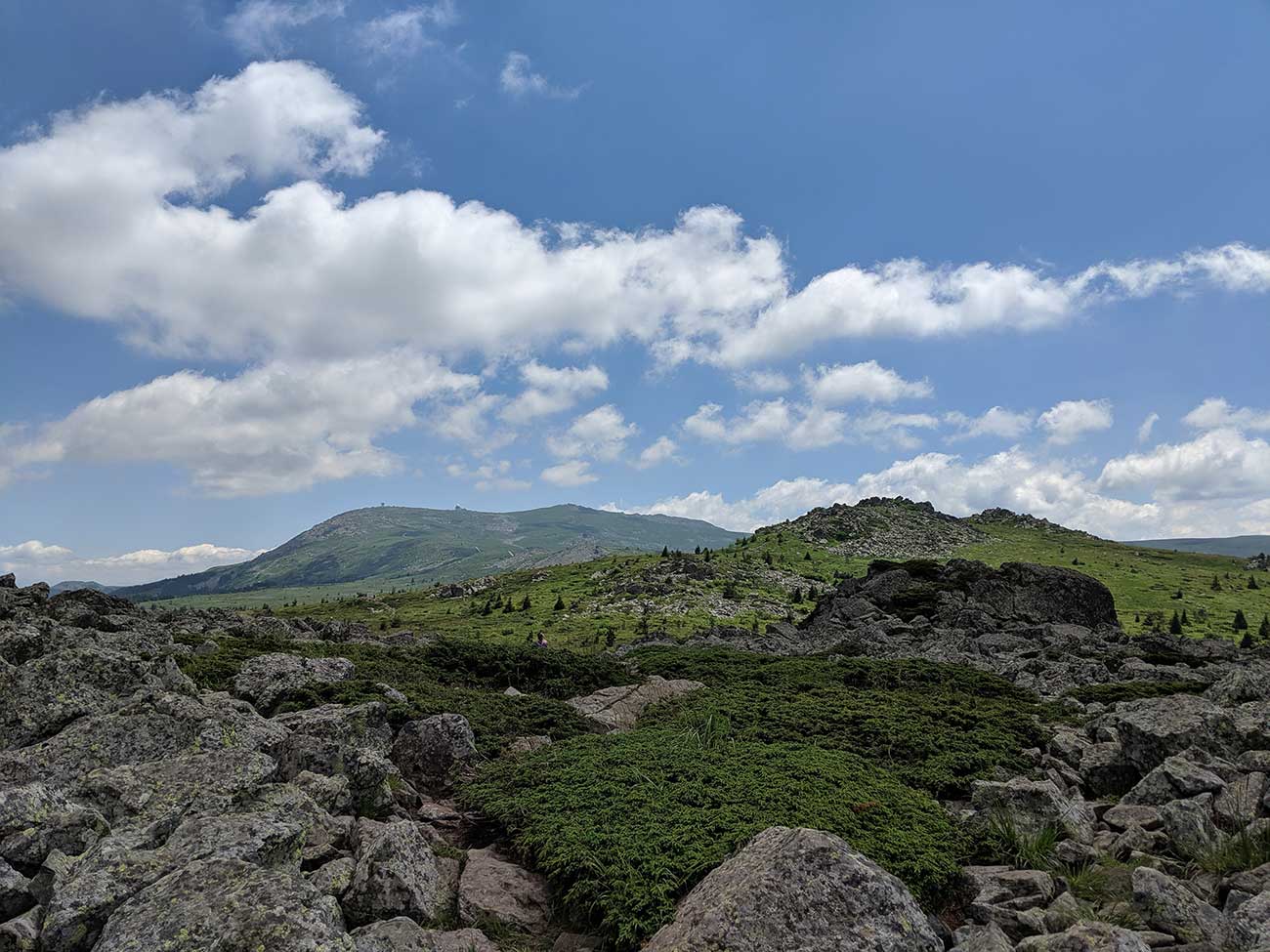 If you've seen Vitosha Mountain from below then you wonder what it's like at the top. Spoiler alert: it's gorgeous! How you get to the top is up to you; there are a few options. You can take a taxi or public transport to one of the ski lifts that will take you to the top. Or you can take transport part of the way and then hike the rest. Or you can head to the top via Boyana Church and Waterfall.
Boyana Church and Boyana Waterfall
It'd be silly to skip out on this UNESCO heritage sight literally minutes from the city center. Take bus 64 (there are other buses too) or you can take a taxi. The grounds around the church are free but the interior requires a small entry fee. We did not enter the church since we had a whole day's hike ahead of us.
If you're up for a lovely walk/hike then head to Boyana Waterfall from the church. It only takes a couple hours there and back and there are beautiful views scattered along the trail. The waterfall, much larger than we anticipated, provides the perfect respite.
If you're really up for a day of fun and outdoor activity, check out our post for all the details on hiking Vitosha Mountain. We combined Boyana Church, the waterfall, as well as the top of Vitosha. It was a several hour trek with some confusion along the way but it's one that we'll always remember. Seriously, it's one the most underrated things to do in Sofia and it's in town!
Rila Monastery
Peace and tranquility, anyone? You'll find it at Rila Monastery. Hidden within the mountains of Rila National Park lies a historic place of worship, dedicated to Ivan of Rila.
You have some options on how to get to Rila Monastery. You can take a taxi there and back (will likely be expensive), a tour or get there on your own.
Tours are by far the most popular method but we highly recommend renting a car. Renting a car in Bulgaria may put some travelers off but don't let it! We rented an automatic transmission on Kayak for less than $20. That's a steal! The freedom that a rental car gives is unbeatable. We could stop when we wanted to, taking so many pictures and mental memories of the sunflower fields along the way.
Whether you rent a car or not, we sincerely hope you visit Rila Monastery and Ivan's cave. We've written an entire guide for a day trip to Rila Monastery so look no further for complete details on how to get there and what to see!
Spending Day 2 in Sofia
If you'd rather just explore Sofia on your second day then you have plenty to keep you busy. You also have tons of tasty opportunities for traditional Bulgarian food. Restaurants are mentioned after day 2.
Borisova Gradina
Fancy a stroll in a beautiful park near the center of Sofia? Borisova Gradina has been around for more than 100 years and provides a peaceful escape.
Paths crisscross every which way, biking trails are aplenty, and there's ice cream and coffee scattered about during the summer. In winter, look for an ice skating rink!
Regional History Museum of Sofia
A historic landmark, this history museum was once a public bath. Thanks to the mineral springs, Sofia made good use of these public amenities. Today, however, this old bath is now a museum. Tickets are just a few euros and guided tours are offered too (around 15 euros).
Ivan Vazoz National Theater
Another building in Sofia that deserves your attention is the Ivan Vazoz National Theater. It was finished in the early 1900s and is still in operation today. See what's playing when you visit!
Other museums to note:
National Art Gallery (there is a ton to see!)
Bulgarian Archaeological Museum
Where to Eat in Sofia
Your trip isn't a success if you don't sample the local flavor. So we'd like to name a few of our favorites in town, traditional and not.
For breakfast (or a snack), head to the city center and start walking. It won't be long before you see a small bakery selling Bulgarian pastries and other breakfast delights. They're dirt cheap and extremely delicious!
Pod Lipite
This is our favorite restaurant in Sofia and all of Bulgaria. The weather was perfect and the outdoor atmosphere was the cherry on top. Share a carafe of Bulgarian wine and sample the cheeses before your main dish. Leave room for the homemade yogurt and jam. Wow!
Manastirska Magernitsa
Another traditional gem, Manastirska is synonymous with cozy. There is no shortage of Bulgarian specialties on this menu. Our recommendation? Try a little bit of everything. The prices are cheap, especially considering the large portion size. Bring an appetite!
Boom! Burger
For one of the best burgers in Europe (according to our non-official best burger challenge), head to Boom! Burger. These things are stacked high with juicy goodness. Add the super affordable and refreshing draft beer and you've got one of the best lunch spots in Sofia.
Summary of 2 Days in Sofia, Bulgaria
Sofia can really surprise you. We hope you find it as enjoyable as we did and, most importantly, we hope this post has helped you in your search for an amazing 2 days in Sofia. Please ask us if you have any questions. Just comment or contact us and we'll be happy to help!
Happy travels!
Like it? Pin it!