Siena is a truly beautiful destination; one of our favorites in Tuscany. With its massive piazza, tall tower and stunning Duomo, Siena offers travelers plenty of unforgettable things to do in 1 day. In this post, we tell you all about spending an amazing day in Siena, from what to see and a great place to eat!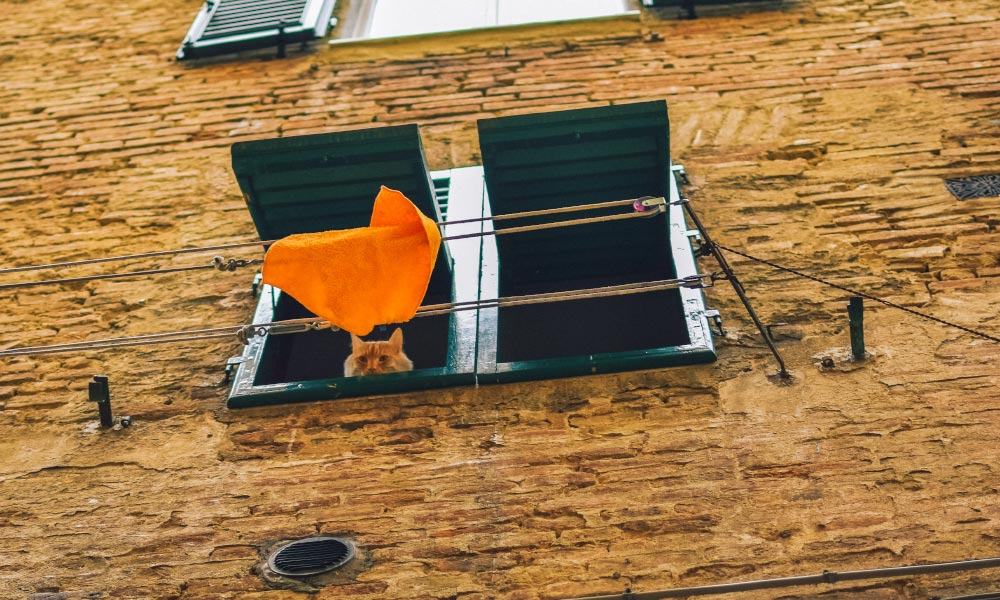 As we mentioned in our guide to San Gimignano, many choose to see Siena and San Gimignano in the same day. While this is technically doable, we highly recommend taking your time, a day or more, to explore these memorable towns in Tuscany.
When to Visit Siena
Shoulder season! We made our trip to Siena in early September, just after the summer crowds had dispersed. Granted, being Tuscany, the crowds were still there but not near as bad as peak season.
If you're looking for great weather but less crowds then we highly recommend autumn or spring. We had so much room to spread out in the piazza and even the Duomo wasn't too busy.
If you'd like to be present for the famous horse race in the piazza, Palio, then you'll want to visit around July 2 or August 16 when the race is held. Be prepared for a big crowd!
In terms of the time of day, we got our start around 11 am (arriving by train from Poggibonsi) and finished up around 7 pm. We weren't rushed, had ample time to soak it all in and even wander some streets and find an amazing restaurant off the beaten path for dinner. More on that later!
How to Get to Siena
Unlike San Gimignano, Siena is reachable by train, making your life much easier! TrenItalia has ticket machines at all stations and they're easy to use. If you're brave enough then buses are an option as well; they get a bad rep but they're not that bad! For those coming from Florence, a public bus will drop you nearer to the center than the train.
If you do arrive by train then you'll be at the bottom of the hill. You can take a bus into old Siena but since that costs extra we decided to walk. Don't worry, there are escalators all the way up! Head through the mall/shopping center across from the station and take the escalators. There are quite a lot of them but once you reach the top, it's only a 5-7 minute walk to the old town gate. Piece of cake!
Important Things to Note
With so many attractions crammed into Siena, visitors with only 1 day have to be a little picky with their itinerary. However, Siena has several attraction pass options for those who want to see the important sights and a little extra. You can find all of the options on Siena's official website and purchase in advance. Or you can buy your tickets when you visit. You'll find the ticket office just outside the Duomo and there will probably be a line but it moves quickly so don't fret!
We chose the "OPA Si Pass" for 15 euros/person and think it's perfect for visitors with only one day in Siena. It's also the cheapest pass option so win-win! With the OPA Si Pass, you can visit the Duomo, Baptistery, Piccolomini Library (inside the Duomo but advertised like it's something extra), Museo dell'Opera, and Facciatone, where you'll find amazing views.
If you have more than one day in Siena then there's no hurry to see these attractions all at once. You can spread it out as your pass lasts three days.
Piazza del Campo
Let's start with the most iconic spot in Siena, Piazza del Campo. We came here more than once during our one day in town and loved every minute of it. You can find gelato just off the square and then enjoy your cone while making your way across this huge area. Not a bad place to have a coffee either!
Siena Duomo
The other super popular spot in Siena, the Duomo is all that it's cracked up to be and more. This Gothic masterpiece is a true marvel and one you're going to want to spend some time in. There are audio guides for sale within the Duomo but we thought the explanations on the signs (scattered about the cathedral) were really well done so we didn't spend the extra euros on one.
If you want an audio guide but don't want to dish out the cash then we recommend Rick Steve's Audio Europe App. The Siena City Walk goes into detail about some of the art and sights you'll see inside the Duomo.

Note that you'll want to look down as well. The floor is just as incredible as the ceiling. Every inch of this space is art so be sure to soak it all in!
Lastly, be sure to observe Donatello's sculpture of St. John the Baptist! 
Piccolomini Library
You'll find this off to this side of the Duomo. It's a little confusing because the ticket office makes it sound like it's a special exhibit; however, it's inside the Duomo just in a different room. Head inside and look up! It's quite breathtaking.
Baptistery of St John
Yes, we're still hanging out at the Duomo, except this time you need to exit and head around to the back. You'll find amazing frescoes and by now are probably amazed at how much art is crammed into so small a space. Enjoy!
Crypt
The Crypt is another sight for spectacular frescoes and history, as these date back as old as the 13th century. Again, take a walk through and admire this beautiful piece of history.
Opera delle Metropolitana
To be honest, we weren't expecting much from this museum, as we were in a hurry to get to the Facciatone for the awesome views; you have to pass through the Opera delle Metropolitana to get to it.
We were mistaken to rush through! While we didn't spend as much time here than at the Duomo, there are some beautiful sculptures in here from Pisano and another work by Donatello. There are also many paintings from the 12th and 13th century and a stained glass rose window that once was in the Duomo.

Facciatone
When it comes to the best views of Siena, many talk about the Torre del Mangia, the unmissable tower in the Piazza del Campo. However, we found Facciatone to be a spectacular view of the Duomo, Siena, the Tower of Mangia and surrounding Tuscany.
The only downside to the Facciatone view is the line. Again, the major upside of visiting during shoulder season or off-season is less tourists. We can't imagine what the line would be like in the summer. It took about 45 minutes to an hour for our chance to get a view.
That said, they give each group (20-30 people) plenty of time to actually enjoy the view so the wait is worth it. We had around 10 minutes to get pictures and most importantly, just take it all in.
Another reason to avoid the summer, the waiting area was stuffy and hot, even in milder in September.
Pro Tip: If you arrive in Siena in the morning, make the visit to the Opera delle Metropolitana and Facciatone your first stop to beat the crowds.
Basilica of San Francesco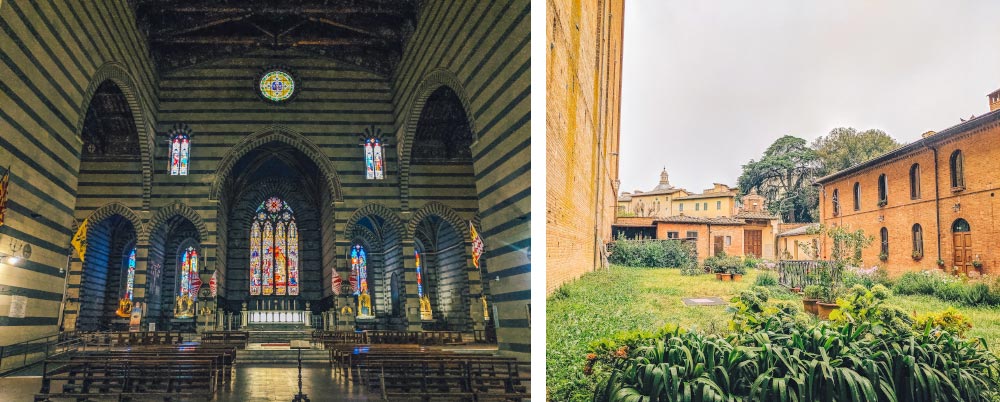 We hadn't heard anything about this church and the only reason we sought it out was because we found it on Google Maps and had some time to kill before dinner. We're thankful we did, as this church was one of our favorites! Barely anyone was visiting (it's free), there was peace and quiet, and the high ceilings of this Gothic church truly brought on a special experience. Some afternoon showers had moved in during our visit and we found ourselves sitting in the courtyard while some tranquil rain fell.
Eat at Tigella Emilia
We read several blogs and articles mentioning to eat in the Piazza del Campo but as budget travelers, we like to seek out the delicious bargains in the less popular areas of town. Another bonus of going to see the Basilica of San Francesco, we found dinner on our way back into the center: Tigella Emilia.
It's cheap (much cheaper than the piazza) and delicious; the couple who run it are so welcoming. Try their homemade Tigella with prosciutto and one of their many pasta dishes or pizzas. You cannot go wrong here!
Wander Siena's Old Town
Whether it's more of the beautiful churches or peeping inside some of the many shops, we highly recommend wandering until your legs just can't anymore. You won't regret what you see of Siena's side streets and you're practically walking down history lane. Some of our best memories of our one day are just wandering and looking around. It's free and guaranteed to be fun, especially with gelato in hand.
Basilica Cateriniana San Domenico
Another important church in Siena, you can find the head of St. Catherine here as well as some more fascinating frescoes.
It's not a difficult walk from the center and you'll get some incredible views of Siena's tower and Duomo while heading that way. We were lucky enough to see a rainbow!
Medici Fortress
It couldn't be a Tuscan town without a Medici Fortress! Not entirely true but Siena's edition of the Medici's influence is quite impressive. Atop the fortress you'll find plenty of space to call your own, some great looks at sunset and maybe catch a special event; it seemed like it was a happening spot.
We took our personal tour of the fortress before having to return to the train station to leave Siena. Sad times!
Summary of 1 Day in Siena: What to Do
As we've mentioned, we think at least 1 day in Siena is necessary to really enjoy it. There's so much to see just in terms of art that we think you'll feel rushed trying to cram it all in. We hope this guide has given you an idea of what to do with your one day in Siena and we hope you have an awesome time in Tuscany!
If on the lookout for other things to do in this region of Italy, how about an organic wine and olive oil tasting on a family owned estate in Chianti? We loved our experience and tell you all about it!
Happy travels!
Like it? Pin it!